ICC releases 2018 annual report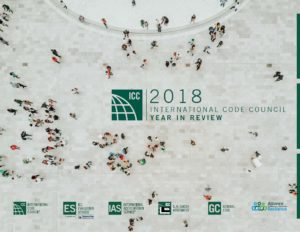 Building safety is about preparing for our future. As a forward-thinking membership association that addresses public safety for the betterment of all our citizens — present and future — the International Code Council has remained at the forefront of the building safety industry by embracing new technologies and scientific advancements to help us welcome a new generation of members.
Last year, the Code Council celebrated its 15-year anniversary as an international association dedicated to building safety worldwide. To prepare for the future, the Code Council is looking forward to facing new challenges, embracing the next generation and driving innovation throughout the building safety industry for years to come. As a way of both celebrating its growth and expansion and keeping members, stakeholders, industry partners and the public updated, this year's digital annual report offers a fresh new design to reflect Code Council Board President William Bryant's strategic initiative: Working Today to Prepare for Tomorrow.
While annual reports have a reputation for being a bit dull — with an overload of information and lots of figures — this year's digital report marries business communication with simple, clear design that takes the usual stodgy financial summary to a whole new level to engage, inform and excite our members and partners about the future of building safety. The new, more visually driven annual report allows readers to more quickly digest the many important projects and initiatives that are helping us prepare for the future as well as help us to spread our story wider. Featuring sections on Highlights in Innovation, Promoting Building Safety Worldwide and Preparing for the Future, the 2018 online report is aligned thematically to the Code Council's main areas of focus: as a thought leader in the community of safety and resiliency, as an international association dedicated to ensuring building safety through the code development process, and as an engaged provider of innovative services for its members, stakeholders and communities worldwide.
"This report illustrates the exciting work we are pursuing at the International Code Council as well as our aspirations for the future," said International Code Council Chief Executive Officer Dominic Sims, CBO. "Founded in 1994 with 100-plus years of impact in more than 55 countries, the Code Council embraces the seeming contradiction of being a firmly established association dedicated to the safety and performance of the built environment while adopting and maintaining the technology and innovation that helps our industry prepare for the future."
Click here to view the 2018 report online. A PDF of the report is also available here.