Jon Rocco Davis receives ARCSA Lifetime Achievement Award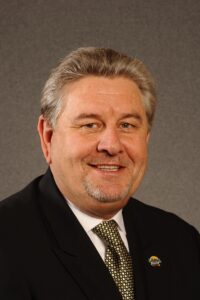 Jon "Rocco" Davis, chair of the International Accreditation Service (IAS) Board of Directors, recently received the 2020 Lifetime Achievement Award from the American Rainwater Catchment Systems Association (ARCSA). A member of the ARCSA Board of Directors, Davis is a long-time worker advocate and is vice president and regional manager of the Pacific Southwest Region of the Laborers' International Union of North America (LIUNA) and special assistant to the general president.
Davis came to LIUNA headquarters to serve in the General President's Office in 1999 after beginning his career in the early 1980s working as a laborer in the field, then in 1988 as a field representative for the Center for Contract Compliance, as regional coordinator for the National Heavy-Highway Committee and as a LIUNA Tri-Fund field coordinator. In 2000, he was appointed LIUNA chief of staff. He was elected vice president in 2001 and has been re-elected to that role in 2006, 2011 and 2016. Davis was named special assistant to the general president in 2005.
He serves as chairman of the Pacific Southwest Regional Organizing Coalition, the National Alliance for Fair Contracting and LECET Southwest. Davis also serves as a trustee on various boards, including the National LECET Board, the LIUNA Staff and Affiliates Pension Fund, the Laborers National Industrial Pension Fund, the Laborers National Health and Welfare Fund, the Laborers Health and Safety Fund of North America, the LIUNA Training and Education Fund, the Service Contract Education and Training Trust, and the Laborers-Employers Benefit Plan Collection Trust. In addition to his work on the IAS and ARCSA boards, he also serves on the board of directors for BayCom Bank Holding Corporation.
In May of this year, Davis was appointed by California Governor Gavin Newsom to the California Transportation Commission, a 13-member commission responsible for programming and allocating funds for the construction of highway, passenger rail, transit and active transportation improvements throughout California.
Davis works tirelessly for the rights of working families, including protecting and reforming legislation that guarantees worker rights, education and health care, voter registration, and immigration reform. With a strong history of building and organizing coalitions between community, labor and business, he is recognized for his dedication, hard work and devotion to the causes of workers everywhere.