Trey Axum honored as Code Official of the Year by MTCOA

City of Murfreesboro Codes Inspector Trey Axum was awarded the "Code Official of the Year" for the Middle Tennessee area by the Middle Tennessee Codes Officials Association (MTCOA) during a meeting in December 2020.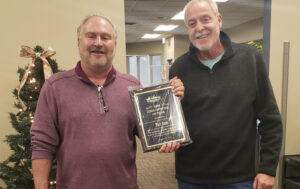 Axum has worked as a codes inspector for the City of Murfreesboro for nearly 30 years. During his tenure, the city's Building & Codes Department has changed and adapted along with the community's growth, transitioning from paper to electronic processing, updating software technology and adopting new codes.
"Not only has Trey adapted to changes, he has also adapted with staffing. No matter who comes and goes, Trey has always been ready to help new employees and inspectors." said Kevin Jones, assistant director of Building and Codes. "He has been a dedicated employee who is always willing to pitch-in and will leave a large voice for other inspectors to fill when he decides to retire."
Read the full article at WGSN.
---
Originally produced and published by the source linked to above, who is solely responsible for its content. Any facts, opinions or claims expressed in this article are based on the author and do not necessarily reflect those of the International Code Council. The Building Safety Journal is presenting this content to raise awareness of information publicly available online and does not verify the accuracy of any facts, claims or opinions made in the article.