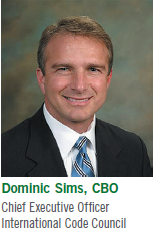 An especially active and deadly hurricane season has shown us once more the value of adopting and enforcing up-to-date building codes—the prevention of many deaths and greater resilience in the aftermath of these storms.
I stressed that fact in an article in the Highlands News-Sun out of Sebring, Fla. The reporter noted we can "thank" Hurricane Andrew in 1992 for strengthening the building codes that allowed Florida to prevent a lot of the same losses in that area during Hurricane Irma.
Work by building officials, as well as state and local officials in Florida following Andrew, led to the adoption of a state code offering consistent, regularly updated, safe building practices across all areas of the state. And we know their work helped many other hurricane-prone areas as well.
Others know it, too. During a Senate nomination hearing, U.S. Sen. Bill Nelson, noted, "The building codes do work. Where there was a new structure (built) according to new codes—the International Code standards— the structure's there. Where there was an old structure next door, it's gone."
I am proud Sen. Nelson recognized what our work has accomplished so far, and I know we will learn from these storms as well, making communities even safer for the next hurricane.
I also am proud of our ICC members who helped get storm-ravaged communities up and running in Florida and Texas. Together ICC members, staff and partners raised more than $110,000 for American Red Cross disaster relief efforts. For more information, visit our hurricane resources webpage as well as the article about ICC's response during this devastating hurricane season on page 28.
Amid the storms and response, we held a very successful Annual Conference and Building Safety & Design Expo in Columbus, Ohio. I want to thank our Ohio chapters and members for hosting such a great event.
We elected a new ICC board at conference, with Jay Elbettar at the helm as our new board president. Read our Q&A with Jay on page 40 and other news highlights from the conference in this issue. More extensive coverage will be featured in the December edition.
Also, cdpACCESS is open for the 2018/2019 Group A code change cycle. We urge you to weigh in. Your input is critical to the success of the model codes.
In light of recent devastating wildfires, ICC has joined with the California Building Officials (CALBO) to match funds donated to the American Red Cross up to $10,000 within the next month. Click here to donate.
Thank you again to all our members and partners for your willingness to pitch in during disasters and whenever help is needed. You all make our communities stronger and our buildings