Arroyo Grande building official honored for going the extra mile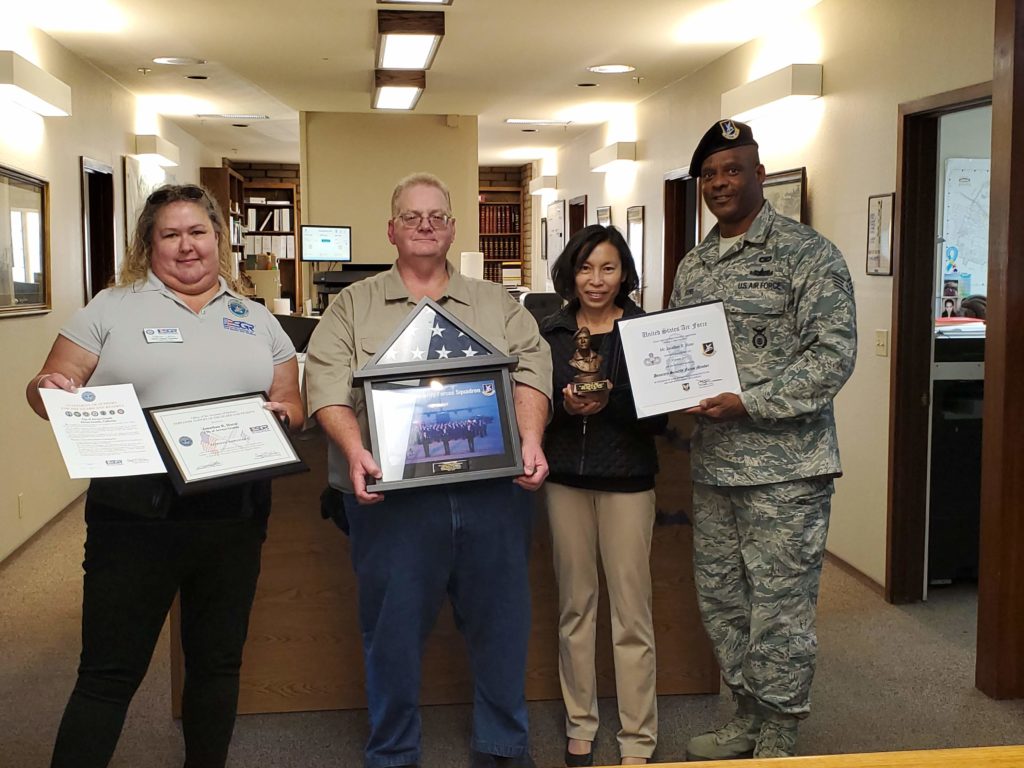 Johnathan Hurst, CBO, building official for the city of Arroyo Grande, Calif., has spent much of his 30-plus-year career working the building department counter in smaller jurisdictions. That alone would be enough reason to earn him a major honor. But one couple wanted to do something special for the manner in which he went out of his way to make sure they had the home the way they wanted, despite a myriad of roadblocks. The humble, soft-spoken Hurst said he was just doing what he does for any other customer at the counter.
"Those are some lucky people then," said homeowner and U.S. Air Force Reserve Jonathan Iron. He and his wife were thrilled to be among them and they found a way to show their appreciation that Hurst said he never will forget.
Several years ago, the Irons were looking for a home that would be more central to his prison job in San Luis Obispo and to hers in Thousand Oaks. They asked around about Arroyo Grande, a small coastal town of about 18,000 with a nice mix of historic, urban and suburban charm mixed with agriculture. "We visited several times, asked around and said 'OK, this is a nice community. Let's get a place.' Iron recalled"
A real estate agent showed them a home on a hill overlooking the ocean. They bought the home and thought it would be great to have an addition, especially one with a deck on top to give them an even better view of the ocean. "Some of our neighbors had that, and we thought it was really nice," Iron said.
Being in the Air Force Reserves and wanting to do things right, Iron headed over to the Arroyo Grande Building Department to ask what permits they would need. That's when they met Hurst, who told them what they would need to do to for the addition and, later, how to accomplish the deck.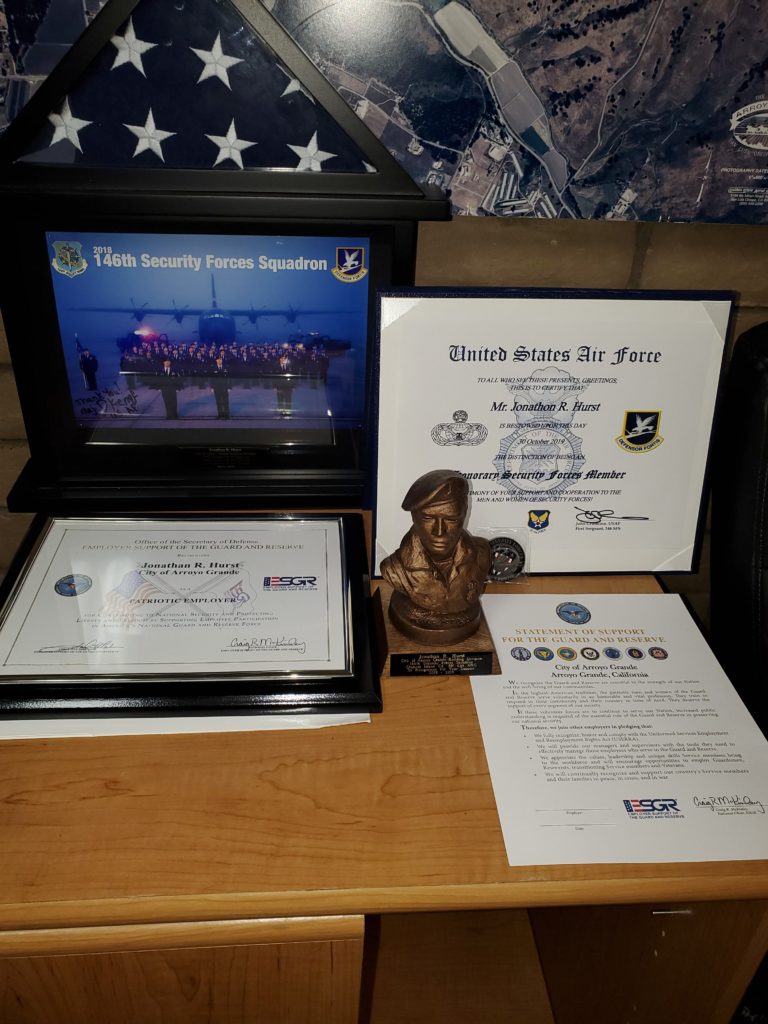 Shortly thereafter, Iron was deployed to the Middle East for eight months. That left his wife to work out some knotty issues, including finding a new contractor, since the first one didn't work out. The second one also made things difficult for a while, so much so that Iron had to call Hurst from the Middle East to straighten things out. Then there was a neighbor who complained to the city council, afraid the couple's new deck would block her view of the ocean. Hurst helped straighten that one out too.
Not long after Iron returned from the Middle East, his employer sent him to Texas for training. The Irons had ordered a spiral staircase to access their new deck but it turned out that the one shipped wouldn't work. "Every time, there seemed to be a bump in the road," Hurst said. "I just kept telling them, 'You'll be fine. You'll get through this.' I just kept trying to keep them going in the right direction."
Hurst helped them draw up a plan for the staircase that would work with the city code, and one the suppliers said they could provide. Finally, they were able to enjoy their addition, hosting Bible studies and parties for friends and family. But they couldn't forget how kind and patient Hurst had been with them.
A native Californian, Hurst worked the counter through the legacy model code organization International Conference of Building Officials after he graduated from high school in 1976. He's handled all types of projects with all types of people who have all sorts of questions. "I'm like a barkeep," he said. "You hear all their stories." Hurst said he adopted his counter demeanor early in his career, and it hasn't failed him since.
"There was this woman who came in to where I was working, and there was a glass foyer, so I could see her coming. One time, she just chewed me up one side and down the other," said Hurst. "After that, I really didn't want to be at the counter anymore. But then, I had a revelation: Next time she came in, I was going to kill her with kindness. I did, and she just melted. And we were friends from that point on. It was just amazing. You just don't know what's going on in someone's life. There may be a good reason for why they're acting the way they do."
Hurst said he treats everyone at the counter like that since, including the Irons.
Still, the couple wanted to do something special so Iron talked to his superiors at the Air Force Reserves and told them what Hurst had done for them. "So this guy is all that," Iron remembered his superior asking. "He's all that," Iron replied.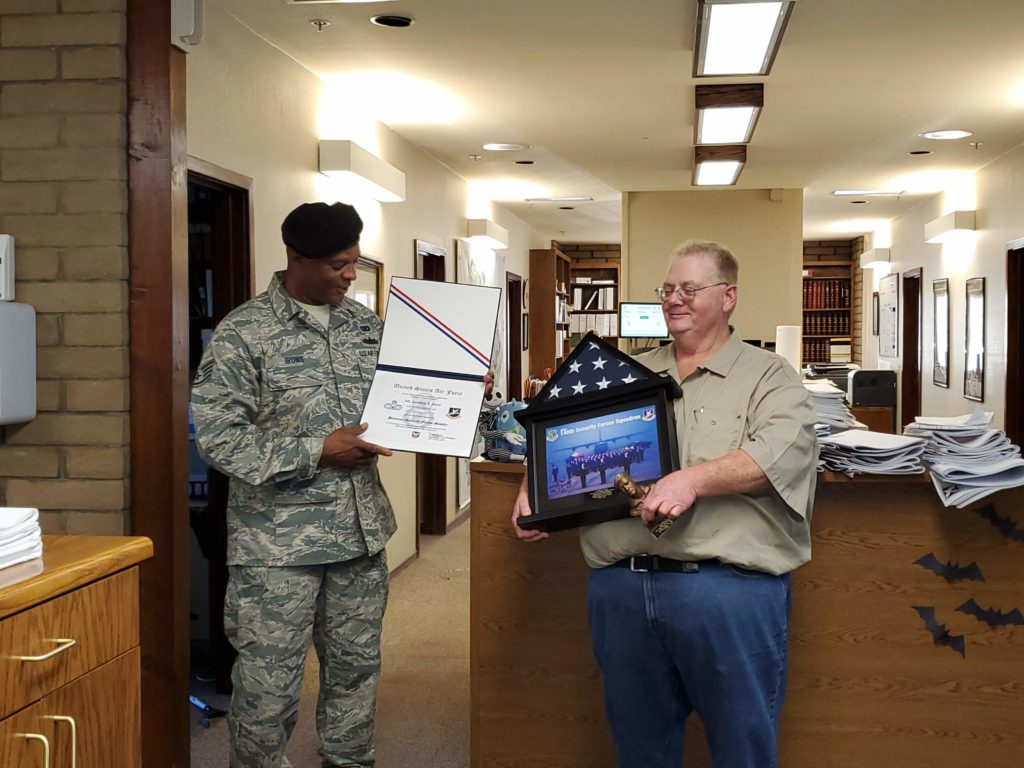 Hurst hadn't heard from the couple in a while, but in October, the Irons made an appointment to visit him at his office. Hurst saw the Irons pull up in one vehicle; Jonathan in his service gear. Another official vehicle pulled up with a woman in a U.S. Air Force uniform. While the Arroyo Grande Community Development staff were wondering what was going on with this group assembled near the counter, when Hurst got there, the woman — a representative "Employer Support of the Guard and Reserve" — and Iron presented Hurst with a plaque of appreciation, a small bust of a reserve guard, a shadow box with Iron's 146th Security Forces Squadron photo signed by his commanding officer, USAF Major Kempf, and an American flag.
"I am very patriotic and was practically moved to tears," said Hurst. "I was extremely honored by this gesture and the kindness of the Irons. I was only doing my job — what I do for every person that has plans that come across my desk. It was simply humbling that they would go out of their way to do something so very special for me."
As permit technicians and anyone who works the building permit counter know, Hurst said, thanks are few and far between. "It's not just me here," Hurst said. "It's a team. But this was just amazing. It's something I'll never forget."