Bringing building and code safety to younger generations
Educators at heart: Pete Roque and Rachel Patterson are engaging children and young adults on building and code safety in unique ways
When children are asked what they want to be when they grow up, common answers include police officer, firefighter, teacher, doctor and veterinarian. But what if, one day, careers in construction and the trades became standard responses, too? Two building and code safety professionals are doing their best to make that vision a reality.
Pete Roque, director of code enforcement for 4LEAF Inc., and Rachel Patterson, a code enforcement officer in Colorado, are developing an animated series for children, similar to Bob the Builder and Handy Manny. It stars a fox named Fiona who talks about code enforcement concerns and complaints. Patterson develops the scripts and cuteness factor, while Roque handles the dubbing and program logistics.
"Building and code safety is important in our everyday lives," said Patterson. "We believe it is important to continue to bring forward relevant information to teach to our younger generations. [It should be] taught or expressed in an engaging, entertaining and easily understood manner."
"When you hear a roomful of kids say, 'I want to be a code enforcement officer when I grow up,' I know that will be a day when we know we made an impact," said Roque. "I personally know this works as I go on walks with my six-year-old and he can recognize when a house is in need of maintenance or has a common violation. It is amazing what kids pick up. I know exposing them to our profession works."
Fiona the Fox conveys important safety concepts
The idea for Fiona the Fox was born when Patterson and Roque decided to collaborate on a project to convey important safety concepts in a way that would resonate with children. As the duo brainstormed ideas, they agreed that the industry needed an ambassador.
"Police officers have McGruff the Crime Dog, firefighters have Smokey the Bear, even the dentist has a cute tooth," said Roque. "At an early age, kids look up to these professionals as heroes. The permit tech, building inspector, code enforcement officer or others in the industry aren't in the conversation. Many in our industry stumble into these given professions and learn. I never knew about code enforcement until I was 19 and did not get into the industry until seven years later when I again stumbled upon it. I think it is important to expose kids to our industry and know that there are public servants that only seek to help keep their neighborhoods clean and safe." Patterson agrees.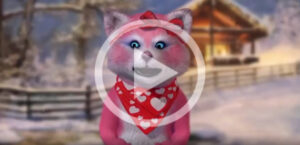 "In history, there have been characters created that reflect a message from law enforcement or similar fields in an attempt to gain understanding and compliance," said Patterson. "Fiona and friends are no different. They are – and we are – ambassadors of the industry, providing an important message of building code and construction safety. We tried to pick a relatable character to deliver the message and landed on Fiona the Fox!"
Fiona will deliver a variety of safety-themed messages through her animated platform. The first segment was about snow removal. A segment they are developing now is about accessibility. It was inspired by an Americans with Disabilities Act (ADA) class taught by Lorena Soules at the National Women Leaders in Code Enforcement Symposium, where Patterson was also a speaker. Soules is the building services manager at 4LEAF and has more than 20 years of experience in the industry.
The accessibility episode will focus on basic violations such as missing or damaged handrails, damaged sidewalks and crosswalks, lack of accessible building entrances, and missing signage. It will explain why these issues matter and why it is essential for the public to understand and recognize them. It will also provide solutions for fixing the problem.
"This topic is near and dear to my own heart as I have a daughter with disabilities who often struggles with the lack of ADA-compliant needs," Patterson explained. "Everything [in the episode] will be done and discussed in a polite and respectful manner."
Coloring book explains building safety to kids
Patterson and Roque are also collaborating on a coloring book for children. It will not focus exclusively on Fiona, but it will provide similar content and messaging. It will provide examples of minor violations and explain how everyone can do their part, like picking up trash or not wasting water.
"We want to create a fun environment to learn about the everyday do's and don'ts of construction and building safety, as well as provide a different perspective or twist on common sense and being a good neighbor," said Patterson.
"What we found out is that explaining things in different ways to kids is important," said Roque. "Some children are visual learners, and others are kinesthetic learners. Our goal is to try different mediums for those audiences. For kids, words are not always enough. They can benefit from reading a small story or becoming engaged with the coloring, or watching short segments." Roque credits his partner with the duo's ability to reach diverse audiences.
"Rachel, by far, is the storyteller on this team," he said. "She is, in my opinion, one of the customer service and education practitioners. Rachel has a way of explaining things to others — from the elderly to both kids and adults."
Born educators help code officials expand their knowledge
Patterson and Roque are both educators at heart. In addition to Fiona the Fox and the coloring book, the two also co-host a podcast —  Code Concepts with Rachel Patterson and Pete Roque — which features interviews with industry experts. They discuss relevant concepts and topics to help code officials expand their knowledge and better understand the profession. Their podcast and other free resources are available at codeenforcementeducators.com, a website founded by Roque to support code enforcement officers and educate the public.
"As an active promoter of our profession, I took the time to create Code Enforcement Educators," Roque wrote in his online bio. "This site will allow officers the ability to obtain and learn general principles and up-to-date news. Additionally, the goal of this site is to share educational materials with fellow code professionals."
Patterson is equally passionate about her career, the industry and educating both her peers and younger generations. She said building and safety education is one of the primary reasons she ran for a board position with the Colorado Chapter of the International Code Council.
"I want to create content and educational materials on one side for the children and eventually content on the reverse side for building officials and inspectors," Patterson said. "I want to create opportunities for them to help students and the younger generation also become aware, engaged and educated."
Patterson also hopes that the work she and Roque are doing will inspire young people to become more involved in their communities. Her vision and mission for her role as a code enforcement officer is to "create, enhance and maintain quality of life and safety standards within our communities." She believes that delivering this same standard and message to children and teenagers will prepare them to be more aware, engaged and involved when making everyday decisions, some that could potentially save a life.
"The information provided and taught is intended to save lives and spark interest in building, code, construction and safety career paths as well as charge kids with the desire to serve their community and others," said Patterson. "We believe Fiona has a powerful platform that will help engage our future leaders of tomorrow."
Beyond Fiona, the coloring book, and other podcasts and educational resources they are already working on, Patterson and Roque are committed to creating even more content to bring the world of building, construction and code safety to the forefront. They are passionate about helping others, fostering community and sharing information.
"We all live in some type of a dwelling where building codes were utilized to correctly assemble the home, or zoning and municipal codes have directly affected something visible on the outside of the home," said Patterson. "Let's learn how and why these codes exist. Let's learn how to fix what is broken or in violation both safely and correctly. Let's work together to be good neighbors."