Bryant: Together we are working today to prepare for tomorrow
Looking back on a year of solid financial growth and success during 2019, International Code Council Immediate Past President William R. Bryant, MCP, CBO, told Annual Business Meeting attendees that the association has done much during the past year to prepare for the future of our individual members, association, communities and the world as he presented the annual President's Report. "Our past and present planning have made the Code Council the robust association that it is today," said Bryant while presenting the annual report. "Our Board of Directors have been focused on fulfilling my presidential theme for this past year, which is 'Working Today to Prepare for Tomorrow.' We also approved the 2025 strategic plan that will guide the Code Council's work throughout the next five years."
"Our strategic plan focuses on four strategic pillars: fortify the Code Council's mission, brand, and public awareness; increase value for members and the building safety community; ensure financial sustainability and growth; and modernize the organizational structure," said Bryant. "Each of these pillars is supported by tactics and initiatives that form the roadmap for successful implementation and sustainable growth over the next five years."
Below are Bryant's full remarks during the Annual Business Meeting on Oct. 21, 2019, in Las Vegas, Nev.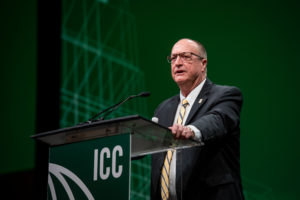 This past year has been filled with activity and progress for our association. I'm excited to share with you some of the important projects and improvements that we've made to further building safety around the world.
Our Board of Directors have been focused on fulfilling my presidential theme for this past year, which is "Working Today to Prepare for Tomorrow." We also approved the 2025 strategic plan that will guide the Code Council's work throughout the next five years.
Our strategic plan focuses on four strategic pillars.
One, fortify the Code Council's mission, brand, and public awareness.
Two, increase value for members and the building safety community.
Three, ensure financial sustainability and growth.
And, four, modernize the organizational structure.
Each of these pillars is supported by tactics and initiatives that form the roadmap for successful implementation and sustainable growth over the next five years.
Our past and present planning have made the Code Council the robust association that it is today. This year our board made great strides in ensuring that our financial stability will continue for years to come through a comprehensive acquisition strategy.
This strategy is increasingly important as we face repeated attacks on our intellectual property. These attacks threaten the very existence of the association and our ability to serve our members.
Diversifying our business model is critical to the long-term success of the Code Council. Financial stability allows us to continue supporting our members and leading the way in creating safe buildings and resilient communities worldwide.
This year we added a new subsidiary to the Code Council family of solutions. NTA is a leading provider of testing, inspection, compliance engineering and off-site construction plan review services. Their addition significantly expands the services the Code Council provides to our members and customers by adding laboratory and testing capabilities.
The board also approved the merger of Coded Systems with General Code. Coded Systems has been a highly respected codification services provider in New Jersey for over 49 years. The merged companies, operating as General Code, support the growing needs of building safety professionals by providing expanded product offerings and digital solutions.
Prior to the merger, Coded Systems and General Code were individually the two largest codification companies in New Jersey. Now we can proudly say that we support almost all the municipalities in the state with exceptional codification services.
These acquisitions not only allow the Code Council to provide more extensive services to our members but also allow us to weather the ups and downs of a changing economy. We can continue to provide exceptional products and services to our members and customers without interruption, no matter what happens in the short term.
Over the past year, we began to explore the potential for remote voting at our annual business meeting. I believe it's important that we continue finding new ways to encourage active participation in Code Council activities. The future of our association depends on it.
That's why I established an Ad Hoc Committee on Annual Business Meeting Business and Elections to study the issue of remote voting. The committee is hard at work and will be issuing their recommendations to the full board in the months to come.
Although I've been your president for the past year, I am a code geek for life. To quote Mike Pfeiffer, code is our middle name. Codes are the cornerstone of safe and resilient buildings and an essential way for communities to prepare for the future.
The International Codes are used across the U.S. and around the world. Our code development process is truly unique. We go to great lengths to ensure that our open, consensus-based process remains fair and transparent. Your participation is key to the development of the codes that impact nearly 2 billion people around the globe.
Later this week, we'll kick off the Public Comment Hearings for the Group B codes. This continues a process that started early this year to develop the 2021 I-Codes. In Albuquerque last April, you considered over one thousand three hundred code changes. We had two tracks totaling 185 hours and 19 days. We will wrap up the development process later this year with the online vote. In the fall of 2020, the Code Council will publish the updated suite of I-Codes.
This year we put together a Consensus Committee on Multi-Hazard Resiliency for Residential Construction. In collaboration with the Insurance Institute for Business and Home Safety, this committee will develop a comprehensive set of standards to increase the resiliency of residential structures in the face of potential hazards such as high winds, earthquakes, flooding, and wildfires.
This multiyear project will result in the publication of a series of standards, one for each hazard, as well as design guides to aid designers, manufacturers, builders, and code officials in delivering residential buildings that are safe, marketable, and affordable in the face of rising risks.
I'm proud of all the work we've done this year to prepare for the future — the future of our individual members, our association, our communities, and the world. Together we are making a difference in the lives of billions of people.
Together we are working today to prepare for tomorrow.