Building department leaders: Aurora builds reputation through accreditation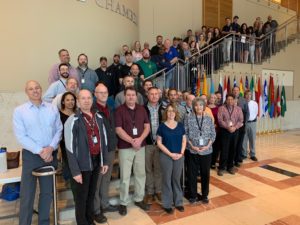 When Scott Berg became the chief building official for Aurora, Colo., in 2006, continuous improvement was an important element within his planning process. "I felt we had a great operation in place, but I was curious to see if there were areas that we could do better," he said. This led Berg to consider applying for International Accreditation Service (IAS) accreditation. The IAS Building Department Accreditation Program is for governmental agencies and third parties providing building department services proactively seeking to improve their organizations. Increased efficiencies, improved decision making and enhanced public confidence in services are some of the benefits of accreditation. "My intention was to obtain feedback on processes or procedures that needed improvement and take those findings to make changes," Berg said. "I really had no idea that we could actually get accredited."
Boosting morale and reputation
Berg found that one of the greatest benefits of accreditation was an increase in staff morale. "Our staff worked hard on the process and are very proud to be the only department in the entire state of Colorado to become accredited," he added. "The other big benefit is the reassurance out-of-state developers get when they see the accreditation; it lets them know that we operate at the highest level of professionalism and we offer a predictable process." He added that obtaining accreditation elevated the department's reputation not only in the development community but also among the elected officials in the jurisdiction.
Improving processes
Berg said that accreditation is a great way to have your business processes and day-to-day operations analyzed from an independent third party. "We were operating a pretty efficient system prior to accreditation," he explained. "But the biggest change that we made was to better document how we do things — the creation of true policies and procedures was the outcome." His team also created a much simpler plan review process and permit fee structure that has received much positive feedback.
"Obtaining IAS accreditation for our office adds further proof that the Aurora Building Division operates at the highest level of professionalism and customer service. We are very proud to be the only accredited jurisdiction in the state of Colorado. I welcome other cities to reach out to me if they have questions about the process."
— Scott Berg, Chief Building Official, City of Aurora, Colorado
Getting to 'yes'
Berg's team of 80 professionals serve a population of nearly 400,000. "The mantra we operate under is to provide the best customer service possible," he said. "This means predictable, fast, fair and simple. We also view ourselves as partners with our customers. We want a successful project as much as they do and we are always trying to get to 'yes' in our interactions."
For the city of Aurora, accreditation was a building block to improved planning and processes. If your building department could benefit from new ideas and system enhancements, IAS provides a one-day training program for individuals interested in better understanding the requirements for the accreditation of building departments and third-party providers of building department services.
---
This article is part of series from the International Accreditation Service (IAS) profiling building departments and third-party service providers accredited by IAS — a non-profit accreditation body and a subsidiary of the International Code Council. Building Department Accreditation and Building Department Third-Party Service Providers Accreditation are two of the programs offered by IAS to provide evidence that departments have met a national accreditation standard and are competent to provide public safety services for their communities. To learn more about these accreditation programs, visit Building Department Accreditation and Building Department Third-Party Service Providers Accreditation.