Building department leaders: San Antonio department is "trailblazer" due to achieving accreditation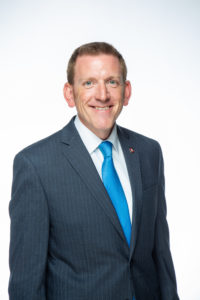 International Accreditation Service (IAS) building department accreditation has been a gift that keeps on giving for the team serving in the city of San Antonio's Development Services department.
"IAS accreditation is a compass that has been utilized to keep our department on the path of excellence as we strive daily to build and maintain a safer San Antonio," said Michael Shannon, P.E., CBO, the department's director. Shannon said that accreditation "has resulted in other cities reaching out to us as a model organization and has made us cognizant of our own performance. We have also instituted and been recognized for best practices that have been implemented in support of or as a result of our department's accreditation."
Starting off on the right foot
The San Antonio Building Department began its accreditation preparation by studying the accreditation criteria, then reaching out to IAS to seek clarifications and gain answers to their questions. They also began updating business processes, documenting them and communicating them to staff and stakeholders. They then began to implement best practices and offer increased staff training and place an emphasis on individual certifications.
Shannon said that IAS surveillances helped his department to identify areas for improvement. One major change was the implementation of quality control reviews, which took time to define and develop but proved well worth the effort. Another important change involved enhancing the department's special inspections program, requiring that special inspection agencies and inspectors are approved by the building official. A third change instituted as a result of an IAS surveillance was the auto-emailing of inspection results to all parties listed on a permit.
"The Development Services team also implemented a quality control program for field verification of energy code compliance in order to better ensure adherence to the International Energy Conservation Code and in response to feedback from IAS," explained Shannon. "Each field inspector has been trained to perform three to four quality control inspections each week for energy compliance and to document the results under a quality control inspection element in our software system. IAS has also helped our department identify needed improvements regarding document control and versioning to ensure that the latest training materials are being used to train staff."
"Building department accreditation is an excellent process to ensure you are providing the best service to your community for safety. IAS accreditation is easily one of the most important things we have done as an organization."
— Michael Shannon, P.E., CBO, Director, City of San Antonio Development Services, San Antonio, Texas
Challenges help you grow
As the San Antonio Development Services team learned, obtaining accreditation took commitment and a determination to make improvement a priority. They acknowledge that the staff time needed to coordinate and complete the application process was significant, but not insurmountable. They also recognized that developing and implementing needed improvements can challenge department resources.
"Correcting items noted in an IAS surveillance may require change management, buy-in, training and behavior change," noted Shannon. He said that introducing change can be challenging to a department's culture and their norms. But was it worth it? Shannon knows it was the right route for his team. "Due to its accreditation, the city of San Antonio is looked upon by peer development departments as a credible resource and trailblazer."
Advice to peer departments nationwide
Now that the Development Services department in San Antonio knows the value of the accreditation process, Shannon is quick to encourage peer departments to "Go for it! Review the accreditation criteria and become familiar with it. Reach out to accredited departments to ask questions and learn about their experiences. IAS staff are great resources as well. Talk with them!"
For the city of San Antonio, accreditation was a building block to improved planning and processes. If your building department could benefit from new ideas and system enhancements, IAS provides a one-day training program for individuals interested in better understanding the requirements for the accreditation of building departments and third-party providers of building department services.
---
This article is part of a series from the International Accreditation Service (IAS) profiling building departments and third-party service providers accredited by IAS — a non-profit accreditation body and a subsidiary of the International Code Council. Building Department Accreditation and Building Department Third-Party Service Providers Accreditation are two of the programs offered by IAS to provide evidence that departments have met a national accreditation standard and are competent to provide public safety services for their communities. To learn more about these accreditation programs, visit the Building Departments and Third-Party Service Provider Accreditation page.