Carey Frazier has a lot to share on handling exponential growth from the counter

Carey Frazier remembers what Frisco, Texas, was like when she moved there nearly 35 years ago after her husband got a job in nearby Plano. "There were 5,000 people, we had a burger restaurant that wasn't a franchise, and flashing stop and go lights," Frazier said.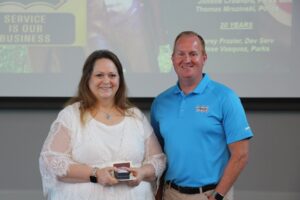 By 2000, when she was hired by the city of Frisco as a permit technician, the city on the outskirts of Dallas already had grown to 35,000. "Now, we just hit 200,000," said Frazier, recently honored by the city for 20 years of service. Since 2015, she has served as a plans examiner, responsible for poring over building plans for compliance, application and enforcement of building, zoning and sign codes.
Does it feel like 20 years?
"Some days, the answer is yes," she says emphatically. "Most times, I just can't believe all that has happened in 20 years. So much has changed."
That once-sleepy little town with one high school now has 10 and is home to the Dallas Cowboys headquarters, the National Hockey League's Dallas Stars headquarters, the FC Dallas Soccer Club and the Texas League Frisco RoughRiders, a minor league affiliate of the Texas Rangers. Oh, and Professional Golfers Association Frisco, the $520 million mixed-use development that will be home to the PGA of America headquarters and two championship golf courses.
"We knew early on the growth was coming, and we planned for it," Frazier said. While controlling that onslaught, Frazier said Frisco also was one of the first towns to mandate green and sustainable construction, as well as masonry on the first floor of structures and adoption of a strict sign ordinance. "You go down our streets, and you can see our town is very different from others."
Working with city officials, Frazier has been part of many of those major changes resulting from a growth explosion in Frisco during the past 20 years. But she didn't start out to be a permit technician. An aunt suggested she look to her municipal building for work. Originally, she applied for a position as an assistant to the city manager. "Instead, they told me they needed someone in customer service for the building department. And it has been a real learning experience. I knew a little construction, but nothing about zoning. And I would get all kinds of calls, like 'What do my plans still need?' And even, 'I need a good shoe repair store.' I had to tell them we didn't have one, but the next town over did."
But Frazier started to quickly pick up the finer points of the building department. "I would stand in the hallway and listen when one of the guys explained to a customer what they needed to do. I learned a lot like that."
She also learned a lot after joining the International Code Council and attending a half dozen annual meetings. There, she got the chance to network with other permit techs and with those on the board who helped set up PermitTechNation — an organization founded by permit technicians from across the United States via networking through the Code Council, which has grown over the years into a community that supports, encourages and mentors each other.
But early on in Frisco, it was former building official Donnie Mayfield who took Frazier under his wing and suggested she study for and take the Code Council's permit technician certification. Frazier is proud she became one of the first in the nation to achieve the certification. Since then, Frazier has added ICC Zoning Inspector to her certifications and has become part of the North Central Texas Permit Tech Chapter (including stints as president in 2009, 2015 and 2018) and the Code Council's PermitTechNation network, serving as president in 2017. She also has been a member of the North Texas Chapter of ICC since 2007, serving as secretary in 2019 and 2020, and was the chapter's 2018 Employee of the Year.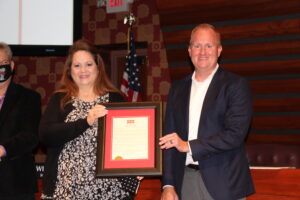 Frazier was honored by Frisco Mayor Jeff Cheney and the City Council on Aug. 4, 2020, for 20 years of service to the city of Frisco and for her contributions to the city's success through her many roles within Development Services, including helping to keep construction on track through the pandemic. She was humbled by the honor, but Frazier says she's not going to slow down anytime soon, including studying for the International Residential Code certification. "I want to continue to learn," she said.
And to teach. As her mentor Donnie Mayfield did years ago, Frazier wants to spread the word to fledgling permit techs about the myriad ways they can improve themselves in their current jobs, or for their next ones. "The Code Council has amazing offerings to help prepare for certifications. The webinars are incredible. That's what I really like to do, help people understand their jobs better. I have seen the unique challenges that come with growth. I certainly could help communities going through that type of growth now."