Code compliance starts with people first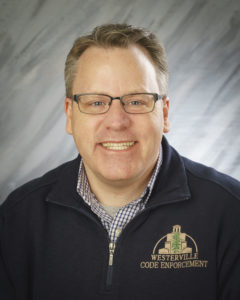 From blighted yards and unsafe houses to hazardous human activity, property maintenance and housing inspectors and zoning inspectors confront local challenges every day in the name of public safety. Of all of building inspector professions, the code enforcement officer's interaction with the public can be as critical as with the built environment, often requiring the skills of a social worker, law enforcer and legal expert. The Code Council recognizes the often-unsung work of code professionals in our neighborhoods — Code Enforcement Officers — and it salutes these invaluable professionals.
Bryan Wagner dons many hats in his role as code enforcement supervisor with the city of Westerville, Ohio. His department is responsible for enforcing the city's zoning code, property maintenance code, yard care code and nuisance code among other codes. A welcoming city with a rich history, Westerville also presents challenges to code enforcement officials, as is true for most mid-sized cities in America. In 2018, for example, Wagner's department investigated 628 cases, identified 888 code violations, abated 45 code violations, issued 96 citations and attended over 100 court hearings.
Wagner is committed to his work and its critical role in upholding public safety. But the code enforcement officer also confronts personal safety issues on the job, and this close community of officials recognizes the risks and sacrifices of their own. He discussed this sobering side of the profession.
"We were all reminded of how dangerous this profession can be with the murder of West Valley City, Utah, Code Enforcement Officer Jill Robinson in 2018," Wagner said. "We also should not forget the officers that fell before Jill including: Greg Zyszkiewics (Wisconsin, 2017); Michale Walker (Texas, 2005); Bill Shaline, Jean Hillery and Tom Quados (California, 2004); Mickey Wright (Tennessee, 2001); Donald Juenemann (Minnesota, 1997); and Cynthia Volpe (California, 1992)."
And unlike the work of many other building code professions, code enforcement officials must maintain pace with fluid cultural and economic climates, and patchwork sovereign laws.
"Sovereign citizens, unsanitary hoarding conditions, illegal drug labs, and dog/cock fighting have always been a concern for our profession," Wagner observed. "However, we are now being asked to administer and enforce additional complex codes, including those pertaining to recreational/medical marijuana, gambling, massage and sexually oriented establishments, among many others, placing code enforcement professionals at a higher risk of coming into direct contact with drug dealers, human traffickers and gangs. Please be safe and vigilant!"
Despite the challenges, he deeply values his work, and its integration into a network of public safety officials.
"I enjoy being a small part of a city comprised of police officers, firefighters, paramedics, building inspectors, service staff, utility workers, engineers, park staff, maintenance workers and other professionals who are dedicated to helping people and solving problems. It's fulfilling when I am able to connect a resident to community resources to help solve a problem or help resolve a code violation that has persisted for an extended period of time."
Wagner's passion to his profession extends to educating the public about the critical role of code enforcement — and why this work matters.
"Code enforcement professionals play a vital role in maintaining the health, safety and economic vitality of our communities," he said. "We wear several hats and are directly responsible for maintaining and enhancing quality of life for residents and businesses. Sensible and thoughtful enforcement of local codes and ordinances is essential to providing safe and healthy living and working conditions for the public."
Along with his many professional responsibilities, Wagner serves as vice president for the American Association of Code Enforcement and serves on the Code Council's Exam Development Committee. When his enforcement hats are off, he serves as an active Rotarian and a member of Westerville Neighbor 2 Neighbor, a grassroots community-driven conversation to build spirit of community, foster neighborhood connections and encourage neighbor engagement. He has been married to Amiee, a professor and ordained minister for 24 years. The couple have three wonderful children, and two spoiled Dobermans.