Code Officials Association of Alabama honored with Chapter of the Year Award

Founded more than 50 years ago as a charter member of the legacy Southern Building Code Congress International, the Code Officials Association of Alabama (COAA) always has been about fostering education and certification for safe codes and construction. Most recently, that has included going out into areas underserved by code training to show officials and contractors how solid insulation can help save a bunch of dollars for contractors and homeowners alike.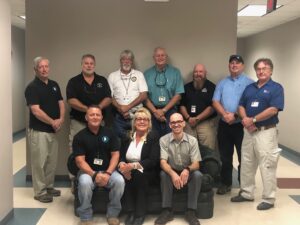 "You can tell them about the green energy code, but when you show them a blown door demonstration at an actual house, how much energy is escaping now and how much can be saved, they get pretty excited," said Tim Jordan, chief mechanical inspector for Mobile County, Ala., and president of the Code Officials Association of Alabama. "This program has been going great."
Educational outreach programs to more remote areas of the state, scholarship awards and a focus on expanding certifications earned COAA the Code Council's Chapter of the Year Award for 2020. The award, which recognizes extraordinary performance by a chapter in promoting the goals and mission of ICC, came as a surprise to Jordan and his mentor, Paul Antoine, Mobile County's chief plumbing inspector and past president of the COAA. "I've been at the annual meetings when other jurisdictions have won this award," Jordan said. "It's always been given to a group of hard-working officials doing their best to make sure the codes are safe for everybody."
That's been COAA's mission since the association was founded in 1968. "There's been a lot of growth in Alabama," Antoine said. "But in the early days of the association, there were a lot of people in the industry, especially in the smaller towns, who didn't trust any type of outside oversight. But then, we had hurricanes and floods and tornadoes, and slowly, those officials were able to see the merit of good building codes for safer and more durable construction. We also know there are a lot of communities in Alabama where the building inspector also might be the one who issues citations for grass that's too high or wandering dogs; whatever the mayor thinks they're capable of doing. We want to make sure those people especially have access to information they need. And we know they can't always take time to come to us. So, we go out to them as often as we can."
Before the pandemic hit, Jordan said, there was a lot of sharing of information among code officials, contractors and other stakeholders on a variety of issues. Since March, he said COAA has tried to be a clearinghouse for chapters, logging what they're doing to get through and comparing notes with other jurisdictions and chapters, which include the East Alabama Code Officials, Gulf Coast Code Officials, Code Officials of Lower Alabama, North Alabama Code Officials, North Central Alabama Code Officials, South Alabama Code Officials, Region IX Gulf Coast Chapter and the Fire Marshal's Association of Alabama.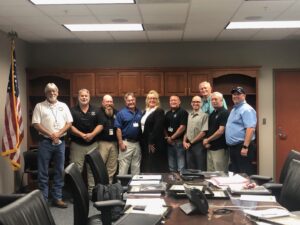 Officials with COAA stood with the governor during Building Safety Month 2019, as they had in past years, to get a proclamation signed, which then was presented to the members at last year's COAA Annual Conference. Additionally, the chapter's dual membership in the Code Council is up nearly 50 percent due to their efforts, and the percentage of officials holding at least one Code Council certification has gone up 25 percent. They also are very proud of their scholarship programs, including one in memory of C. D. Howard, beloved COAA member, to children of Code Council members.
All that they have accomplished to earn the Chapter of the Year Award harkens back to the COAA's original mission:
To promote maximum safety for life, health and property at minimum building cost through education and training of code enforcement officials.
To create a better public understanding and appreciation of the proper administration of building, housing, plumbing, electrical, and related codes and ordinances, and their importance to the safety, welfare and prosperity of the municipality and county.
To improve the prestige of code enforcement officials by the promotion of high standards of efficiency in the administration of building, housing, plumbing, electrical, and related codes and ordinances through continued education and training.
To assemble with other government officials and organized groups concerned with codes and ordinances to exchange ideas and to discuss mutual concern.
To develop courses of instruction concerning new materials and methods of construction in cooperation with recognized education institutions and to promote proper interpretation, enforcement and administration of codes and ordinances.
To assist Alabama municipalities and counties with the organization and maintenance of adequate code enforcement departments, codes and ordinances.
Jordan said Antoine has set a great example for him to lead COAA. "He is my mentor, co-worker and most importantly, my friend." The two chapter leaders also credit Mobile County government and staff for their parts in the success of COAA programs, knowing that helping even one jurisdiction helps all. "Our staff keeps up with certifications to get better and better," Jordan said. "They know they don't have to go out of town to achieve. As I serve my second term as president, this team has shown perfect attendance at all meetings, whether in-person traveling across the state or Zoom meetings during this pandemic, to be sure quorums are met and business is completed. If an emergency arises and an email vote is needed, it is accomplished in hours, not days. I can't stress enough how thankful I am to work with this team."