Code professional profile: Samantha Everett
As chief building official for the city of Loveland, Everett shares her blueprint for succeeding as a code professional
The city of Loveland, Colorado, has been growing steadily over the last several decades, expanding towards Fort Collins to the north and eastward as well. With a 2020 population of more than 81,000, it is the 14th largest city in Colorado and has a growth rate of almost 1.5 percent annually. Because of this continuous development, the city had to evolve, and that included making improvements to its building division with enhanced plan review, building permitting and inspection.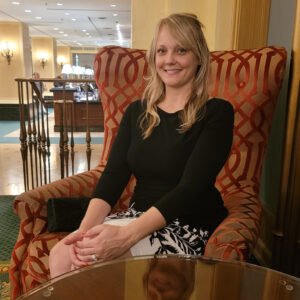 The city's transition coincided with Samantha Everett's relocation from Harrisburg, Pennsylvania, almost five years ago. Everett's husband, a military veteran, benefited greatly from therapeutic animal care, and the Everetts found Loveland to be the right place to start a homestead for their family of 11, including seven children, one grandchild and her father.
Everett began working for the city as a building inspector in 2017, and she was promoted to inspection supervisor in less than six months. She became acting chief building official in July 2018, and by December that same year was appointed to the position permanently. Her experience as an 11-year building code official for Swatara Township, and a five-year building inspector for the city of Harrisburg before that, primed her for the role.
Under her leadership, the building division's culture prioritizes customer service. As a code professional, Everett established a willingness to collaborate with contractors and community members in finding feasible solutions. "The goal is to achieve compliance, not to crack down using fines," she explained. "It's not about money, it comes down to life safety. When you put it that way, people can't really argue."
This community collaboration extends to the city's development services organization as a whole, including the planning department and code enforcement division. Everett guides her staff to apply a common-sense approach that stems from integrity — a dedication to doing things right and an orientation towards results. She insists that her success is due in no small part to Loveland's alignment with her values and support of her approach. "I really love that Loveland lets me be 'me'. The city leaders and community alike have allowed me to establish this customer service approach. By focusing on education and advocacy for life safety and sustainability, we can find the best solution for everyone."
The road to the top spot of the building division wasn't necessarily easy. Everett learned through experience how to navigate organizational politics, primarily by being steadfast in doing the job right, including speaking up and holding steady under pressure. She also shared that as a code professional, she has experienced the challenge of being stereotyped as a "blonde, young woman" in construction and acknowledges that it's easy to fall into the trap of trying to prove yourself. Although the industry has come a long way in moving the needle towards diversity, equity and inclusion, she can still sense when she's dealing with someone who may not be quite enlightened. "I know when I'm talking to someone who has daughters or respects the women in his life," she shared with a smile. Everett has learned to pick her battles and, for the most part, does not let it bother her. She lets her work speak for itself. She also takes the time to educate staff about things she wished someone had told her as she made her way up the ranks.
A career in code administration wasn't planned. Everett's father was in construction, but her initial motivation was to settle into a stable job with good benefits after having a child. Fortunately, she found mentors in fellow code professional Joseph Vajda with the city of Harrisburg, as well as Gill Longwell, who administered the Pennsylvania Building Officials Conference. Vajda took her under his wing, didn't treat her differently, and took the time to explain things and help her grow into the profession. Longwell encouraged her to join the ICC Region 7 board, where she served as secretary/treasurer just before she made the leap to start over in Colorado.
Upon relocating, Everett took some time to focus on her family, but in the last two years has become more active with ICC Region 11 as the Colorado representative. As an established code professional, she is looking into more involvement with the International Code Council's Education Committee and Membership Councils. One aspect of the Code Council that most excites her is the Technical Training Program, which integrates with career technical education so that students learn about codes and standards in addition to installation. She believes this knowledge is critical to help students understand how to pass inspections on the first try and not hold up projects by having to redo work.
Everett has continued to build a network of code professionals that she considers friends who are always willing to help, and this includes her current team of staff of 11, to which she is looking to add two more. She is proud of the continued increase in professionalism in the industry and believes the Code Council's efforts to develop a more affordable and readable code is an important foundation. She recalls the early days when code professionals argued among themselves about code interpretation. The updated code is streamlined and facilitates the common sense that Everett finds so critical in achieving compliance. It supports diversity, progressive thinking and collaboration with contractors and the community.
She sees in herself, as well as her team and network, that one can get started in the code administration field from anywhere. "Having some knowledge in construction helps, but you really have to have the drive and want to be here," Everett mused. She took on each professional development opportunity that came her way, essentially serving in every capacity to be had in the building division through the years, sometimes simultaneously. She sought out competent and willing mentors and recognized when it was time to move on to a community that more closely shared her goals and approach.
Most importantly, it is her family that keeps her going. Everett says she could not have advanced professionally without her husband's support, which included him staying home to care for their children. Eventually, the Everetts would love to open up their farm to provide therapy to other veterans. This comes as no surprise; it's a move that is in the same vein as her clear dedication to helping everyone around her. It is no question that Loveland benefits greatly from Samantha Everett's empathic leadership.