Davis: What we achieve today will be carried throughout our industry for years to come

The construction industry has undergone unprecedented events during the last two years and now code professionals are looking to enhance building processes, add efficiency and help build the future. Recognizing this trend, newly elected International Code Council Board of Directors President Cindy Davis, CBO, deputy director of the Division of Building and Fire Regulations for the Virginia Department of Housing and Community Development, spoke on the importance of preparing for the future by remaining focused on transforming our organization to meet the new expectations being placed on the building safety industry through the use of technologies, welcoming new professionals to the industry, implementing programs to encourage a diverse organization, and embracing new leaders and the next generation. "We are living in a time for us to make a dramatic impact on history. What we achieve today will be carried throughout our industry for years to come," Davis said. "What we do today, this month, this year, will make a difference for generations."
Below are Davis' full remarks as incoming Code Council board president during the Connections Gala on Tuesday, Sept. 21, 2021, in Pittsburgh, Pennsylvania.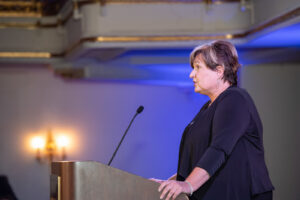 Good evening. I am so honored to be standing here today as your incoming Code Council president. I want to start by thanking Greg Wheeler, our outgoing president, for his remarkable service to the Code Council and its membership during the unprecedented events of the last two years.
We are living in a time where safety is top of mind for so many of us. The Code Council, more than ever, is in a unique position to protect the health, safety and welfare of citizens by creating safe, affordable, and sustainable buildings and communities. My focus during the next year will be on supporting all the efforts of our organization to promote that mission and to prepare for the future.
This is why I think it is fitting for us to be meeting here in this great city. After all, Pittsburgh embodies resiliency. The city has transformed itself from the steel mill days of the 1970s into a forward-thinking city centered around healthcare, biotechnology and tourism. Like Pittsburgh, our industry is showing its steadfast resiliency during rapidly changing circumstances and is embracing new methods to adapt.
As we move forward into the future, we must and will remain focused on transforming our organization to meet the new expectations being placed on the building safety industry. And we will do so in many ways. Technology has played a huge part and will play an even larger role moving forward. For example, the use of technology to hold virtual training workshops and conduct onsite virtual remote inspections is becoming an integral part of the day-to-day responsibilities of our members.
However, evolution cannot stop at only technology. A big part of our future also means welcoming new professionals to the industry and implementing programs to encourage a diverse organization that embraces new leaders and the next generation. I again applaud Greg Wheeler for his forward-thinking efforts and I commit to carrying them forward.
In line with the 2025 strategic plan and the charge to "assess the organizational structure," I will be naming a committee charged with developing proposals for consideration by the board of directors, which will suggest updates to the structure of the organization in a measured way to better serve the developing membership and our growing organization.
We are living in a time for us to make a dramatic impact on history. What we achieve today will be carried throughout our industry for years to come. What we do today, this month, this year will make a difference for generations.
The efforts we are making and will continue to make through our people and technology will be the driving forces for this impact. The building safety profession is laying the groundwork for our fast-moving society, and we will help individuals around the world feel safer and more secure each day. Your hard work and efforts are the reason my grandchildren will feel safe when they buy a house one day.
This is why I want to end by thanking everyone who has helped in building this industry and this association into one I am proud to be a part of. Thank you to board members past and present, the Code Council staff, and a special thank you to Women in Code Enforcement and Development — both the national and Virginia chapters — who are striving every day to empower women in the code profession.
Thank you also to Erik Johnston, the director of our state agency for his unwavering support, all of my staff in building and fire regulations at DHCD [Virginia Department of Housing and Community Development], and my colleagues in Virginia and throughout the U.S. who have been my friends, mentors and colleagues.
Lastly, but most importantly, thank you to my family who continues to support me in my goals to make a difference in our world through the Code Council's mission. And without whose support, I would not be here tonight.
In short, thanks to all of you. We've come a long way and have so much more greatness ahead of us.