Family home fire helped shape the course of California building and safety manager's life

I am mostly known for my funny anecdotes or interesting pictures rather than thought-provoking missives, but I want to share something true and quite serious. I haven't really shared this story much before, however this experience, in no small way, helped shape the course of my life.
In 1984, 37 years ago this past President's Day weekend, our family home was destroyed by fire. Thankfully, there were no casualties, which can be attributed primarily to the fact that my mother bought fire alarms — a single 110-volt smoke detector and several wind-up heat detectors that are now listed as vintage collectibles — from a traveling salesman in an era when they were not yet common household items. It's interesting that 37 years later just the opposite exists — traveling salesmen are a thing of the past and since 1992 smoke detectors have been required for new construction and remodels. I am still a little stunned that those things we used as kids are now considered "antiques" but I digress.
Being the youngest of five siblings, I was the last kid to live at home while still attending college at California State Polytechnic University, Pomona (Cal Poly Pomona) majoring in mechanical engineering. That night, it was just my mother and myself living in our approximately 3,000 square foot, two-story, prairie-style bungalow house (built about the time of the First World War) in Sierra Madre when the weekend took an abrupt turn that would change our lives.
The house was situated on a deep lot that sloped to the rear, which allowed the upper floor to be at ground level at the front while incorporating a partial basement to the rear, which is where my bedroom was located. I had gone to sleep sometime before midnight after watching a rerun of the great war movie "Bridge Over the River Kwai." I am not sure what woke me up at about 3:00 a.m., but I found the house was eerily quiet and dark. I smelled smoke and quickly determined the lights weren't working. I hurriedly put on some clothes and tried to run upstairs to my mother's bedroom but my progress was hindered because of all the smoke I was now breathing in. My primary goal was to get to my mother's bedroom at the end of the hallway to the right of the top of the stairs. I reached my hand through the doorway and inside the hallway and I felt that the wallpaper was charred; the fire had already spread here.
My ability to think clearly began to shut down as I was on the way to losing consciousness. I would later describe this feeling to others as if a number of switches were being turned off in my brain and I had to act on instinct rather than reason. At this point, I had to worry about my survival first if I was to help my mother. My breathing was greatly impaired from the smoke and I was barely able to crawl the 15 feet to the front door to get air before passing out. I coughed a few times while taking a few much-needed breaths, readying myself to go back inside to rescue my mom.
Just as I was starting to go back inside, I saw her coming up the driveway. In retrospect, she was surprisingly calm and collected. My 62-year-old widowed mother had been awakened by the wind-up fire alarms she had bought from the traveling salesmen a couple of years earlier. Upon smelling smoke, she quickly put a damp towel at the base of her bedroom door to keep the smoke out and then dressed in athletic clothes and tennis shoes. Although just a little over five feet in height and not as spry as her younger years, she jumped down from her two-story window onto the roof of a small attached shed and then down to ground level before coming up the driveway hoping to find me outside of the house as well.
A neighbor called 911 and although Sierra Madre has a volunteer fire department, firefighters started showing up in under 10 minutes. By the time they arrived, you could hear glass breaking and see 10-foot flames shooting out the windows of my mother's bedroom.
Looking back, there are a few interesting, and even amusing, details about the fire, but one that really struck me was that the fireman said it really was amazing that I was able to escape from a fire that had progressed that far; it was more customary to die in your sleep or be awakened by the commotion only to sit up, breathe deeply and then lay back down after inhaling smoke. Firemen from two cities fought the blaze for hours only to have our house be declared a total loss. Fire investigators would later attribute the cause to most likely be the old knob and tube wiring that was in parts of the attic. One thing is for certain, the fire spread incredibly fast and we were both lucky to be alive.
After spending a week in a hotel (courtesy of the Red Cross), I returned to Cal Poly to try and back out of my current classes (only to be denied and learn that I would be required to reapply to the program). After completing my degree in mechanical engineering, I began looking for a job but the market in the mid-eighties for engineers was slim. While working a construction job, I applied to work in the building department in the city I lived in at the time (more interview practice couldn't hurt), and in preparation, I began to study the building code for the first time. I was surprised to find that although I had worked in construction for many years, reading the code for the first time seemed familiar as it really was basically just applied engineering. I didn't get that job, but the hook had been set and I now had a career goal in mind that would meld my love for construction, my accumulated engineering knowledge and my past experiences together.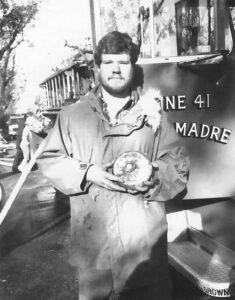 Six years after the fire, I started working in the Building & Safety Division of the city of San Dimas, helping to enforce minimum safety standards for all of its residents. While it may seem we spend the most time on seismic safety (making sure structures have sufficient lateral bracing to maintain enough integrity of exit pathways in case of an earthquake), our inspectors also diligently enforce minimum standards for egress windows, smoke detectors and carbon dioxide alarms as well as firewall construction. You would think we wouldn't have to fight so hard to enforce minimum safety standards, but we certainly get our share of people questioning the need for multiple smoke detectors, trying to have us pass a bedroom fire escape window that doesn't meet the minimum dimensions, and the occasional resident that just wants to outright challenge us. While some people want to disregard an inspector's finding on minimum safety compliance and will appeal to the building official, they discover that although I will work with them to try to find suitable alternatives if available, in the end, I am a true believer in the code and the safety it provides.
My experience that fateful night 37 years ago helped to shape not only my approach to my job but also my career path in general. Whether it is over the last five years as a part-time adjunct professor teaching the next generation of inspectors or the last 30 years as a building official, I try to put a human element and perspective to the enforcement of minimum safety standards.
We hear a lot about emergency preparedness, and in California, generally think of earthquake safety first (having enough water and emergency supplies, a phone contact list, etc.). While that is certainly important, we don't always think enough about fire safety. Take home safety seriously… the life you save could be your own or that of a loved one.
Consider taking the time this week to do the following:
Make sure you have a working smoke detector in each bedroom and in the hallway leading to the bedrooms. Most people keep their bedroom doors closed at night so having a detector on both sides of the door means it will be able to detect smoke and fire as early as possible. Today's smoke detectors are economical and are really the best fire safety insurance. Don't wait to install smoke detectors when you get ready to sell your house or before getting a permit to remodel — install them now.
Install a carbon monoxide alarm on each floor. Carbon monoxide is an odorless and colorless gas that, if present, will displace the oxygen in your lungs and can quickly suffocate you with no warning.
Verify that the windows in your bedroom operate with little effort. While we are seeing newer retrofit windows, many older homes have windows that have been painted shut. Remember, this may be your escape route in a fire or other emergency.
If you have an exit door that needs a key to open from the inside (i.e., a double-keyed deadbolt), remove it immediately and install a regular thumb latch because in an emergency you won't have time to find a key. Remember contents can be replaced, your loved ones cannot.