Fort Collins' Brad Smith earns ICC National Leadership in Sustainability Award
Brad Smith could flag a problem with your project as a plan reviewer or issue you a compliance ticket as a building inspector. But he won't. Smith, energy code compliance specialist for the city of Fort Collins, Colo., says his job is to be a resource for contractors and other customers so they can meet the state's energy code requirements. And his colleagues agree.
"In his role as energy code compliance specialist, Brad has had a substantial impact on energy use in buildings through the development and adoption of a new energy code, direct education and engagement with builders and trade, and enforcement of compliance with the energy code in new buildings and major renovations," said Brian Tholl, Fort Collins' energy services supervisor, in a letter nominating Smith for the ICC National Leadership in Sustainability Award.
Smith, who's been with Fort Collins for four years, said he was floored when he got the news that he would receive the award. But the description certainly fits. The award "recognizes outstanding contributions to the growth and enhancement of codes or public policy advancing the principles of the International Code Council Sustainability Membership Council, in the field of energy efficiency and/or sustainability in the built environment. The award will be conferred on an individual or organization that demonstrates an exceptional record of contribution, either in one-time or cumulative efforts, made during their career or in the course of past operations."
Tholl said in the recent voting of 2021 International Energy Conservation Code (IECC) proposals, Smith led a coalition of local and statewide governmental members and stakeholders to organize, decide and vote on a series of proposals, which will ultimately bring an estimated 10 percent or more efficiency improvement for both residential and commercial buildings that follow the IECC. "Renewed government participation in the IECC voting and corresponding proposals represent the second biggest efficiency gain for the IECC in the last decade, and the 2021 IECC code will be adopted locally and in many other jurisdictions across the country soon," Tholl wrote.
"I don't know if we'll get everything we want in the 2021 code," Smith said. "But if not, we can amend it for our code in Fort Collins."
Smith said he didn't start out to be an energy and sustainability advocate. He began in information technology and was drawn to Colorado by some acquaintances who said they needed his computer skills to start up their new energy efficiency company. "Energy efficiency was a steep learning curve, but I really developed a passion for it," Smith said.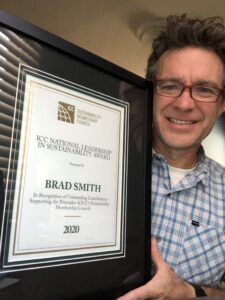 Soon, he would move on to work with EnergyLogic, well-known for making energy-saving utility products. While he was with the company, Smith began doing energy audits for the city of Fort Collins. Through his work, he met not only many staff there, but contractors and energy advocates throughout the northern Colorado area. By the time the energy code compliance specialist position opened in Fort Collins, Smith said they were comfortable enough with him to pretty much write his own job description.
Smith set out figuring how to quantify energy savings to help convince contractors, homeowners and antsy real estate officials concerned about additional up-front costs. They came up with developing a Code Compliance Study still in the works.
Smith said part of his job is getting the word out about state energy code compliance. Tholl pointed that out in the nomination letter. "Brad regularly communicates with local advocacy groups balancing effective energy code. In his role as energy code compliance specialist, Brad has had a substantial impact on energy use in buildings through the development and adoption of the new energy code, direct education and engagement with builders and trade, and enforcement of compliance with the energy code in new buildings and major renovations."
Smith's purview, Tholl said, "includes everything from advising plans reviewers on specific wall assemblies and right-sizing of HVAC equipment, to ensuring construction follows plans while out on a construction site. His firm but friendly approach often requires him to troubleshoot complex envelope and HVAC issues by effectively communicating reasonable solutions with builders and trade to meet construction deadlines, often with significant economic implications. Brad's role is one of only a few in the country tasked specifically with ensuring compliance with energy code in new construction and major renovation in the community."
Smith said he enjoys going out into the community evangelizing about the merits of energy-saving codes. He's starting to see more contractors come around. "But we have a lot more work to do."