Foundation started in memory of fire prevention officer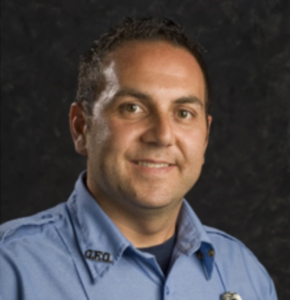 On Oct. 16, 2019, firefighter and fire educator Joseph "Pino" Manuse was honored for decades of fire prevention efforts. A fire prevention officer for the Gates Fire Department and a volunteer firefighter for the Gates-Chili Fire Department in Rochester, N.Y., since 1989, Manuse passed away in August after complications from a bee sting.
Manuse was very active in the Gates Fire District and Gates-Chili Fire Department, promoting fire and life safety by spreading the word on the importance of working smoke and carbon monoxide detectors. Brighton Fire Marshal Christopher Roth said Manuse was dedicated to making sure smoke and carbon monoxide detectors were affordable and in use. "Joe was a leader in the fire prevention community and education. He spearheaded these programs and helped the Monroe County Fire Marshals in years past," said Roth. "If there was an unfortunate fire or event in the community. He would then use the resources of the fire district to go out and canvas to find out if they had detection in those homes."
As a dedicated member of the Monroe County Fire Marshals & Inspectors Association, it makes sense that chapter members channeled Manuse's dedication for ensuring that everyone has working alarms in their homes into something special to honor Manuse and continue benefitting the community. During this year's Fire Prevention Week, the Monroe County Fire Marshals & Inspectors Association — in cooperation with the Gates Fire District, Gates-Chili Fire Department, the Monroe County Fire Bureau, The Home Depot and Lowe's Home Improvement — announced the formation of the"Firefighter/Fire Educator Joseph Manuse Smoke and Carbon Monoxide Alarm Foundation" to help keep Manuse's passion alive.
The foundation will assure that both smoke and carbon monoxide alarms will be made available at no cost to all fire departments in Monroe County, and parts of Ontario and Livingston County, and that these fire departments will be able to provide and install a complimentary alarm when they respond to an incident where no protection is currently present. To help get this program underway, the Monroe County Fire Marshals & Inspectors Association purchased 100 smoke alarms and 80 carbon monoxide alarms — both equipped with a 10-year, non-removable battery — for the Manuse Foundation and plan to distribute them to those who need it most. To date, the association has purchased more than 200 smoke detectors and 100 carbon monoxide alarms. In addition to the purchased alarms, the association has received more than $1,100 in donations and 75 alarms from corporate Walmart. Going forward, the association will budget $3,000 annually for the purchase of alarms.
"An outstanding fire prevention professional, the Manuse Foundation will help everyone to remember and memorialize Joe's life and will ensure that the principles and values that guided his life will live on," said Dorothy Mazzarella, vice president of Government Relations for the International Code Council. "According to his colleagues from the Monroe County Fire Marshals and Inspectors Association, he believed that '…education, prevention and protection are the building blocks to a safer community…' and we believe that as well.
"One way or another, Manuse's sudden passing has affected us all," said Roth during the press conference announcing the foundation. "His fire prevention passion has touched us all, so that we ourselves might become better community members and inspire future fire service leaders in the days ahead. We cherish the memory of his words 'No matter what position you hold, you are a leader in your community, and you should embrace that role and use it to try to help your neighbors.'"
The foundation is accepting donations on its website.