From fighter jet pilot to deputy chief building official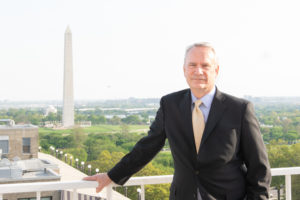 Garret Whitescarver works as the deputy chief building official for permit operations for the Department of Consumer and Regulatory Affairs (DCRA) in Washington, D.C. A southern California native, Whitescarver's life and career path highlights the beauty of the building industry — there is something here for everyone.
As the "operational arm" of DCRA's Chief Building Official Lynn Underwood, Whitescarver says his job is to keep the operation running smoothly. He currently reviews plans and issues permits for all non-federal construction on private space in D.C, which includes permits for new construction, additions, demolition and razing, and garages and fences.
Within the building industry, a number of career opportunities exist for people from diverse professional backgrounds. In Whitescarver's case, he began his career in the United States Navy as a hospital corpsman. Selected out of the ranks for the Naval Academy, Whitescarver attended the academy from 1973 through 1977 and graduated with a commission in the United States Marine Corps. He spent eight years as a jet pilot in the Marine Corps and eventually transitioned to the United States Air Force for his ninth year of service — a unique circumstance where the Secretary of Defense has the authority to authorize inter-service transfers. Whitescarver recalls, "Quite literally, on Friday I was wearing Marine green and on the following Monday I was on an Air Force base wearing Air Force blue."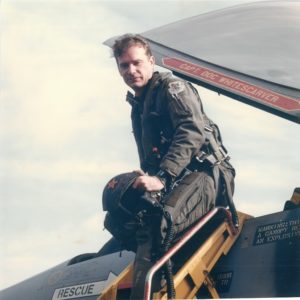 Whitescarver enjoyed his time served within the Marine Corps and the Air Force and he especially appreciated the opportunity resulting from the transfer to the Air Force to fly a variety of aircraft. "Within the Air Force I had the opportunity to fly other aircraft and perform other types of missions. Essentially, I flew  four different aircraft in a nine-year period, including USMC – A-4M, USAF – F-111, F-5E & F-16C Aggressor, and F-117A Nighthawk (stealth fighter)."
His military experience not only taught him how to fly jets, but it also taught him about his core values for his work environment. The nature of teamwork is one of the reasons he decided to transition to the building industry after 10 years in the corporate world working at a pharmaceutical company in Las Vegas.
A colleague, who was also a pilot in the Marine Corps, introduced Whitescarver to building. "He was constructing spec buildings in order to make use of his time when he was back home," says Whitescarver. "I developed an interest in the work, so I started to explore building opportunities in Vegas." He decided to leave the pharmaceutical company and remained in Las Vegas to become a self-employed residential and commercial builder.
"When I was working at the pharmaceutical company, I found that I could redevelop residential commercial property in my spare time, making just as much money. I thought, 'Why do both when I could pick one?'"
As a builder, Whitescarver had the flexibility to work half of the year and sail during the other half. "During the summer months, I would sail and then in the fall and winter I would finish up homes." Once construction completed, his wife, a realtor, would take the reins and sell the houses.
Feeling the pressure of the 2008 housing crisis, Whitescarver embraced another aspect of the building industry exploring code inspection opportunities. His extensive experience in construction armed him with the code knowledge to make a seamless transition. "I found that I really loved it." Whitescarver also took his code knowledge to the consulting field where he performed insurance-required inspections to help protect homebuilders. Eventually, the consulting company felt the heat of the housing crisis, and Whitescarver decided it was time for another transition.
Familiar with the area from his time at the Naval Academy, he found a code inspector positon and relocated to Washington, D.C. Shortly after being hired, he became the supervisor and quickly moved up the chain to his current position as the DCRA deputy chief building official.
Although years separate him from his military days, Whitescarver still finds the connection to his current position. In fact, within his group of DCRA colleagues, all of the supervisors except for one have military backgrounds. "We represent all branches. And a good percentage of the inspectors on staff also have a military background," he adds.
Whitescarver highlights the independent work environment of field inspection as something that people with a military background tend to value. He says, "Within this field, you need folks that have that command presence that can work independently. The military work ethic embodies the inspector role."
Excited about the growing possibilities for veterans within the building industry, he aims to dispel the doubt that may arise for those planning to leave the military without specific construction experience. He reassures that "Just because you haven't been involved in construction directly at this point, your background in the military and your work ethic as a result of being in the military sets you up in a very good position to study and become a code official without necessarily having the construction background. You should assume that you can do it."
His favorite aspect of his job with DCRA is that there is never a dull moment. Whitescarver says, "Every day there are challenges to decisions that are made with the organization that you either have to defend or possibly reverse. Every day there is a new challenge or situation that requires problem solving."
Whitescarver notes that he enjoyed his fast-paced role as deputy chief building official especially knowing that ultimately he is helping people – just as he did within the military. "You're putting yourself on the line to defend others and with this job. You're essentially focused on making people safe in any environment."
In addition to his role at DCRA, Whitescarver has been a member of the District of Columbia Commissioned Officers Association (DCCOA) since its inception in 2014. He is currently serving as the chapter president.
When it comes to his plans for the future, Whitescarver says, "I would like to become the building official in either D.C. or another jurisdiction at some point, but right now I'm enjoying the opportunity to learn more within my role as the deputy chief building official." He is grateful for the continued support and mentorship of Lynn Underwood as well as the opportunity to work for him and learn more about the profession. Whitescarver looks forward to continuing his building safety career path and encourages those looking to transition from the military to civilian life to consider the building safety profession as their next career move.