Future Chemeketa student Alyssa Stone ready to take inspection career through the roof

As she headed into high school, Alyssa Stone was pretty sure she was going to study to be a nurse or something in the medical field. One thing was for certain, she needed an active profession. "I don't like sitting in classrooms where you can't move," said the now-17-year-old graduate, who is excited to be on her way to becoming a building inspector. That's right, a 17-year-old young woman wants to become a building inspector. And Stone can't wait to get out into the world and check out all that construction.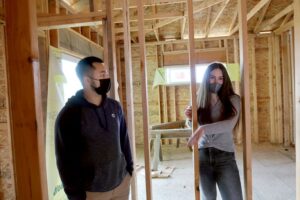 "Actually, I wanted to take a shop class in middle school," Stone explained. "My grandfather was in the trades, and my uncle built his own house, and I thought that was so cool. But my parents wanted me to take electives that were more … studious."
The urge to get into hands-on construction was rekindled when Stone saw a presentation during her sophomore year in high school about the Career Technical Education Program (CTEC) for juniors and seniors. The vision for CTEC is to prepare high school students for high-skill, high-wage and high-demand careers while developing professional skills in various technical trades, including residential construction; manufacturing, welding and engineering; drone technology and robotics; and business development and leadership.
That year, Stone asked her father, an information technology specialist with the city of Wilsonville, Ore., if he could arrange a visit with the inspections department there. Her father happens to be good friends with Dan Carlson, CBO, building official for Wilsonville, who set up Stone with a ride-along with one of their inspectors. Stone was beginning to see her future. "I love driving around, exploring, so that was a lot of fun right there. I followed the inspector on different sites, and he would ask me, 'Does this look okay to you?' And I thought, 'Let me look at that!'"
Juniors in the CTEC program work on designing and building sheds from the foundation up. By senior year, they are building full-scale houses that are sold on the market with the profits used for scholarships that help students going into construction to buy tools, codebooks and other supplies.
Curtis Fisher, CTEC residential construction instructor, said he could see Alyssa's talent begin to blossom as she progressed through her junior year there. She emerged as one of the class's group leaders, and ultimately, showing an aptitude for creating and reading building plans. "And she's really good at managing people."
Seeing Stone's avid interest in construction, Fisher left a codebook on her desk one day. Stone said she would flip through it while having lunch with her classmates. "CTEC is where I blossomed," Stone said. "I really am interested in codes. I don't like sitting at a computer all day, but the last hour of class, I would use the CAD program to look at design and plans. That was a lot of fun. My friend also is interested in construction and design, but she's more into the architectural side. She's going on to the University of Oregon."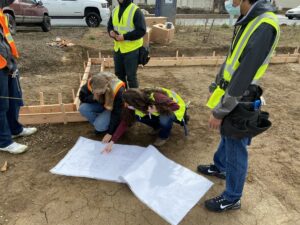 Stone is excited to be entering the program at Chemeketa Community College, where her father's friend, Dan Carlson, also happens to be an adjunct instructor in building inspection technology. Carlson and longtime friend Glenn Miller helped revive the Chemeketa Building Inspection Program following the recession. The new program uses all the updated International Codes, technology and even "soft skills" necessary to become an effective building inspector.
Although still fledgling, graduates who make it through the two-year course often are snatched up immediately, mostly by counties and municipalities struggling to keep up with construction — and begin earning upwards of $60,000 a year to start, according to Carlson. The course is intense, and students will need to make sure they can do the basic math, reading and writing necessary to keep up, or add some extra classes to brush up their knowledge.
While Stone isn't looking forward to the math part, Carlson is anxious to work with her. "She is extremely smart and very ambitious. She's got a very bright career ahead of her."
Fisher believes Stone will do great in the program at Chemeketa, which, incidentally, he also completed recently after seeing a presentation several years ago by Miller, who was fostering a relationship between the two programs. "Teaching was my first passion, but I went into construction," Fisher said. "At that time, all I did was bring in designs, request permits, build and request inspections. As I was going through the course at Chemeketa, I was thinking, 'Too bad I didn't know all this 20 years ago.'"
First-year Chemeketa students will be offered information and the pathway to skills necessary for entry-level inspector positions. The application of code knowledge in the inspection process is stressed through the four terms of the certificate program. Students completing the one-year certificate are required to work more than 300 hours on an internship before the second year. Carlson said some students decide to leave after the first year, lured by the already higher salaries they can earn, especially if the employer offering the internship wants to keep them on.
In the second year, classes on building codes, plan review, inspection techniques and construction materials are complemented by courses in mathematics, communication skills and public relations. They can earn up to eight International Code Council certifications, which helps put them on a solid career track with the ability to command a great salary and benefits.
One CTEC student of his who went through the Chemeketa program now is working as an inspector for Hillsdale, Fisher mentioned, where the student interned between first and second years. Knowing CTEC's partnership with Chemeketa is helping to fill a void due to retiring building officials, Fisher is proud of the work his students have done. "It's really awesome to see."
As she prefers, Stone is keeping busy this summer, working at a plant that makes modular homes. They're starting her out on roofing, and once she gets to know the place more, she'll give tours of the plant to visiting building officials. "It will be exciting to get to know the officials," she said. "But I look forward to attending Chemeketa, especially since I've developed an interest in fire codes. But I'm also interested in the social skills part. People say to me, 'A building inspector? Those people are mean!' And I tell them, "No, you have to build a relationship with people so you can explain and help them."
Stone also will be teaching part-time at CTEC as an instructor's assistant while she attends Chemeketa. She believes teaching will help her learn better as well. When those two years are up, Stone said she's excited about the possibilities. And so is her family. "Especially my grandfather who was in the trades. And I always have liked my dad's working environment with the city. But there are so many openings for building inspectors. Maybe I'll stay in Oregon; maybe I'll move out of state. I can see myself doing on-site inspections. I can make a career of that. And that's awesome."