Helping to build the future: ISO invests in ICC training program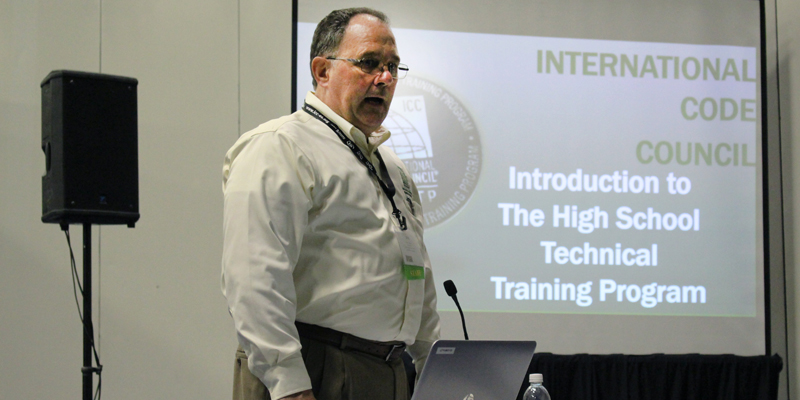 With the construction industry struggling to find skilled workers, code professionals are stepping forward and demonstrating their commitment to training the next generation of building and code officials. Insurance Services Office, Inc. (ISO), a Verisk Analytics business, recently invested $3,500 in the ICC High School Technical Training Program (HSTTP) after hearing Program Liaison Jim Elwood present on the program during this year's ICC Annual Conference in Columbus, Ohio. 
The ICC High School Technical Training Program is a flexible program designed to enhance current vocational curriculum. The program demonstrates hands-on construction techniques and helps to prepare a code-knowledgeable workforce that is ready to enter the construction profession and inspection professions directly out of school. With code training, students will have an advantage for advancement in their selected profession and are aware of careers as code professionals. Building lesson plans use the International Residential Code (IRC) and the IRC Study Companion to educate students about construction codes. Certificates of Achievement (COA) are issued to students who complete the program as recognition of proficiency.
Ellwood spoke on "How to Start a High School Technical Training Program at Your Local Technical High School or College" and the benefits of incorporating the HSTTP into career and technical education curriculum for the construction trades. Conference attendees were guided on how to access detailed information on the HSTTP, how to enroll a school into the program, how students qualify for COAs under the program guidelines, and how easy and flexible the HSTTP is to use. The guided activity demonstrated how code information and resources used in the industry help to build a code knowledgeable and skilled workforce ready to enter construction careers.
For an industry concerned about the quality and quantity of the construction craft workforce supply available today, the ICC program helps to alleviate some of the concerns that organizations such as ISO have regarding a healthy pipeline of skilled craft workers on worksites — as experienced as they should be — in an industry rapidly expanding and moving forward.
As leading source of information about property/casualty insurance risk, ISO collects information useful in many aspects of insurance underwriting, including evaluations of public fire protection, flood risk, and the adoption and enforcement of building codes in individual communities. Through its Building Code Effectiveness Grading Schedule (BCEGS) program, ISO assesses the building codes in effect in individual communities and how those communities enforce their building codes. The assessments place special emphasis on mitigation of losses from natural hazards. The BCEGS program today covers more than 20,000 communities, accounting for about 87 percent of the US population.