Henry Kelly receives 2021 ICC Excellence in Public Safety Award for integrity, professionalism, dedication to public service

Each year, the International Code Council recognizes peers and colleagues who are a reflection of what the association stands for: dedication to developing model codes and standards used in the design, build and compliance process to construct safe, sustainable, affordable and resilient structures. The Code Council honored several outstanding individuals and organizations for their accomplishments and contributions to building safety and resiliency in their communities during the 2021 Annual Conference in Pittsburgh, Pennsylvania.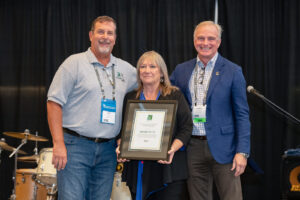 The ICC Excellence in Public Safety Award is given to a member of the building safety industry who demonstrates integrity, professionalism and dedication to public service in the interest of public safety. Henry "Hank" J. Kelly Jr., a homebuilder from New Jersey and founder and chief executive officer at the Kelly Group, Inc., received the 2021 ICC Excellence in Public Safety Award during the Pittsburgh Welcome event on Sunday, Sept. 19, 2021, in Pittsburgh, Pennsylvania.

A very strong supporter of the International Codes in New Jersey who has also been a great stakeholder advocating for the adoption of the Code Council's model codes and standards, Kelly has been involved with the Code Council and New Jersey chapter members in a variety of roles, from serving on committees to working with Code Council leadership and staff on important issues affecting both the Code Council and the National Association of Home Builders. He was appointed by the New Jersey Division of Codes and Standards to serve on the ICC Code Advisory Task Force and was a governmental voting member of the Code Council representing Ocean County. He has been appointed by two New Jersey governors to serve on the board of directors of the New Home Warranty Trust Fund. He currently chairs and has been appointed to several committees, including the 2024 IBC Code Development Committee. Kelly was appointed to serve on the IRC-Building Code Development Committee for the 2021 codes and was a guest speaker at the Code Council's Annual Business Meeting in 2013 addressing the building codes and changes in the aftermath of Superstorm Sandy.
In addition to his work with the Code Council, he is a member of the National Association of Realtors, the New Jersey Association of Realtors, the National Association of Home Builders, the New Jersey Builders Association, and many other associations tied to construction. He holds several certifications and licenses; he is a licensed building inspector in New Jersey, a certified construction inspector, a certified construction project manager, and a certified construction consultant.
His dedication to public service is unparalleled in the building safety industry. The International Code Council congratulates Henry Kelly as its 2021 Excellence in Public Safety Award recipient.
View past recipients of the Excellence in Public Safety Award.