Howard County's George Martin still loves going to work and biting into new challenges after 50 years

George Martin has a solid reputation for public service and a passion and dedication for his work. Martin, an engineering specialist for residential building construction, was recently awarded for working 50 years for Howard County, Md.
You saw that right. Fifty years. And he still loves going to work and biting into new challenges.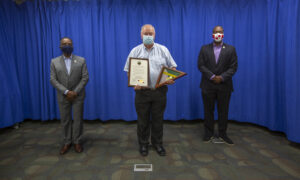 Howard County Executive Calvin Ball said the award broke new ground. "We're recognizing for the first time in Howard County history a county employee who reached 50 years of service." Ball also thanked Martin for his "incredible public service, passion for your work, and dedication."
Praise makes George Martin grateful to his colleagues, but the real joy is learning new things. Martin said he strongly encourages young professionals to seek careers in codes, and to do it with gusto. Getting involved with code development and participating at code hearings ties together all the aspects of working with construction codes.
"The diversity is what makes this work rewarding. To be honest with you, all the different things I get to do with the home builders and with contractors and the designers and the inspectors makes it exciting," he said. "You start with some ideas. You work together to help them get a result.
"This isn't the kind of work that you just leave it at the job. Get involved. Once you get involved, there is so much to learn and do. Reach out and grab it. You'll grow. That's the best thing."
Martin's first day at work for Howard County was in the planning office where he remained for a year. When a position opened in the building department, Martin took the job and never looked back.
"That first day on the building side, the supervisor was G.Y. Clark, who was one of those truly ironclad people. Phenomenally straight and phenomenally honest. He told me that he liked what I said in my interview and what I've done, but 'just be prepared when you have to step it up and help us out."
Martin took the advice to heart. He developed an expertise with single-family units, and later to multi-family structures and track builders. The same level of intensity applies to code hearings. Martin's voice rose as he talked about exploring new methods of construction, new twists and innovations in codes and standards and engaging fellow veteran code officials and new faces involved in code development.
Donald Mock, Chief of Plan Review for Howard County, views Martin as the most valuable player in the building, referring to him as "a wealth of knowledge, my go-to guy." Mock said he started work for Howard County as a fire protection engineer with expertise in commercial buildings. Martin tutored Mock to expand his expertise to include the residential code.
"I started working here in 2000, and at that time he had already been here 30 years," Mock said, and chuckled. "It's kind of funny, but the day George started working here I was four years old."
Mock said there hasn't been a serious discussion of when Martin would retire. Since COVID-19 forced the office staff to isolate and work from home, the daily routine of seeing Martin at his desk has ended but the reliability of Martin's work and insights remains as strong as ever.
"We've had to adjust and keep up with emails and phone calls. If anything comes up, I don't waste any time to find George and tell him 'let me bounce this off of you,'" Mock said. "Constantly, people come to him to get his opinion, not only because he's been around and uses common sense, but a lot of wisdom comes with that experience. When you have tougher issues, it's not always a black and white world when it comes to codes."
Martin built his reputation as a major resource for code knowledge far outside the George Howard Building, which houses the Howard County government offices. Former Code Council Board member Rich Truitt referred to Martin as a father figure to the Maryland Building Officials Association (MBOA).
"George is well known for the excellent service he has provided to the citizens of Howard County as well as the code officials of the State of Maryland," Truitt said. "To a lot of us, he's been a mentor who provides guidance and wisdom."
Truitt is the Deputy Director of the Department of Inspections, Licensing and Permits for nearby Harford County government. He said he said he met Martin in 1999. Martin was already a major fixture in MBOA organizing education events, providing mentoring help and serving on the chapter's board of directors.
"He is one of the founding fathers of ICC Region VII. He pounded out the bylaws," Truitt said. "When we held the ICC Annual Conference in Minneapolis, George took the lead in setting up the 'Welcome to Baltimore' event."
Bill Bryant, the Immediate Past President of the ICC Board, said MBOA members have speculated about when Martin might retire; however, Martin remains a sought-after expert on residential and energy codes and issues. Martin hasn't shown signs of slowing down from his commitment to the county or to the state chapter.
"Fifty years in this business is just wild. The bet we've had in the last few years is George will retire before the first snow flies – in Tampa," Bryant said.
Bryant retired last September as Assistant Director of Inspections and Permits after 31 years in neighboring Anne Arundel County. He said he met Martin 35 years ago when he was in the private sector and had pitched the concept of Maryland building performance standards to the MBOA. When Bryant began government service, he joined Martin on the MBOA board.
"I think George was treasurer-for-life and I was secretary-for-life. George had already run through the chairs and had served on all the committees and positions you can think of at least once," Bryant said.
Martin understands the irony of the photo which documents the ceremony honoring his half-century of employment. Despite it being a public celebration, only six or seven people were allowed in the room at a time to make presentations. When posed for the photo, Martin stood in the center holding two plaques, flanked in social distance by Calvin Ball and Chief Administrative Officer Lonnie Robbins. All three wore masks, giving a major recognition a somber tone. Martin said he was feeling anything but somber.
"Yeah, it was kind of weird and strange, but it was what we have to do now. Was I smiling under that mask?" he said. "Oh yeah. I was smiling!"