Hurricane Michael: Extreme events bring lessons of disaster resilience
Hurricane Michael hit the Florida Panhandle as a category 5 storm early in the afternoon on Oct. 10, 2018, setting a record as the strongest storm to strike Florida in nearly a century. Michael was the third-strongest storm to make landfall in the U.S. Timothy Schmitz, lead senior regional manager for the International Code Council's Government Relations division, shares his perspective.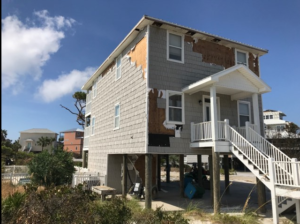 "It's still standing!"
Those were the words I shouted to my wife when I first saw the aerial image of our home on Oct. 11, 2018. I rushed downstairs to show her the image on my phone. It was the first time we had any proof that our home had survived the category 5 hurricane named Michael.
While searching a Twitter channel from a resident who had stayed on the small barrier island, I came across a link they had posted from the National Oceanic and Atmospheric Administration that had several aerial images. I was able to quickly locate our home by finding the public beach access with the blue roofs (which amazingly weren't destroyed). What was missing though, and made me look several times, were the townhomes located at the end of our street. I looked closer and gasped seeing that they were completely gone. Cape Shoals had experienced storm-related problems over the years, but Hurricane Michael completely took them down.
Two years earlier, my wife and I did something we had talked about for decades — we purchased a home in sunny Florida. We found a very quiet place located on the Gulf of Mexico approximately one hour east of Panama City. We signed the papers and filed everything away in a safe place. The very next time I opened the file was the early morning hours of Oct. 10, 2018, the day Michael quickly moved from a category 3 to a category 5 hurricane and headed right for us. I couldn't sleep, woke up early and decided to nervously read my insurance policy over a cup of coffee. Wind policy, water damage, fire damage… we would probably need all of it.
The next 24 hours was met with a mad rush of searching for information. I would check Twitter several times throughout the day for any updates on the status of the residents and other damage to the island. It's also during this time that I filed the insurance claim. When talking to the worker on the phone, she asked what type of damage my house sustained. I told her it was standing, but had to have significant damage since 17 townhomes on our street were completely destroyed. I also stated that it was unusable since there was no road to the home, no water, sewer or power. It was clear to me that she had not followed the Weather Channel like I had for the last week.

The lack of information during the next several days was frustrating. Texting wasn't reliable as many cellular towers were down. Limited updates were found on Twitter and Facebook. Of all places, social media provided the only chance for real-time details of the destruction while the major news sources rightly focused on the tragedies that were unfolding to the residents of Mexico Beach.
It was during these days and nights that I truly began to realize what kind of job I have. I work for the International Code Council — the company that produces the building, fire and plumbing codes, just to name a few. Everybody knows about the Code Council, right? Wrong.
I knew that my home was built to the first round of stricter building codes adopted by the state of Florida. My insurance rates were cheaper because of that fact. What I didn't know was that the Panhandle had an exemption from wind provisions that would have required my home to have hurricane-rated windows or shutters to protect the inside of the home from water, wind and sand. It would also serve to keep the roof attached so no updraft could occur if the windows and patio doors failed. Flying debris is the major culprit of intrusion.
It was during this period that I realized my home likely had items tear through the windows due to the storm. Cape Shoals was devastated and all that debris had to go somewhere; I theorized that surely it had to come ashore to my location. Fortunately for us, and unfortunately for others, the debris field stayed pretty much on the beach and did significant damage to other neighboring residences.
Flash forward to the insurance adjuster appointment. I was lucky to have some great friends meet him at our house and show him around the site. We lost some tree limbs, pool fencing, siding and soffit/fascia; both air-conditioning units were lifted up and still hanging by their copper lines; several windows wouldn't open; and there was drywall damage due to the shaking walls in 150 mph winds. We were lucky. Or were we?
Our luck was directly related to the quality construction of the builder and the codes that our home was built to. We took on a category 4+ storm and all I'm dealing with is insurance adjusters and trying to find contractors for repairs. What other residents are dealing with doesn't compare. Theirs were built in a different time, with different thoughts and different facts. They have to completely rebuild their homes and lives.
We know more now as a society. We are data driven. We know that storms happen and we know that damage will occur. The only thing we can do is try to lessen the damage. That's where my job comes in. I spend my days helping communities who are working to update their codes. They do this not in the name of more regulation; they do this because we know more. We can take a coastal home, or one in a high fire-risk area, or a home in the Midwest dealing with high winds or hail, and produce codes to make sure it performs and protects its inhabitants on a bad day. We do this so our lives are not in disarray for months and years at a time. We do this so our businesses can reopen quickly to provide the basics to our neighbors. We do this to save lives.