ICC Trailblazer Award: Kelly Janis
Kelly Janis honored for her dedication to the development and growth of the next generation of code officials and building safety professionals
Each year, the International Code Council recognizes peers and colleagues who are a reflection of what the association stands for: Dedication to developing model codes and standards used in the design, build and compliance process to construct safe, sustainable, affordable and resilient structures. The Code Council and its Membership Councils honored several outstanding individuals and organizations for their accomplishments and contributions to building safety and resiliency in their communities during the 2022 Annual Conference in Louisville, Kentucky.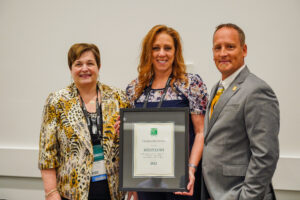 The ICC Trailblazer Award, established last year, seeks to inspire the Code Council membership to reach out and serve as mentors to guide others in their code-related careers, especially those who are relatively new to the profession. Based on the nominations sent in by Code Council members and chapters, the Trailblazer Award will annually recognize an outstanding example of a recent mentor-mentee relationship — recognizing an outstanding leader who helps "blaze a trail" for the next generation of building safety professionals. This year's Trailblazer Award is presented to Kelly Janis, plans examiner and building inspector for the Weber County Building Department in Utah.
For Janis, that trailblazing mentality is an integral part of her character. She openly welcomes the opportunity to lead and mentor others and actively encourages the next generation to learn more about the industry. She teaches high school and college students about joining the building safety profession. She even goes out of her way to help coworkers and friends receive their International Code Council certifications and advocates to anyone who wants to listen about the importance of building safety.
Her passion has grown over the last 15 years due to her growing experience in the building codes arena as well as some unexpected ways — namely, high school wrestling.
Community Connected
Her trailblazing activities began 15 years ago, when she took a job as the first code enforcement officer in the city of Mountain Home, a small town in Elmore County, Idaho. At the time, the city had just created the position. The job was largely focused on property maintenance such as weed management and snow removal on sidewalks.
For Janis, it was a chance to build relationships. Instead of making her job all about writing warnings or assessing fines, she took a community approach.
"I found that in many cases, yard overgrowth, for instance, was a case of physical or financial challenges rather than blatant neglect," Janis explained. "Senior citizens, for instance, often can't handle the necessary tools to trim trees or shovel snow — yet both are important to community safety."
In response, she formed a volunteer program to help these individuals and families come into compliance free of charge. She enlisted students and staff for the local high school, and even the Idaho National Guard. It's a program that is still active today — and just the beginning of her community-focused endeavors all around building safety and codes.
Educational Imperative
After eight years as the code enforcement officer in Mountain Home, Janis and her three children moved to Utah, where she became a plans examiner and permit technician for Salt Lake County. In this role, she became more active with the International Code Council, joining the Utah Chapter and getting directly involved with the Education Committee in 2015, an organization that she is still an active member.
During that time, she continued earning certifications (including residential combination inspector, residential electrical inspector and residential plumbing inspector, to name a few), and became a certified building permit technician. She also took the time to help coworkers earn permit technician certificates. After a few years with Salt Lake County, Janis transitioned to a position as a plans examiner with the Salt Lake City Building Services Division, a role that she would maintain for two years.
In May 2019, she took on the job of plans examiner for Weber County. She became an elected member of the Bonneville Chapter of the ICC.
It's in the city of Layton, and Davis and Weber counties, where she found a platform to exponentially increase her passion for the industry and desire to introduce others to the profession, particularly young women.
Wrestling, Codes and Careers
While her daughter and two sons have gone through their schooling, Kelly would regularly take time at career days to talk about the construction and building industry, and specifically her job as a plans examiner. As her children moved into high school, those conversations became more focused, particularly with the young women. Kelly strongly believes in the importance of women learning trade and construction skills and advocates for more women working on job sites.
"We need more women in the industry," she said. "I enjoyed talking to the students about opportunities that they likely didn't know existed, especially if college wasn't an interest or an option."
Through that interest, Janis decided to form a building safety career day at the local library to introduce female high school students to opportunities in the building safety profession including technicians, inspectors, examiners and building officials. She also helped her daughter and her friends to earn permit technician certificates, which counts as college credit.
More recently, she has become the Utah Camp Ambassador for the Wrestle Like a Girl organization and was host of the first annual Wrestle Like a Girl Empowerment Camp that was sponsored by the Laborers' International Union of North America (known as LiUNA).
Community Priorities
Over the years, Janis has been recognized for her commitment to building safety and community. She received the 2018 Chapter Service Award for her dedication and commitment to the Code Council's Utah Chapter Education Committee. She is also the first woman to receive the Bonneville Chapter Ron Bullock Building Official of the Year Award.
This past year, Janis earned a master's degree in public administration as a way to advance her career in public administration, and soon to local government. She begins her quest to earn a doctorate in public administration later this year.
"I would like to focus on planning and development, economic development, and community affairs as a way to promote a strong, financially stable and sustainable community," she said. "My goal is to enhance a competitive business environment by planning, organizing, directing and evaluating business and revitalization strategies. Community relations is a priority and I enjoy being a public official and leader."
Her dedication, commitment and integrity make her richly deserving of the ICC Trailblazer award honor.
Janis concluded, "I'm deeply honored to win the Trailblazer Award. Helping the next generation is paramount. It's all about community, which is family. What I do is business and it's personal. My goal is to bring the humanity back into government."
The International Code Council congratulates Kelly Janis as the recipient of its 2022 ICC Trailblazer Award.
View past recipients of the ICC Trailblazer Award.
---
Membership Councils make a difference
The Membership Councils of the International Code Council offer members a place to come together and be a more powerful force shaping your association, your industry, your career and your future. The Code Council Board of Directors offers six discipline-specific Membership Councils — the Building Membership Council, Fire Service Membership Council, PMG Membership Council, Sustainability Membership Council, ICC Global Membership Council, and Emerging Leaders Membership Council — that each serve to take your membership and profession to the next level. Share your expertise, voice and vision with your peers.
Learn more about International Code Council Membership Councils.