Lee Clifton used the power of relationships to connect with the PMG industry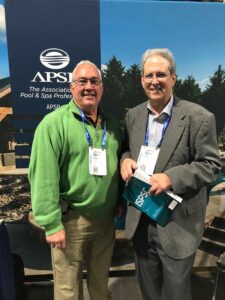 Charles "Lee" Clifton, the International Code Council's Senior Director of Plumbing, Mechanical, Fuel Gas and Swimming Pools (PMG) Resources, may have retired at the end of July after 13 years with the Code Council, but he leaves behind a robust industry relations program that embodies his philosophy of advancing the Code Council's mission through the careful cultivation of personal relationships. It didn't matter whether you were a corporate president, a code inspector, a contractor or a journeyman plumber — Lee wanted to earn your trust.
Clifton had been working for the city of Los Angeles for more than two decades, rising to a principal inspector in the city's housing department. One day in 2007, he received a call from his friend Jay Peters inviting him to think about coming over to the Code Council and helping it grow its plumbing and mechanical program.
"Jay was the PMG executive director at the time," Clifton recalled. "I remember asking him, 'What is the job description for the position that you are trying to fill?' He said, 'Lee, there isn't one. You are going to write it. '"
Others might have balked, but for Clifton, the offer was just another opportunity to challenge himself by exploring a new career direction. As a young man, he decided not to follow in the footsteps of his father, who owned his own plumbing company in Tampa Bay, Fla. Instead, Clifton joined the U.S. Coast Guard and served a four-year hitch. Then, married with two children, Clifton examined his options and said to himself, "You know, plumbing may not be a bad thing after all." He went back to school to study plumbing, and eventually took over his father's business when his dad passed away several years later.
Everything seemed to be on track until Clifton suffered a back injury and needed to step back from the day-to-day stresses of being both a plumbing professional and business owner. Once again, he drew inspiration from looking at what life had taught him up to that point. "Everything I've done in this industry revolves around building codes," Clifton realized. "As a plumber, I relied on codes to provide the minimum safe standards for designing small plumbing systems. My company revolved around codes, even though I hadn't really thought of it in that manner."
With that lesson in mind, Clifton applied for a position as a building inspector in Los Angeles, all the way across the country from Tampa Bay. And once again, he not only settled in but thrived for more than 20 years, until that fateful call in 2007 from his friend Jay Peters. Once again, Clifton took stock — and in doing so, found the philosophy that would guide him in helping set up the fledgling PMG Resources department.
"Whatever you do in life, you are selling who you are, what you're about and your knowledge," Clifton said. "I had never looked at myself as a salesman, but looking back on it, I had to sell my skills as a plumber, and later, I had to sell the value of building codes to builders and architects who might need to be convinced to do something the way the code says."
When Clifton joined the International Code Council 13 years ago, the first thing he did — once again — was study. "It turned into a technical sales position, and what we were selling were codes and standards," Clifton said. "It was my job to focus on that and support that and to show people that it was a good idea to adopt these codes. And to do that well, I had to understand what the product was."
In addition to traveling around the country talking with code officials about the merits of the International Codes (I-Codes), writing countless articles and technical papers, attending code conferences, testifying before elected officials, and speaking to dozens of audiences of code and industry professionals, in 2014 Clifton became liaison to the Code Council's PMG Membership Council. During his tenure, the council grew its membership by 30 percent and launched the ground-breaking CodeNotes series of free topical guides covering the latest innovations adopted by the I-Codes. Clifton also oversaw the overhaul of the membership council's website to include monthly updates and a video library.
"Our ultimate goal was to build a world-class plumbing and mechanical program for the Code Council by increasing the level of expertise and credibility in the plumbing and mechanical marketplace," Clifton recalled. "I believe that I was successful in helping contribute in the creation of such a program by increasing the Code Council's visibility and industry involvement, by improving PMG training and support products, and by creating new avenues to advance Code Council activities in the plumbing and mechanical arenas."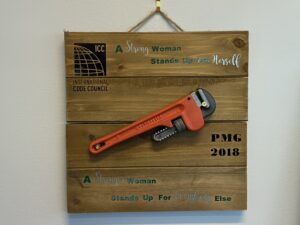 And throughout it all, Clifton's upbeat attitude, his willingness to shoulder any task, and his supportive and encouraging personality made lasting impressions on his colleagues, both in the industry at large and within the Code Council family of solutions.
"Lee is a people person," said Sara Yerkes, senior vice president of government relations for the Code Council, of which PMG Resources is a part. "He likes people and he enjoys collaborating with his colleagues. He also likes to recognize people for their achievements." Yerkes herself is a recipient of Clifton's annual PMG award, a plumber's pipe wrench fastened to a plaque with a custom inspirational statement — built personally by Clifton.
"The camaraderie and goodwill that Lee fostered in the department really made it a great place," said Yerkes. "Lee relished the chance to be a mentor and provide guidance to his colleagues."
"He's more than just a colleague, he's my buddy," Yerkes added. "If I skipped two days without calling him for a chat after work, he'd call just to make sure everything was alright. I'll miss that now that he is retired. But he certainly deserves his retirement, and I hope he'll enjoy it."
"It doesn't take long to recognize that he's a genuine person," agreed Guy Tomberlin, vice president of PMG Resources. "He comes across very sincere and he means what he says. As a customer of ICC years ago, I attended classes that Lee taught and he's just a wealth of information. Anybody that can convey information that effectively helps someone else learn something that they might not have otherwise known, has true skills."
"I always respected his opinion because it was always well-founded," Tomberlin added. "He didn't make anything up and didn't exaggerate."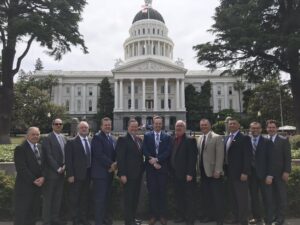 "Lee is first and foremost a gentleman, with a great passion for the building industry," agreed Gary Gauthier, director of PMG Technical Resources. "His knowledge of ICC and the status of the PMG disciplines throughout the country is extraordinary. He will undoubtedly be missed. He is more than my mentor, he has become my friend. And I only wish him peace and relaxation with his retirement."
After 45 years in the PMG industry, Clifton is returning to Florida, back to the house in which he grew up. His next self-imposed challenge? To practice his fishing.
"Looking back, when I started working in the PMG group under Jay Peters, it consisted of five code professionals," Clifton said. "Among that group, I am the last to leave now. I really feel proud to have been part of the original initiatives that were set in motion on June 18, 2007, when I started at the Whittier office, and that mission continues until today."