Literary prospector's code book collection unearths amazing history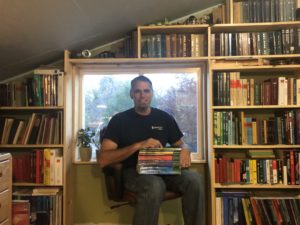 Glenn Mathewson is looking to swap, or to trade, if you will. Not cars, not baseball cards, not stamps or coins. He's hunting for codebooks. Specifically, he's looking for old codebooks from the days of legacy organizations Building Officials and Code Administrators International (BOCA), International Conference of Building Officials (ICBO), and Southern Building Code Congress International (SBCCI). In return, he has about 150 "seconds" and "thirds" of old Uniform Code books, among others.
Mathewson knows it's unlikely he'll find a trade for an old National Electric Code Book. Oh, they're out there … at a price. "Most of the books I find are in the $20 range," he said. "Maybe $80 for some. But on eBay, National Electric Code Books are going for $500 to $900 each. I can't justify that."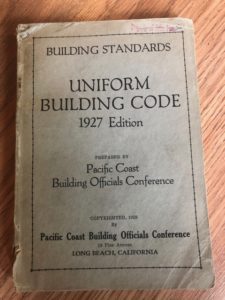 For Mathewson — a Master Code Professional turned code educator and consultant — it's easy to justify the more than 450 old code books consuming a wall of a room in his home in Westminster Arvada, Colo. "I've always loved history, and I'm a collector," he said. "And these books are history. They show us how we got to where we are today with the codes. And by going back to the beginning, you can peel away all the layers of rewrites and copies to see the original intent."
While it has become trendy to cite the Code of Hammurabi as the beginnings of building codes, Mathewson said a lot has changed in the nearly 4,000 years since doing a wrong cutting could mean your head. But the mission of building safety hasn't changed.
Mathewson said he gets chills every time he reads part of a preface in the 1927 edition of the Uniform Building Code prepared by the Pacific Coast Building Officials Conference. "This is the first code ever from a building official's organization," he said. "This is a very rare original and something that could take years to find. I got it as a gift from one of my mentors"
"The Code has been criticized by some individuals and organizations because it did not serve the selfish purposes in which they were interested. The Conference has endeavored in the formulation of the Code to serve no private or selfish interest but to deal fairly with all in the effort to produce safe buildings for the greatest economy and good of the public. …"
"Just awesome," Mathewson commented. "This is how, from the very beginning, affordability was part of the purpose of the codes." And the rest of the paragraph sounds like a blueprint for the regular code update process:
"It is true that everyone has a different estimate of what is best and in deciding these various issues combined in the Code it was necessary to draw upon a wide field of opinion. The result finally represented is no doubt better than any individual opinion.
"Wherever the Uniform Building Code can be improved it is the desire of the Conference to so improve it, for it is not, and never will be perfect. Fair constructive criticism and proper guidance will make the Code better through the years of use and application so that ultimately much good may result."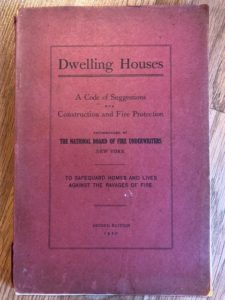 Mathewson said the City of Baltimore Code Book had not been updated for years after it was first published in 1859, since it was last revised in the late 19th century. While historians said that no one died as a direct result of the historic Great Baltimore Fire that occurred in 1904, the blaze that raged for more than a day claimed about $4 billion in damages. As they began to rebuild their city, they also adopted new codes, Mathewson said, ones that stressed upgraded fire equipment and using fireproof materials.
Mathewson enjoys working the history he gleans from his code book collection into his live talks and his input in updating current residential codes. Who knew that ceiling heights were a thing back in the mid-1800s? But they're mentioned in the 1859 London Metropolitan Building Code.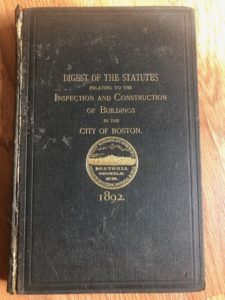 He also points to how fire blocking in wood frame construction has changed since the late 1800s. Then, he said, you had to fill the whole cavity behind the wall at the floor area with brick and mortar. Now? Not so much. But that is a casualty of a focus on craftsmanship over safety, Mathewson said, where construction is meant to look good where you can see it, but maybe cut a few corners behind walls and such.
And while solar and thermal power now are all the rage, he has found booklets devoted to the subjects dating back — not just to the 1970s when people started looking seriously at energy efficiency — but to a 1940 codebook design guide "Design for Solar Water Heating." The early mechanical and plumbing codes grew from the specifications and standards of the time.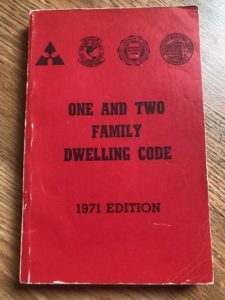 Mathewson said it took another 30 years or so for the idea to catch on even a little bit, "because there were no model codes in the 1940s. And then there's the human factor … there are a lot of codes for different parts of construction. There are only so many you can focus on, and they keep changing. That's why I'm really into code education. If you don't have the education, the proper context, the regulations are only words in a book."
Mathewson formed BuildingCodeCollege.com to make it easier and more affordable for people — including do-it-yourselfers — to understand the meaning behind the codes they're working with. And maybe get a little history lesson to boot.
Between the online college, writing the "Know Your Codes" column for "Fine Homebuilding," and consulting for builders and architects, you would think the seemingly indefatigable Mathewson would have difficulty finding time to devote to his old codebooks. "First thing in the morning, I'll sit with my cup of coffee and go searching online," he said. "I still need to find BOCA and SBCCI codebooks. I'd love to find other collectors to swap with."
He hopes an article will help. Mathewson was thrilled to get a call about his old codebook collection. "I'll have to tell my wife, 'There really are other codebook nerds like me out there!"
And hopefully, one of them has a National Electric Code book to spare … cheap.