Martial arts helped Texas building inspector Doug Grissom climb the ladder personally and professionally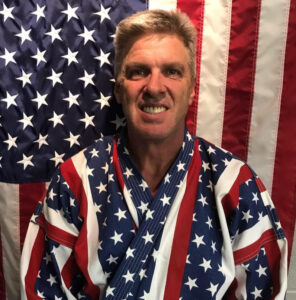 Doug Grissom grew up on the small side. And unlike many of his friends in his Sherman, Texas, neighborhood, he didn't play football. He took classical piano lessons. "My father was a minister," he said, "so I got picked on a lot as a kid. When I was 17, my father asked if I wanted to take lessons from a friend who was a martial arts teacher. I immediately fell in love with it."
Some 40 years later, not only did Grissom — building inspector for the city of Allen, Texas — improve his self-esteem by challenging himself in various forms of martial arts, but he recently was inducted into the U.S. Martial Arts Hall of Fame (USMAHOF). "A 40-year veteran of karate, Grissom has earned a reputation in Texas of being a tough competitor, but also a man with a servant's heart," reads the citation from the USMAHOF. "He holds a fifth Dan in Tae-Kwon-Do and is still an active competitor in the Texas Sport Karate Circuit. Grissom is also a Krav Maga, Kajukembo, Ju-Jitsu and Aikido practitioner who is constantly striving to become both a better martial artist and a leader in life."
Grissom, 57, is humbled by the honor of being a member of such a prestigious group. "I still find myself saying, 'Wow!' There are a lot of legendary martial artists in there. I can't say I mastered each discipline. But I like to continue challenging myself with new ones."
That included finding a new career at age 37 when a friend asked him to become a plumber's helper. Until that time, he had bounced around at various jobs to pay the bills. After a few plumbing jobs, Grissom said, "I just fell in love with it. Unlike a lot of jobs, at the end of the day, you can see what you've done and the progress you've made. Both martial arts and plumbing are very structured. I like that."
Grissom then began to work with different local plumbing contractors, earning certifications along the way. He has earned a bachelor's degree in business administration and is a licensed master plumber and a licensed plumbing inspector in Texas.
He moved up to become building inspector for the city of Greenville, Texas, with about 25,000 residents. But not before Grissom faced another challenge a few years prior. "In 2004, I married my beautiful wife Leigh, one of my students, and a black belt in her own right," he said. "About two months later, I suffered a stroke. This caused debilitation on the left side of my body, leaving me with no feeling in my left arm and no control of my left leg."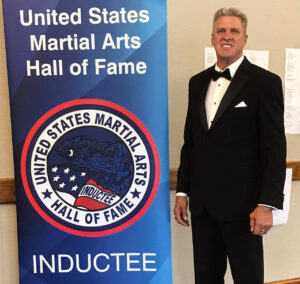 Doctors didn't leave him much hope of a full recovery, let alone being able to work and compete again. "Leigh and I set out on our own rehab program. Working at home for almost a year, I made small steps and improvements until I regained feeling in my arm and full use of my leg."
Further setbacks — a ruptured disc in his back and another knee surgery — further tested his resolve. But after two years of rehab for his back, Grissom wanted to return to full training. Then, after 10 years away from competition, he wanted to test himself at age 51. He not only competed again but said he felt a sense of strength he hadn't experienced in years. In 2017, he qualified for the United Taekwondo Alliance USA National Team and competed in Aberdeen, Scotland, winning four medals.
Professionally, Grissom was energized enough recently to take the building inspector job in Allen, Texas, a suburb of Dallas with about four times the population of Greenville, with a lot of projects going on. Mike Sizemore, CBO, building official for the city of Allen, said they were impressed with Grissom's work ethic and code knowledge. "Age is not really a mitigating factor in being successful as an inspector," Sizemore said. "Attitude and willingness to learn and at times pushing yourself is what makes up the most successful inspectors, and Doug possess all three of those qualities. Doug is one of those individuals who can do anything he puts his mind to. His experience, along with the continued training he will receive here in Allen, will complement our highly motivated and skilled team."
Grissom is excited about his new duties in Allen. He hopes to keep competing until he's 60 and then maybe focus his martial arts on teaching self-defense in schools and around the community.
Of course, there's the inevitable question: Has Grissom met martial arts icon Chuck Norris? He has, and then some. "He is really a nice gentleman. And I was included in a book written in his honor, naming the top five martial artists in each state. That is really something."