Michael Richwine appointed state fire marshal at CAL FIRE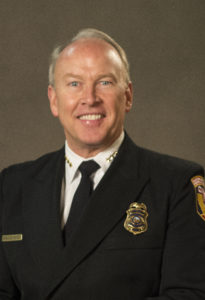 With almost 40 years of fire service leadership under his belt, including 33 years with the California Department of Forestry and Fire Protection (CAL FIRE), Chief Michael J. Richwine knows how to get things done. It comes as no surprise that California State Governor Gavin Newsom announced the appointment of Richwine as state fire marshal at CAL FIRE on May 15, 2020. This position requires California State Senate confirmation.
Chief Richwine has been the acting state fire marshal since December 2018 when he was appointed by Governor Edmund G. Brown. Prior to that, Chief Richwine served as the assistant state fire marshal from 2012 to 2018. Currently, Chief Richwine oversees a staff of 220 employees and has well-rounded experience in fire protection, fire prevention, and training and education programs.
During Chief Richwine's career, he has risen through the ranks and served in a variety of fire prevention and training positions within the CAL FIRE — Office of the State Fire Marshal (OSFM), including as division chief for state fire training from 2005 to 2012 where he was responsible for administering the California Fire Service Training and Education System; division chief for fire engineering/arson and bomb from 2002 to 2005 where he chaired several OSFM regulatory advisory committees; deputy state fire marshal III specialist; operations coordinator from 2000 to 2002; deputy state fire marshal III specialist; certified unified program agency coordinator from 1997 to 1999; fire service training specialist III from 1992 to 1997; and deputy state fire marshal from 1986 to 1992. He began his fire service career 40 years ago as a firefighter for the city of Hanford Fire Department from 1980 to 1986.
Richwine also served for six years on CAL FIRE Incident Management Teams and holds numerous professional certifications. He currently serves as ex-officio member of the Statewide Training and Education Advisory Committee and the State Board of Fire Services, within the Office of the State Fire Marshal, and is a member of the California Fire Chiefs Association, the International Code Council, the National Association of State Fire Marshals, the National Fire Protection Association, and the Society of Fire Protection Engineers.