Oregon building official leads rescue for veteran and his family following faulty home repairs

Jayson Southmayd isn't sure what finally convinced Jason Bush to check out problems at his home, but both are really glad they did.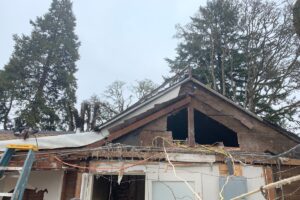 Maybe it was the urgency in Southmayd's voice, but for Bush, building official for several cities near Eugene, Ore., he was pretty sure the married disabled veteran and father of two was describing the usual homeowner-contractor dispute, even though the family hadn't been able to live in their home since February 2019. By the time Bush got to see the repairs in July 2020, he couldn't believe what he saw. "I saw probably the most unsafe, structurally compromised, non-code-complying structure I have been involved with in almost 27 years as a building official," Bush said. "Fire and shock hazards associated with the electrical system; the kitchen sink was found to not have its vent connected to the drain within the wall, which has been leaking through the electrical outlet under the sink where the garbage disposal plugs. The contractor had also broken the sewer line below the house in their attempt to level the floor. They actually made the problem worse, severely damaging and undermining structural portions of the interior pier pads and supporting beams."
Southmayd, a veteran of the United States Marine Corps who later served in Iraq as a U.S. Army medic, already had some 48 surgeries to repair wounds from two separate incidents. Also suffering from post-traumatic stress disorder, he said any type of stimulus, good or bad, means intense pain. But working with Bush since that visit in July 2020 has eased the pain for him and his family. "Without him, we wouldn't be here," Southmayd explained. "He has been our angel."
For the Southmayds — Jayson, Misty and their two children, Mikiah and Jaydon, now 19 and 11 — the hell started during a freak snowstorm in February 2019. Until then, they were comfortable in their 86-year-old home on three acres just outside of Eugene. They were raising chickens and goats, and Jayson was training therapy dogs for fellow wounded vets. Then one day, two feet of wet, heavy snow came down, ultimately causing four large oak tree branches to crash through various parts of their home. "It was like a minibus coming through the roof," Southmayd said. "One of them sounded like an IED going off."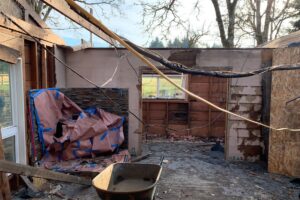 Initially, the family thought they would be able to wait it out in the home. But later that night, the kids began feeling sick. Misty had a difficult time waking her husband and the carbon monoxide detector was wailing. They realized they were being poisoned by carbon monoxide gas that was escaping into the house due to the heating system vent being dislodged in the attic. So, they spent the rest of the night in one of their fields, parked in their Jeep, with the windows wide open and the heater cranked. Fearing a relapse, Jayson and Misty wouldn't let anyone fall asleep.
The Southmayd family needed extra help because of a discrepancy in what their insurance company initially said the damage was and what they would pay. A licensed contractor agreed to be the general contractor on this job for what the insurance company would pay. Because of the insurance issues, repairs couldn't begin until late September 2019, seven months after the storm. During that time, Bush said, the Southmayds were forced to stay in motels, rented a 23-foot RV and finally rented a small house — moving 11 times in 14 months during the repairs. They moved back into their home on Easter 2020 and within a couple weeks they could see they had problems. The flooring was uneven; nails were coming through the ceiling, siding was put on with brads, and they found the broken sewer pipe leaking raw waste under their home.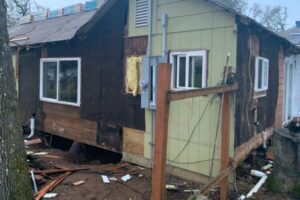 Until then, Southmayd had been patient, not wanting to cause a stir, but mostly, wanting to maintain an even keel for the kids, already traumatized by the storm. "Our daughter just crumbles every time she hears a tree brushing against the house," he said. "And my son, the day before the storm, prayed for heavy snow. He thinks this is all his fault."
No way should the Southmayds have had to go through this, Bush emphasized, who learned the general contractor was licensed for structural work, but not for electrical and plumbing. "He sacrificed his life over and over for his country. Then he gets treated like this?"
After seeing the damage, Bush contacted his son, a former Marine who works for a local fire alarm and suppression company, and Jack Applegate, owner of Oregon Inspections, LLC, and International Code Council Region II president. Applegate inspected the home as he would any other. After reviewing the 85-page report, he and Bush surmised the home wasn't salvageable and started to work on finding help to build them a new one.
Applegate, himself a wounded veteran of Operation Desert Storm, began reaching out to veteran's groups he worked with for the Code Council's Military Families Program, designed to help veterans with obtaining a new much-needed career in the building industry. He and Bush put the word out on social media, building industry channels and regular media. They were amazed at the outpouring of help, especially in light of the COVID-19 restrictions. With dozens of local contractors pitching in with materials and labor, work was done in phases, Bush said, depending on the availability of funds and materials donated.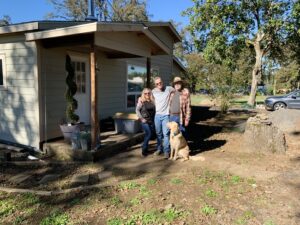 Bush figures they'll be breaking ground for the new home soon, and the timeline for getting the Southmayd family into it — complete with all the Americans with Disabilities Act requirements Jayson needs — received a big boost from Operation Second Chance, a Maryland-based organization that helps combat-wounded veterans cut through red tape and find the funds they need to live a better life. With help from Operation Second Chance, including allowing donations to run through its 501 (c)(3), Bush said the Southmayds could be in their new home by mid-summer.
But Applegate said it all started with Bush, and without him, "all of this would never have gotten off the ground. "It is because of dedicated and professional code officials like Jason Bush that we are able to continue to raise the profile of code officials and educate the public about the importance of building safety, the importance of hiring properly licensed trades professionals and the critical process of obtaining all required permits. These are goals we share across our entire industry," Applegate explained. "I am hopeful that ICC chapters, both local and state chapters like the Oregon Building Officials Association, take the opportunity to use this home, this tragedy and this teachable moment to educate the public."
For Bush, who's thankful that his bosses let him split his work duties, he is happy to help, even though he's upset it had to get this far, noting that the initial contractor didn't even pull any permits. "When I first got started with this, I asked myself, 'What did you get yourself into?'" he said. "But I fell in love with this family. This will give them a home they can feel safe in."