Priscilla Sanchez helps Mansfield, Texas, earn the Code Council's Community Service Award

Priscilla Sanchez was a code compliance officer/supervisor for more than 25 years. During that time, she estimates how many code compliance tickets she has written: "Two. I'm not much for writing tickets," said Sanchez in her upbeat Texas drawl.
Now volunteer coordinator for the city of Mansfield in the Lone Star State, Sanchez instead is all about helping violators come into compliance. That led her to develop the Mansfield Volunteer Program, which has helped hundreds of residents in the city and nearby, and until the pandemic hit, meant overseeing more than 2,000 volunteers working on 250 projects in a day.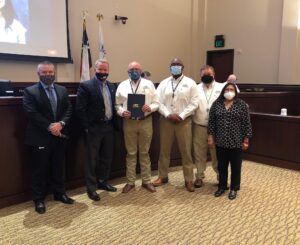 For her work, Sanchez earned the International Code Council's Community Service Award for 2020, presented "when circumstances warrant a need to recognize meritorious service by an individual, organization, jurisdiction or community group that promotes the public health, safety and welfare by initiating activities or actions considered to be above and beyond the normal expectations." Considering what Sanchez has helped accomplish, all that is an understatement.
"Priscilla's approach to code enforcement is truly unique," said Bernadette "Bernie" McCranie, assistant to the Mansfield city manager in her nominating letter. "She seeks to understand the reasons behind each code violation. In many cases, there is an underlying cause that leads to their inability to achieve compliance. The depth and breadth of her service to this community extend well beyond what could ever be expected."
Through her own volunteer activities, McCranie added, Sanchez was the perfect person to serve as a volunteer coordinator. "She always has a way to connect civic groups, faith-based organizations and social service agencies to residents in need," McCranie said in the letter. "She is the 'boots on the ground,' as many refer to her."
McCranie said it's common for Sanchez to start the day early by preparing "extra breakfast," and then making stops to elderly residents with a breakfast plate, an open heart and a willingness to lend an ear. She without a doubt possesses a servant's heart. She also organizes food programs for students who might go hungry otherwise. Asked where she gets the energy for all this, Sanchez said, "It comes naturally. It's a natural high helping others and seeing others helping. I thrive on it."
Throughout her career, Sanchez, who has served Mansfield since 2005, said she saw many instances when homeowners weren't in any financial and/or physical shape to keep their properties in compliance. "There was one elderly gentleman in particular," she remembered. "His home was falling apart. But he said he didn't have the money to fix it, and his children weren't in any financial shape to help." Rather than write a ticket the homeowner wouldn't be able to do anything about, she put out the call to church groups, schools and local businesses. Before long, the homeowner had new siding, fresh paint and a landscaped yard.
"Then I thought, 'Let's see what we can do when we work together,'" she said. "I don't think there is anything we can't do." With the help of an amazingly compassionate and giving community, and home supply stores willing to donate or provide materials at cost, Sanchez's effort has grown to more than 10,000 annual volunteers and netting a value of approximately $1.5M worth of sweat equity, McCranie said. "A glance at Priscilla's calendar will show a glimpse of the daily projects that she identifies and completes for projects throughout the city, from a seemingly small cleanup activity to other projects in which multiple organizations are coordinated."
Sanchez said it seems the more projects there are, the more volunteers want to help. Initially, she thought the Mansfield Volunteer Program could draw maybe 500 volunteers, not 10,000. Pretty good for a city of 75,000. "It just feeds on itself," she said. "The kids want to help. Everyone. We are just so blessed."
One of her most recent projects included installing 190 smoke detectors and constructing multiple ramps, handrails and stairs throughout Mansfield's mobile home communities. "She does this all the while, not as "just a job" or for notoriety, but because she truly cares about people and community," McCranie said.
Safety regulations during the pandemic have limited workgroups to maybe 50 people and a couple projects a day, far fewer than what Sanchez was used to seeing in the past. Still, she's grateful for all those willing to help. And McCranie said the city of Mansfield is grateful to have her. "All of her actions help bring about a safer and tight-knit community willing to show up for one another," she said.
Sanchez says she wants to make Mansfield a community you can call home. "I don't live there," she said, "but it's my home."