Residential building inspector certification a significant achievement on the path to building inspector for Braxton Bennett

For Braxton Bennett, there was never a doubt what he would be doing with his life. "My grandfather was a building inspector; my father is a building inspector, all in the same city. It's always been my dream to be a building inspector."
Bennett, a certified code enforcement officer for the city of South Gate in California, seven miles away from downtown Los Angeles, recently earned the International Code Council's Residential Building Inspector certification. "My dad and my boss were pretty proud when I passed the exam," Bennett said. "But my goal now is to become a combination inspector. I like to see what I can do and challenge myself."
Starting his journey working in construction, Bennett also attended Canyon College in Orange, California, where he acquired the skills to become a certified code enforcement officer accredited through the California Association Code Enforcement Officers. He volunteered for a while in inspections in South Gate before a full-time job opened up with the city. He's a certified code enforcement officer, property maintenance inspector and zoning inspector, accredited through the Code Council and the American Association of Code Enforcement.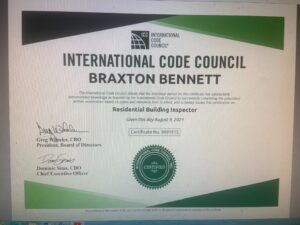 In his current job with South Gate, Bennett is responsible for enforcing the municipal codes, issuing violation notices and citations, obtaining inspection warrants, and even attending community meetings to address public concerns related to code enforcement. "I try to be as personable as possible, treating each person I deal with respectfully," he explained. "My goal with every resident is for them to feel like their feelings and concerns are heard while also obtaining compliance."
Bennett said his father has always encouraged him, talking to him about his workday. "He'd tell me about what he saw on inspections, and I would say, 'Tell me more.'" Now, although they work in separate departments, Bennett says he and his dad will talk about code interpretations now and then, just to get some clarification. "Sometimes, we'll come across an old permit that has my grandfather's name on it. That's pretty neat. The knowledge that they have shared with me has been instrumental in my development. My dream is to follow in their footsteps."
That dream includes working hard on pursuing that combination inspector license, which includes certifications in electrical and plumbing. He's been studying the way he studied for his Residential Building Inspector exam. "I just focus and don't let anything get in the way of my goal," Bennett shared. "I'll just pick up the codebook and page through it, making sure I understand the concepts. Another of my goals is to achieve at least one certification each year. I want to make my grandfather and dad proud."
---
The Code Council Assessment Center is your one-stop shop to help you achieve your professional goals. Whether it's obtaining certification, scheduling an exam, or learning about the different exams available, our Assessment and Test Development teams are here to help empower you. The Code Council maintains one of the most historic and prestigious credentialing programs for construction codes and standards. We are committed to upholding the highest standard through continuous review and partnership with experienced professionals. Code Council credentials are a great way to take your career to the next level. Building departments, state and provincial agencies, and third-party entities around the world recognize Code Council certification as the single most significant codes and standards credentials that building professionals can attain. Start your path to career advancement at the Assessment Center today.