Residential Energy Committee Chair JC Hudgison says IECC consensus hinges on education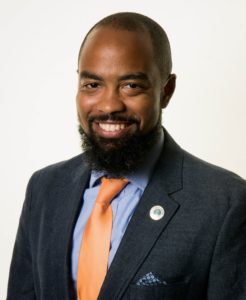 For JC Hudgison, CBO, Assoc. AIA, the incoming chair of the International Code Council's Residential Energy Code Consensus Committee, the "consensus" part of the committee's name will be an important focus of his leadership tenure as it helps to develop the 2024 International Energy Conservation Code (IECC). "Being energy conscious in residential construction is important," Hudgison said. "But it's also important to keep in mind that energy codes, like other building codes, affect more than just occupants, they also affect the building industry at large. It's a privilege to have the opportunity to help steer that conversation."
The Columbus, Georgia, native brings more than 15 years of experience in architecture, building code enforcement and construction management to the position. As the construction services center manager and chief building official for the city of Tampa, Florida, Hudgison oversees building and site plan review, permitting and inspection processes, and zoning permits, among other duties. He sees consensus building as a crucial part of his day-to-day work, frequently helping to adjudicate code interpretation issues as they arise with the development community, reviewers, inspectors and others.
While serving as the building inspections and code enforcement director for the Columbus (Georgia) Consolidated Government, Hudgison was tapped to serve on the state Department of Community Affairs' 2018 International Building Code Task Force. Hudgison said his participation not only provided him with valuable experience for serving on the Residential Energy Code Consensus Committee but also offered insight into effective ways for achieving consensus.
"On the task force, I got to see how the consensus process works at a smaller scale," Hudgison said. "We didn't have a lot of amendments proposed, but we had the same range of interested parties that you have with the IECC. I was able to see how the chair managed meetings and set the schedule. Having been a part of that process has given me some valuable experience as to how this process can work at a national and even an international scale."
Hudgison explained that while the regulatory role of building officials is widely recognized, many people underappreciate their potential as educators who can reach a broad community with important messages about the value of building safety and energy efficiency. "We can come in, give you a black-and-white explanation of your code violations, and then move on if that's all you want, but we're capable of offering much more than that," he said. "Being able to educate the community, whether it's a homeowner buying their first home or a seasoned veteran who is working on something that's a little outside of their usual scope, or somebody coming from out of state who is unfamiliar with our code amendments, every day I have opportunities to help people understand and navigate the ins and outs of the code so that they're better informed about what they want to do."
One effective way to gradually build consensus on energy efficiency standards, Hudgison explained, is getting people to focus on the practical effects of small improvements on individual jobs. "For a lot of people, it comes down to dollars and cents," he said. "Contractors can sometimes be more focused on getting a job finished and then going on to the next project. But when you talk to them about the long-term effects on the building's owners and occupants of energy savings through things like installing dehumidifiers, testing ducts, installing devices with good Energy Star ratings, and assessing the R values of walls, they begin to get it. And then when you multiply that by dozens, and then by hundreds and thousands of residences, the cumulative effect is that much greater."
"It's important to get the building community to focus on how the parts fit into the whole," Hudgison stressed.
Hudgison believes that such education-driven consensus will help spur more widespread adoption of the IECC. "Certain states have adopted the IECC as an optional code, but if we can show people that we have a truly consensus-driven code development process, then I think we will see more universal acceptance of the code and its underlying principles. And the way to ensure that the process is as representative as it can be is by reaching out to stakeholder working groups and making sure people understand that their voices are being heard, that their concerns are being properly considered and vetted, and that we're making the best choices that we can."
Hudgison's interest in architecture — he earned his bachelor's degree in architecture from the University of Tennessee, Knoxville — has also helped him gain the trust of the building community. "A lot of architects, when they come to see us for plan reviews and things like that, when they ask about my background and I tell them that it's in architecture, their reaction is, 'Okay, this is someone who at least understands where we're coming from.'"
The move from Georgia to Florida has allowed Hudgison to see first-hand some of the most impactful effects of climate change, such as beach-front erosion caused by sea-level rise and damage from increasingly powerful hurricanes. Even so, the city of Tampa is as busy and bustling as ever.
"It's never the same from day to day," he said. "One day, we will have someone who wants to build a multi-level high-rise. The next day, we might get a project for a brewery. Then the next day, there's a hospital that wants to add a wing onto its existing property while still staying open. And knowing that you had a hand in it is special. I may not have physically built it, but I helped make sure that it's safe for anybody who chooses to occupy it. And that's meaningful."