Ron Burton Golf Outing honors the man by training a new generation of leaders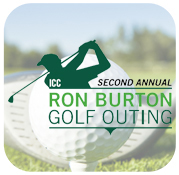 The Ron Burton Annual Golf Outing — planned in conjunction with ICC's 2016 Annual Meeting in Kansas City, Mo. — is a way to continue the educational legacy of a widely respected man who drew concurrence on safety — and have some fun with fellow golfers, as Ron himself loved to do.
Before his sudden passing in November 2014, William Ronald "Ron" Burton was renowned for his work on the I-Codes, as well as the International Residential Code as a member of ICC, Building Owners and Managers Association International and the National Association of Home Builders.
"Ron always was about how codes would improve safety, while also keeping costs in mind," said good friend Henry Green, president of the National Institute of Building Sciences and a past ICC Board president. "He didn't want to adopt a code without people understanding the background."
Bill Dupler, deputy county administrator for community development in Chesterfield County, Va., and a past ICC Board president, agreed Burton wanted to make sure people thoroughly understood the need for any code changes.
"Ron was first and foremost an educator," Dupler said. "He wanted to make sure homebuilders and building officials were on the same page."
And he also was an avid golfer.
So Green, Dupler, Wally Bailey and several other past presidents and chairmen of ICC and its predecessor organizations had the idea to honor Burton's legacy with an annual golf outing that would raise funds for programs to train future leaders.
The group ICC leaders — the Past Presiding Officers (PPOs) of ICC — checked with Burton's widow Linda, and she thought the outing and the project it funded was a nice way to honor her late husband's legacy.
The first outing — at the 2015 Annual Meeting in Long Beach, Calif. — drew 72 golfers and, with the help of sponsors, raised more than $30,000 toward the project, Green said.
Tim Ryan, code administrator in Overland Park, Kan., remembered a lot of golf with Burton and Green, including not long before Burton passed in 2014. Golfing in the first Ron Burton outing, he said, "was even more special for Henry and me."
Also in Long Beach, the PPOs offered its first day-long seminar to show in various ways how people in various parts of the industry can get to that next rung in their career — and beyond.
They all agree training future leaders is especially key since a recent demographic survey noted the code profession will need to replace the 80 percent of current professionals planning to retire in the next 15 years.
"No matter how many different groups were in a room, Ron had the ability to soon command the respect of all of them," said former ICC Board Chair Stephen Jones, construction official and deputy emergency manager for the township of Millburn and the borough of Florham Park, N.J. "He was genuine."
"He was a wonderful man," added Ron Lynn, building official in Clark County, Nev. "And, had he been here, Ron would have helped us develop a new generation of code officials, including the ones we lost during the recession. So in this way, he can."
Steve Shapiro, deputy director of community development in Hampton, Va., tag-teamed his part of the program with Green. They pointed out to attendees that this is the first time five generations of workers are represented in the workforce, and dealing with each has its own idiosyncrasies. But good managers willing to help their employees advance can help themselves as well.
"Clearly, this program is not about code training," said Green, who talked about mentorship during his portion of the seminar. "This focuses on the soft skills a person can use to help them and their employees get to where they want to go in their careers."
Green said the program at the 2015 Annual Meeting was well-received, and the PPOs will be doing it again at this year's gathering in Kansas City, with the presentation "Journey to Leadership in Code Administration," for emerging professionals to outline the skills and abilities they will need to become expert code professionals.
The money raised from the golf outing will help pay for videos and other materials for such presentations throughout the country, he said.
"We thought helping to prepare a future group of leaders in our profession was a good way to honor Ron, who was a leader and an icon in the code industry," Ryan said.
Code Council COO/CFO John Belcik said the $125 entry fee is a great bargain. This year, the tournament will be a shotgun-start at the Falcon Ridge Golf Club, 20200 Prairie Star Parkway, Lenexa, Kan. The tourney will include a 50/50 drawing; prizes for the longest drive and closest to the pin; a hole-in-one contest; and gifts for all participants. Transportation, breakfast and lunch will be provided.
Belcik said they still need sponsors to help make the event successful once again. The following sponsorships available:
Overall Sponsor
Golf Tournament Sponsor
Hole Sponsors
Lunch Sponsor
Beverage Cart Sponsor
Gift Sponsor
To register, visit http://media.iccsafe.org/2016_ICC_PCH/docs/2016_Golf_Player_Reg_Form.pdf.
To sign on as a sponsor, visit http://media.iccsafe.org/2016_ICC_PCH/docs/2016_Golf_Sponsor_Form.pdf.