Samhar Hoz to receive the ACI Young Member Award for Professional Achievement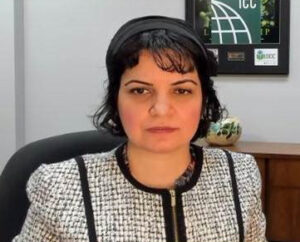 For her passionate engagement of students and other young professionals in American Concrete Institute (ACI) programs and promotion of student memberships, Samhar S. Hoz, LEED Green Assoc., staff engineer with the International Code Council's Codes and Standards Development division in the Central Regional Office, has been selected by the ACI Board of Direction to receive its Young Member Award for Professional Achievement.
Established by ACI's Board of Direction in 1997 for the purpose of recognizing the contributions of younger members of the Institute for professional achievement, the ACI Young Member Award for Professional Achievement honors ACI members who have attained significant achievement in mentoring students and young professionals, active participation for ACI at the local chapter and national/international level, and advancing the industry and ACI's objectives. Hoz will receive the award on March 28 during the ACI Spring 2021 Concrete Convention and Exposition in Baltimore, Md.
Hoz has been a member of the Code Council's Technical Services team since February 2020. She serves as one of the secretaries of code development for the Building Code Action Committee, the secretary for the ICC Residential Seismic Assessment & Retrofit Standard Committee, and as the secretary of the Building (IBC)—Fire Safety Committee.
She is bilingual and has most recently engaged with regulators and design professionals in the MENA [Middle East and North Africa] region — where she began her career as an engineer — assisting Regional Director of Operations Mohamed Amer in the Code Council's Dubai office. Together, they have offered presentations demonstrating how the International Building Code — along with training, certification and conformity assessment services available from the Code Council — can facilitate building safety. In September 2020, she hosted an introductory webinar to building safety professionals and regulators in the Middle East, Eastern Europe, South America, Southeast Asia and the United States on the Code Council's family of solutions and an overview of how the International Building Code can be used to benchmark building safety.
"Since the International Codes published by the Code Council are the base codes for many codes used in the region, the webinar focused on the open, transparent and balanced ICC code development process," Hoz explained. "We are discussing how the Code Council facilitates building safety through the family of solutions and how the Code Council can help engineers, architects and code officials through plan review, technical opinions on codes, conformity assessment for established and innovative building products and materials through ICC Evaluation Service, and through the Code Council's webinars, certifications and training."
Hoz joins the Code Council with eight years of combined experience in civil, construction and structural engineering. Previously, she worked for Helix Steel as a civil and structural engineer and outreach manager where she conducted structural analyses and design for commercial and industrial projects. She has a bachelor's degree in civil and structural engineering and a master's degree in construction management from Eastern Michigan University.
Congratulations to Samhar Hoz on this well-deserved honor.