Sims: Ensuring the long-term growth and success of the Code Council
Looking back on a solid foundation of progress and success during 2019, International Code Council Chief Executive Officer Dominic Sims, CBO, told Annual Business Meeting attendees that the association can go boldly and confidently into 2020 and beyond as he presented the annual CEO Report. "The International Code Council is positioned for long-term success," said Sims while giving the annual CEO Report. "Despite what happens over the coming years, we are confident in our ability to continue providing the highest quality products and services to the building safety industry."
"We recently completed our 2025 strategic planning process. Vision 2025 will guide us over the next five years as we strive to improve building safety around the world." Sims said the plan includes goals for global and domestic business growth, core business, customer service improvements, policy and thought leadership, and digital transformation.
Below are Sims's full remarks during the Annual Business Meeting on Oct. 21, 2019, in Las Vegas, Nev.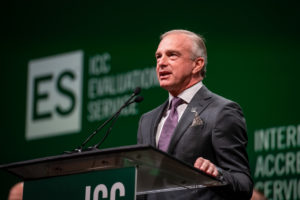 Today I want to talk about the future — your future and the future of this association.
The International Code Council is positioned for long-term success. With the expertise and hard work of our members and staff, we have built a strong and enduring organization.
This year we processed more than 1,300 code change proposals. We fielded customer calls, hosted training events and offered exams on a wide range of topics. We wrote evaluation reports, accredited laboratories and developed custom local codes for communities.
We hosted events in many different states and countries and spoke to policymakers hundreds of times throughout the year. Because of our efforts, news media ramped up their coverage of building safety and code compliance.
Our financial position is strong. Despite what happens over the coming years, we are confident in our ability to continue providing the highest quality products and services to the building safety industry.
We recently completed our 2025 strategic planning process. Vision 2025 will guide us over the next five years as we strive to improve building safety around the world.
As directed by our strategic plan and guided by the board of directors, we have diversified the Code Council's revenue streams to protect the association and our mission. In 2019, we made the single largest acquisition in Code Council history.
Behind me is David Tompos, president of NTA. David's father started NTA over 40 years ago. NTA has a team of experts in modular construction and product testing and brings testing capabilities to our suite of service offerings. Please join me in welcoming David to the Code Council.
Sitting with David are members of the leadership team of your association. This team has helped me to build the Code Council into the exceptional association that it is today.
With the addition of NTA's testing capabilities, the Code Council now offers a complete family of building safety solutions. We're positioned to serve the entire industry with a comprehensive suite of products and services.
Building safety professionals can rely on the Code Council to support their needs for standards development, training, accreditation, product evaluation, testing and much more.
In the next five years, we will be focused on making our products and services more digital. We will be adding a new senior-level position, a chief knowledge officer, to accelerate our digital transformation. The chief knowledge officer will work with the team seated behind me to develop high-quality, market-driven, digital products that help you do your jobs more efficiently and effectively.
We're launching new exciting digital products for our members. We now have an easy-to-use, digital badging system for personnel certifications that gives our members the opportunity to promote their credentials online.
And, we have a new chapter website benefit — a modern website hosting service that each chapter can personalize with their specific information and resources. This benefit will help chapters expand their online outreach to new members and communities within their region.
Earlier this month we released an interactive, digital tool that provides a comparative analysis of model plumbing codes. The tool demonstrates that communities like yours that adopt the International Plumbing Code see considerable savings in cost and materials. You can find out how your community is impacted by visiting the Code Council's website.
Another integral part of our strategy is to continue growing globally. This allows us to diversify our markets, control risk and help the communities that need it the most to improve their building safety infrastructure. You can find a copy of the global strategy in the updated strategic plan on the Code Council website as well.
We've already begun implementing our global strategy, with a regional focus on the Caribbean, India and the Middle East.
We are working closely with the CARICOM Regional Organization for Standards and Quality (CROSQ) to help the 15 member states in the Caribbean to adopt and effectively implement a new energy code. The CROSQ invited the board of directors to meet in person to cement our partnership and see first-hand the effects of our work in the region. In December, the Code Council Board of Directors will hold its first meeting outside of the United States in the Caribbean.
I also want to give you a special preview of an announcement that the Code Council will be making later this month. We will be opening our first international office in Dubai.
As you know, we've been active in the Gulf Region for more than 30 years. Having a local presence in the Middle East will allow us to better serve our customers in the region. In the days to come, we'll bring you more news about the Dubai office and our activity in the Gulf Region.
Part of our long-term strategy is to promote building safety worldwide through Building Safety Month. In 2019, Australia, Canada and Scotland all signed on to promote the building safety message to their communities during the month of May. In 2020 and beyond, we will be working with these partners and many other countries to highlight the value of modern codes and strong code compliance.
Another initiative we've taken to increase our engagement is to launch a multi-lingual version of our website in Spanish and Arabic. This site introduces the Code Council Family of Solutions and our model codes to audiences around the world.
A number of international partners have joined us in Las Vegas for Global Connections Day. The Code Council is hosting the Inter-Jurisdictional Regulatory Collaboration Committee — a group of building regulators from 14 countries that meet regularly to discuss developments in building safety. A warm welcome to our international partners here today.
We look forward to working together to continue the international building safety discussion in the years to come.
Whether we're talking about members and clients in the Caribbean, Dubai or the United States, customer service is at the core of our success as an association. That is why I have spearheaded a staff initiative this year to recommit ourselves to excellent customer service.
In August, we launched our new customer service vision — "Extraordinary Service. Every Time."
Each Code Council staff member has been trained as part of this initiative, and we've made improvements to ensure that all our customers receive the personal, individualized service they deserve.
One way we deliver exceptional customer service on a regular basis is by listening closely to our members. This year I joined President Bryant and other Code Council staff on a tour of the northeast. We stopped in New Hampshire, Massachusetts, New York, Maine, Vermont and Rhode Island. Thanks to all the chapters and stakeholders who took the time to meet with us and provide valuable insight.
Underlying everything we do is our building safety mission. Thanks to all of you for your support of the association. We have built a strong, successful organization focused on making the world a safer place for our families, our friends and our communities by supporting building safety professionals like you. We look forward to continuing to serve you in 2020 and well into the future.