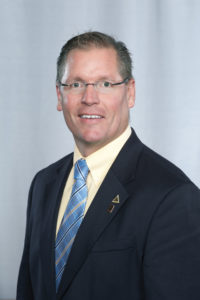 As the fire marshal for the town of Greece, N.Y., for 32 years, Rob Drexler had an opportunity to influence and enact code-related improvements at the local, state and national level. It's an experience that forever changed his perspective on public service.
With a degree in building construction technology and heating and plumbing technology from Canton Agricultural and Technological College, Drexler thought he'd have a long career in construction. He worked as a framer, site engineer, finish carpenter, and even a fire and security alarm technician after graduation.
Then he saw an ad in the Sunday paper to take the civil service exam for a city inspector job. Intrigued, he took the test, interviewed, and soon after was hired as the assistant building and plumbing inspector for his hometown of Greece, a community not far from Rochester. At the same time, he joined the Ridge Volunteer Fire Department as a firefighter.
Jim Piazza, fire marshal for the town of Greece at the time, saw Drexler's interest in the fire service, particularly fire codes and building codes, and offered him a different job in the relatively new Greece Fire Marshal's Office, which was established following the 1978 Holiday Inn Fire that killed 10 people and injured an additional 34. At 25 years old, Drexler took on the role of assistant fire marshal performing fire alarm, commercial kitchen and fire sprinkler inspections as well as cause/origin assessments following structural fires. He was promoted to deputy fire marshal in 1993, where he had the opportunity to work with the planning and zoning board as well as the building department while still performing inspections. He was promoted to fire marshal in 2000.
Enthusiastic engagement
At the recommendation of Fire Marshal Piazza, Drexler began to get involved with the local, state and national code-related organizations as a way to learn and share best practices. He served as president from 2001 to 2004 of the Monroe County Fire Marshals and Inspectors Association, a group formed in 1978 to address local fire and life safety issues following the Holiday Inn Fire, and continues to serve as an executive board member of the group.
He also served as president of the New York State Fire Marshal's & Inspector's Association from 2006 to 2009 and continues on its executive board. As an active member of both, he participated on numerous committees such as the New York State Propane Safety Task Force Committee (2004), the New York State Existing Building Code Technical Subcommittee (2002–2005), the National Fire Academy Prevention Advocacy Resources and Data Exchange — Region II (co-chair 2003–2008), the New York State Codes Coalition to Preserve and Protect our Communities(co-chair 2008–2012), and the International Association of Electrical Inspectors — New York State Genesee Region's Board of Directors (2009—present).
One of the things he's most proud of during his time as fire marshal was his role to build a tight working relationship with the town of Greece Building Department.
"We work under the same roof; conduct plan reviews and field inspections together," Drexler said. "I believe that by providing the best service to the community, the two departments have a shared mission."
Milestone moments
One of Drexler's most memorable and challenging times was during New York's transition to the Code Council's International Codes, a changeover that he directly enabled as both Greece's fire marshal and as president of the Monroe County Fire Marshals and Inspectors Association, and through involvement in state-level fire organizations.
He played an active role with New York State representatives to advance the adoption of the International Codes, developed technical subcommittees and participated in the existing building code subcommittee to better adapt the International Codes to existing New York State codes.
His influence was also felt at the regional level. In 2003, the Code Council created 12 regions one of which was the ICC Northeast Regional Coalition (Region VI) — which includes Connecticut, Maine, Massachusetts, New Hampshire, New York, Rhode Island and Vermont — to establish stronger, more unified networks of building safety professionals; provide greater political strength when addressing code adoption and code development issues; and deal more effectively with state legislators.
No surprise that Drexler became a member of this group, helping raise awareness about the International Codes and how codes, in general, keep communities safe. While co-chair of the New York State Codes Coalition, he also helped support his fellow fire marshals by lobbying the governor's office to purchase Code Council code books for the state's 5,000 code officials.
As a member of the Code Council's Board of Directors, he had an opportunity to enact positive change at the national level. One milestone moment occurred in 2011 when he helped to forever change code development participation.
"The Code Council has long looked to general membership for input about codes development as well as approval," Drexler recalled. "Prior to 2012, the only way for building and fire officials to vote on codes was to attend the annual conference, which was a financial burden for municipalities across the country."
In response, the Code Council's Board of Directors approved the creation of cdpACCESS, an application that facilitates online voting by ICC governmental members. The site includes the results from Committee Action Hearings, Public Comment Hearings, and access to video and other content of record from the hearings.
"I worked specifically on the security aspects of the program to preserve processing and secure electronic passcodes and verifications," Drexler explained.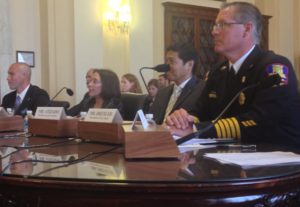 He has also participated on the ICC Codes & Standards Council, the group appointed to review and approve new codes and standards projects and development policies and procedures. A highlight moment in his career was testifying before the U.S. Congress Veterans Affairs Subcommittee on Health as an expert witness on behalf of the Code Council in 2014.
Drexler was named an Honorary Member of the Code Council in 2017. He retired as Greece's fire marshal this year. Looking back on his career, Drexler said, "I was extremely honored to be a Code Council board director. I thank the membership for giving me the opportunity to represent them. Through Code Council involvement, I met so many good people and learned so much at the local, state and national level. The networking alone gave me a powerful platform to learn and continuously improve our services. Many of the things accomplished would not have been possible without the participation of those people."
"This truly is a great profession, he concluded. "I believe we made great strides in making our nation a safer place for all in the built environment. Building inspectors and fire officials work tirelessly on a daily basis to make the difficult choices for protecting our communities. I will forever have respect for all of those in our profession. I firmly believe that fire marshals are the silent defenders. If you don't know us, then we must be doing something right."