Vaughn Wicker Retires after 23 Years of Service to the Code Industry
Longtime code professional has been an exemplary role model displaying traits of a strong work ethic and loyalty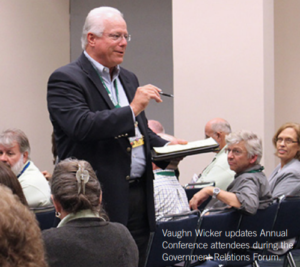 Longtime ICC staff member Vaughn Wicker, an integral member of the ICC government relations team since 2003, retired at the end of December 2017. Known for his quick wit, easygoing manner and Carolina drawl, Wicker spent 23 years doing what he enjoys best— working with people from diverse backgrounds.
"I thoroughly enjoy working for an organization whose staff is so dedicated to meeting the needs of its members," Wicker said. "I'm extremely fortunate to have a more interactive experience with our members than the majority of our staff. Our members are dedicated and passionate professionals who are very often underappreciated for the services they provide, and I am blessed to have met and developed friendships with so many of our staff and members."
Formerly a vice president of state and local government relations, Wicker served as the primary staff liaison for the states of North Carolina and South Carolina, part of ICC Region VIII. More recently, he was the ICC staff liaison for the Building Official Membership Council, helping to organize and coordinate the activities of its Governing Committee and helping with its new Raising the Profile Task Group.
In recognition of his unparalleled service to ICC, he received the 2013 William J. Tangye Staff Recognition Award. Granted by the chief executive office for meritorious service to the association, the award is given in honor of William J. Tangye, the first chief executive officer of ICC. Wicker made such an impression on Tangye with his knowledge and desire to learn more from his peers across the South that Tangye asked him to speak on the first code change on the agenda at the 1980 Southern Building Code Congress International (SBCCI) conference.
"Vaughn has been an exemplary role model with a strong work ethic, unwavering sense of loyalty and a skill for bringing people together through his love of golf," said ICC Chief Executive Officer Dominic Sims, CBO. "We thank him for all the contributions he made to the success of ICC, for his commitment to public safety through the adoption of the I-Codes, and for the strong professional relationships he created and nurtured with our members, chapters and other stakeholders."
Wicker started his career in the construction industry working for a general contractor as a project manager. He took his experience and love of people and applied for a vacancy in the building department in the city of Greenville, S.C., where he was hired to work under the deputy building official. After working for the Portland Cement Association as a codes and standards representative, he realized that he needed to be with people: learning, teaching and simply conversing. He rejoined the city of Greenville.
His experience in Greenville led to his involvement on SBCCI codes committees, becoming a member of the South Carolina Building Code Council, and involvement with the Building Officials Association of South Carolina (BOASC). When he left the city of Greenville in 1994, his work with BOASC and SBCCI committees led to the opening of a new SBCCI regional office in Greenville and his employment as regional manager. He served as secretariat for one of the five committees that developed the International Building Code and met many code officials from across the country in the process. During the last few years leading into the 2003 merger that formed the International Code Council, he met Sara Yerkes who was hired to handle government relations for the newly formed ICC. As a result of the merger of the legacy organizations, Wicker and other member services staff in the three organizations were moved into the government relations department. When informed of the change, he was eager for the chance to work with Yerkes to help develop an effective field staff to respond to the challenges facing ICC at the time.
"Vaughn has been an amazing colleague and friend," said Yerkes. "We are losing someone with a lot of institutional history, and I will miss him very much. But, I know how to get a hold of him so he can expect that I will be calling him if I need to pick his mind."
Wicker's experience as a code official makes him an excellent member advocate. He has always been focused on providing great service and support to our members with a philosophy of adaptability. "I liked talking with the architects, contractors and building owners, and asking, 'what can we do to reuse these buildings?'" Wicker recalled. "I worked hard to portray the image of a building official as a partner in the process, so the code wasn't an obstruction to be overcome."
An avid golfer well-known for his annual golf trip to Myrtle Beach, S.C., Wicker plans to focus on his favorite activities—elevating his golf game and spending time with his family.