Wally Bailey's code of conduct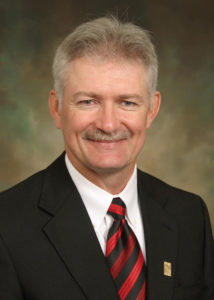 He is a notable personality in the world of building codes.
As a past president of the International Code Council and past board member of the Southern Building Code Congress International (SBCCI), Wally Bailey has helped maneuver the codes community through the hurdles of unification, set a benchmark for building department activities following a disaster and raised nationwide awareness about the critical role of code officials.
He's a past president of the Code Officials of Arkansas and served on the National Institute of Building Sciences, the Greater Fort Smith Association of Homebuilders and the Fort Chaffee Redevelopment Authority Design Review Committee to name a few. Today, he's the planning director for the city of Van Buren, Ark.
A native of Arkansas, Bailey's professional goal wasn't always to become the connoisseur of codes, though he did have an interest in and love for construction. The following looks back at Bailey's 30-plus-year journey.
The learning curve
After graduation from college with a bachelor's degree in business management, Bailey got a job with the city of Fort Smith, Ark., as the housing assistance coordinator in the Community Development Block Grant (CDBG) program. The job was responsible for managing the CDBG's program that provided funds for the weatherization and "code" repairs to owner-occupied housing units and helping to administer grants to non-profits for facility improvements.
"This job was a good fit with my experience and education," he recalled. "My dad and grandfather both worked in construction and I worked part-time as a laborer through school. With CDBG, I oversaw federal construction grants for the housing assistance program working with non-profits, homeowners, contractors and historic preservation organizations."
After three years, the city administrator for Fort Smith asked if Bailey was interested in the city's building official position.
"The city had a hard time keeping a building official long-term in the early and mid-80s," said Bailey. "They would typically hire architects and engineers who moved back to the private sector when better opportunities were available for them."
Employees of the department told him they wanted someone in that position who cared about Fort Smith and the job. Then just 28 years old, Bailey accepted the challenge.
"It was a big learning curve for me," he recalled. "While I knew the code in a general sense, now I needed to know the code from a different perspective and at much greater depths. I needed a crash course in building codes if I was going to do it right for the betterment of the community. It wasn't long before codes got into my blood."
One of the first things he did was begin the process of earning Building Inspector, Building Plans Examiner and Certified Building Official certifications through SBCCI. Not long after, he got a visit from one of the SBCCI government representatives who encouraged him to get involved. He started attending conferences and working on a variety of SBCCI code development committees, including administrative, mechanical, life safety and structural. Just as important was the networking with other code officials that helped him to understand the business.
That knowledge would be essential when disaster struck in 1996.
Tornado of activity
On April 21, 1996, Fort Smith and Van Buren, Ark., were struck by an F3 tornado that killed two people and injured more than 40 others. The tornado damaged several historical buildings in Fort Smith and damaged or destroyed approximately 1,800 homes located in a half-mile-wide, seven-mile-long swath extending from the downtown northeast into residential areas of Van Buren. It caused widespread damage to warehouses, industrial buildings and the city's new wastewater treatment plant.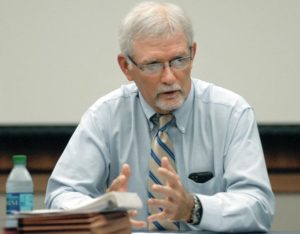 Within 24 hours, Bailey and the rest of his building department were on the streets of Fort Smith helping with the damage assessment and recovery.
"We set up a roving building department office and a satellite permit office to help owners, engineers and contractors obtain building permits so that residents and businesses could be back to normal as quickly as possible," said Bailey, "drawing on knowledge I gained from committee work and the networking with other code officials."
"The roving building department process helped inspectors respond much quicker to needs and helped get businesses up and operational. We understood that if the businesses did not reopen quickly, they may not reopen at all." The tornado event prepared the Fort Smith community for other disasters, including the 2008 hailstorm that damaged much of the city — though none of the disasters have been as bad as 1996.
Bailey also developed several neighborhood preservation initiatives that helped stabilize many struggling parts of the city. "I can look at those areas today and I am proud of the work we did. Not many remember just how bad those areas looked before we went to work."
Soon after, Bailey helped deliver more than $70 million in voter-approved development that included a new fire station, police station, four new libraries, a convention center, renovation of Miss Laura's (a historic building damaged by the 1996 tornado), and riverfront development consisting of an amphitheater, events building, a pavilion and other amenities.
"This was a great experience because I became the 'owner' dealing with city departments for permits and inspections," said Bailey. "I got a first-hand look at the building department and other city departments from a customer service standpoint."
With that knowledge, Bailey strived to take the bureaucracy out of the process. "It's all about frequent and clear communication and having someone to talk to without having to wait for days or just not receiving any communication. It helped us become more efficient and effective."
A unified legacy
Following the 1996 tornado, Bailey was elected to the SBCCI board of directors, a move that pushed Bailey again into unfamiliar but exciting and challenging territory.
At the time, building officials from the three different code organizations were challenged to unify the legacy codes: the BOCA National Building Code (BOCA/NBC) by the Building Officials Code Administrators International (BOCA), the Uniform Building Code (UBC) by the International Conference of Building Officials (ICBO), and the Standard Building Code (SBC) by the SBCCI.
"It was a fun and challenging time meeting with code officials from across the nation, all working to find a common thread to build on," Bailey recalled. "Turns out, we weren't that much different, with the same goal of safety for the public."
Throughout this time, he also led the team of other city departments to develop Fort Smith's first unified development code that became effective in 2009.
Bailey says he's proud of the work accomplished during the transition. Specifically, his involvement with the Fire Safety Subcommittee, which was one of the subcommittee's involved in the drafting of the first International Building Code, addressing several important chapters on life safety and fire prevention related to construction and design. "This experience of working with staff members and code officials from all the model code groups as well as industry professionals was an enlightening experience for us all as we learned that we shared a common goal of protecting the public by creating the best possible building code. For me, it was the beginning of the idea that we were one family."
Almost a decade later, Bailey would become president of the International Code Council (2006–2007). His mission statement was to Raise the Profile of the Code Official.
"Too often, code officials are stereotyped as roadblocks to progress," he said. "There is a reason behind what we do, and it makes a difference. There's a great deal of value in making sure our communities in the U.S. are among the safest in the world. I strongly believe in the motto that "When we do our jobs, nothing happens."
"We worked hard to develop an attitude or feeling of 'family with the ICC membership'," he continued. "We were still in the era of bringing the three model code groups together and we felt that family attitude was important if the organization was going to survive and grow. I credit Lynnette, my wife, with a lot of the work to achieve this goal during my year as president."
In 2014, Bailey received the Code Council's prestigious Bobby J. Fowler Award for his work to boost awareness of the council and need for safety in the national building and development sector largely for his Raising the Profile of the Code Official initiative.
When asked what he most appreciates from his more than three decades of service to the building code community, Bailey talks about lessons learned and the people he met.
"With the Code Council, I had the chance to talk with and learn from code officials all over the world," Bailey said. "Many of those relationships continue to this day and I think helped to make me a better building official and a better person. I believe everyone can learn something from every situation — whether they're in a small town or a large city. Ironically, my boss today interned for me when he got out of college 20 years ago. How's that for a full circle? In my opinion, any code official that is not getting involved in the code development process and is not networking at a regional, state, national or even international level is missing out."
Today, Wally Bailey is the director of planning with the city of Van Buren, Ark., where he continues to share his decades of knowledge and experience as one of the nation's leaders in building safety.