Wheeler: Building a strong foundation to sustain a resilient future
The construction industry has been growing at a steady pace since 2011 and after a robust 2019, code professionals are looking to enhance building processes, add efficiency and help build the future. Recognizing this trend, newly elected International Code Council Board of Directors President Greg Wheeler, CBO, spoke on the importance of working today to prepare for tomorrow by building a strong foundation to sustain a resilient future through building resilient communities to withstand natural disasters and taking the initiative to lead our next generation into the future for our profession.
Below are Wheeler's full remarks as incoming Code Council board president during the Annual Banquet on Oct. 22, 2019, in Las Vegas, Nev.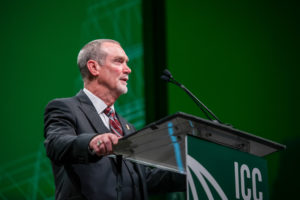 I'm honored to be standing before you as your president of the International Code Council.
Even under these bright lights, I still see all of your faces. The faces of so many of you who have helped me arrive on this stage this evening.
I want to thank the city of Thornton, Colorado, for allowing me the time to serve and participate in this association. And, thank you to the Colorado Chapter… for your overwhelming support for anything and everything that I have needed along the way.
I'm so happy that my family could join me tonight to share this momentous occasion with me.
Renee… my beloved wife… without your blessing and support, none of this would have been possible. You were the first person that I asked to do this, you obliged and you have supported me along the way. Thank you.
I'd like to thank the members of this association. The Code Council has been integral to me since the inception of my career. Our association has served as a foundation for and a complement to my professional growth and success.
During my presidency, I plan to ensure that the Code Council continues to serve as that same vehicle for all of you and those that follow in our footsteps.
Our Safety 2.0 initiative, commissioned by Past President Cash Olszowy in 2016, has fostered these values and ushered in our next generation of building safety professionals.
Every year our board members are paired with an emerging leader during our annual conference, which we call our Board Shadow Program. This program provides an opportunity for our younger members to learn from their peers and experience our association in a very hands-on way.
During this conference, I have had the privilege of mentoring an emerging leader from my home state of Colorado. Her name is Bonnie Muhigirwa, and she is a plans examiner and inspector III for the city of Aspen. It has been a pleasure and an honor to have her shadow me. I see a bright future for Bonnie in our industry.
Bonnie, I would like to thank you for joining me and taking the initiative to lead our next generation into the future for our profession.
Recruiting emerging leaders and new members is just as important today as it was three years ago. It's time for us to step up our game. I am pleased to tell you that a central element of our 2025 strategic plan is to enhance Safety 2.0 and continue to engage the next generation of leaders in our industry.
I also am proud of the work that our association has accomplished during Safety 2.0, which includes initiatives such as the High School and College Technical Training Programs, our Building Safety Career Path and Value of the Code Official initiatives, and our Chapter Leadership Academy.
I'm most proud of our Military Families Career Path Program, which helps veterans who are transitioning to civilian life and their family members learn more about building safety career options. We are grateful for the sacrifices that our service members and their families have made for our association and our country. If you are a veteran, active military, or a family member of someone in our armed services, we thank you for your service. We thank you for your sacrifice and, we really appreciate you. Thank you for being here.
Under my leadership, this association will continue to support and enhance these initiatives that are integral to our profession and our communities where we live, work, play and learn.
As we build upon the success of my predecessors, I'd like to speak to my goal and theme for my presidency, which is… Building a Strong Foundation to Sustain a Resilient Future.
This theme is symbolic of my first initiative to be elected to the board of directors of the International Code Council. It has been my focal point throughout my tenure.
There is no sinking sand in our structure. Our foundation will not crack. We have set our cornerstone, and we've placed our columns and beams to support a structure that will carry the load. All of us here tonight will ensure that working today will prepare us for tomorrow by building that strong foundation to sustain a resilient future.
Thank you to all my predecessors and our amazing membership for helping our association build that foundation.
In closing, I want to thank my predecessor, Bill Bryant, for leading our association over the past year and mentoring me as I prepared to assume my presidency. I look forward to leading the membership of the Code Council with passion, vision and conviction.
Thank you.