WICED and PermitTechNation receive ICC Community Service Award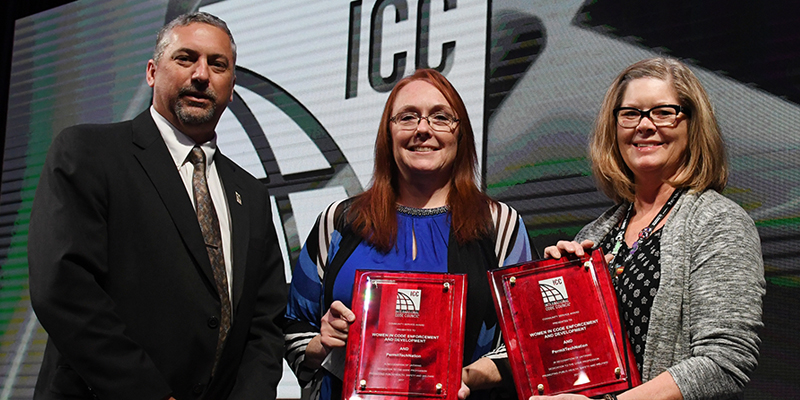 The Women in Code Enforcement and Development (WICED) and PermitTechNation (PTN) received one of two ICC Community Service Awards presented for meritorious service to promote public health, safety and welfare. Working together, these two organizations have established a growing tradition of service that has become a highlight of ICC annual conferences — volunteering their time and energy to work with Habitat for Humanity.
The chapter members are known for putting on their hard hats and work gloves and coming together to work on renovating a home for those in need through Habitat for Humanity. During the 2014 ICC Annual Conference in Fort Lauderdale, Fla., the women worked in humid 90-degree weather to repair a roof, tear up floorboards and haul debris out to large dumpsters. In 2015, the groups took on installing a yard irrigation system and cutting linoleum rolls during the Habitat for Humanity Build Day in Santa Ana, Calif. The chapter's 2016 Habitat Build Day in Kansas City, Kan., included work on a new house under construction where the front porch needed sanding, priming and painting; construction of a deck on the back of the house; and installation of new doors and trim.
"We are honored and appreciate being recognized for the ICC Community Service Award," said WICED President Amber Armstrong. "We are already planning the day for Habitat for Humanity next year. If you plan on attending the annual conference in Richmond, we invite you to arrive early and join us."
"PermitTechNation was happy and honored to work with WICED on a community service project for Habitat for Humanity," said PTN President Cindi Somers. "Our overall mission of reaching out nationwide to front-counter staff, many of whom are women, and our chapters working together is natural as both provide mentoring, education, advocacy and networking to its collective members."
WICED is a non-profit organization that promotes the value and recognition of women in code enforcement and development. The organization was formed in 2007 for the benefit of providing mentoring, advocacy and education to these women. It is the first national professional ICC Chapter, with representatives from all over the United States representing municipal jurisdictions and private industries.
PermitTechNation was founded by permit technicians from across the United States via networking through ICC and the annual conferences. The group started through the Permit Tech Ad Hoc Committee and has grown over the years into a community that supports, encourages and mentors each other. It works to mentor permit techs towards establishing an ICC Permit Technician chapter in their respective states, promote ICC Permit Technician certification, and participate in educational seminars and training programs.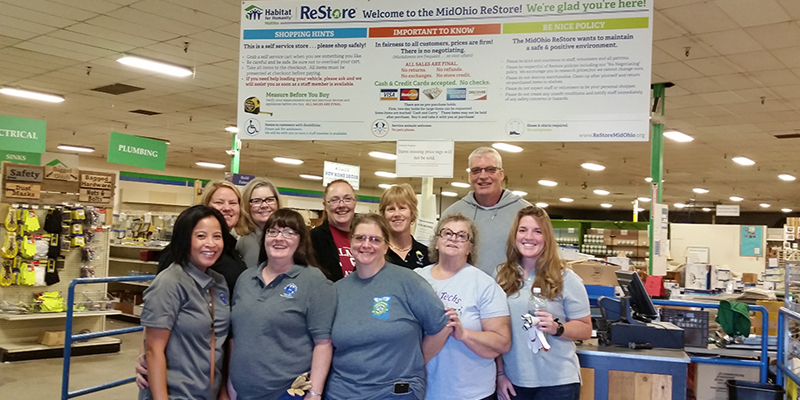 The Women in Code Enforcement and Development again partnered with the Permit Tech Nation chapter and other ICC chapter members for the 2017 Habitat Day that took place on Sept. 9 in Columbus, Ohio. This year's group worked at the Mid-Ohio East ReStore in Columbus, Ohio, unpacking and un-branding of a wide variety of goods that had been donated by a national design chain. The group handled more than 3,000 household items that would have taken Habitat for Humanity ReStore staff more than two months to sort through.
"The work we completed this year in four hours would have taken the ReStore volunteers and employees two months to accomplish. A great amount of work was done in a short amount of time," said PTN President Cindi Somers. "I encourage others to join us for the 2018 build in Richmond."
Participating WICED members this year included Amber Armstrong, Eirene Knott and Sarah Rice. PTN members included Cindi Somers, Jessie Sorenson, April Schrader, Jammie Newson and Tamara Hagerman. Dave Byl from the Metropolitan Kansas City Chapter of ICC and Eileen Kelley also helped.
"The Code Council can make a difference in the communities in which we hold our conferences, and what better way to do so than by hosting a Habitat Build," said WICED Past President Eirene Knott. "It is an opportunity to get involved and spread the important message of safe, sustainable, affordable and resilient construction in our communities."
The Habit Build Day is a perfect opportunity for ICC chapter members to get involved and make a difference. Although Building Safety Month is celebrated each May, the roles code officials play in maximizing resiliency and minimizing risks is a year-round message that continuously needs to be conveyed to the jurisdictions and communities we serve.
Interested in pledging your support for the next Habitat Build Day to be held Oct. 20 in Richmond, Va., during the 2018 ICC Annual Conference? Contact Eirene Knott by phone at (913) 236-3361 or by email at Eirene.knott@brrarch.com.