With Family Roots in Plumbing, Oklahoma's Christina Selby Finds Purpose and Success in Building Safety
"Though my career started in the plumbing industry, which is my comfort zone, the safety of others and knowing that I make a difference drives me forward to support Duncan"
Christina Selby has spent the better part of her 43 years in the building industry. She started with plumbing projects, first in the private than in the public sector, primarily focusing on commercial properties. Currently, she's a city safety professional eager to learn more about building codes and earn more certifications across the construction trades.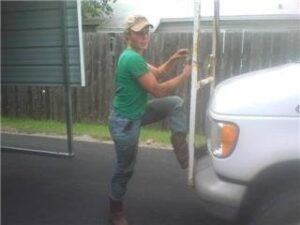 Selby was raised in a mom-and-pop plumbing shop in Duncan, Oklahoma, the birthplace of the Haliburton Corporation. "I remember being six, sitting on a shed floor separating copper and brass scraps," Selby said. At 12, she was taught to dig a proper ditch, to "square it up, smooth the bottom, make it pretty." After she got her license at 16, her parents would ask her to drive into "The City" to get repair parts, even though she was terrified of the highway.
"Growing up in the field, my trade knowledge helped me secure employment no matter where I lived," she said. One of her favorite jobs was at Moore Supply, a Tyler, Texas, plumbing showroom. "I never dreamed that a $5,000 water closet even existed," she remembered.
Building Safety Professional Certifications
Earning certifications in the building safety profession can be essential to furthering the development of your career. Selby eventually obtained several state certifications in Plumbing, Code Enforcement and Property maintenance. She then went after the International Code Council exams, starting with the Commercial Building Inspector test.
Private Sector Building Trades to Government Regulator
After Selby's in-laws were seriously injured in a 2015 motorcycle accident, she took time off to help care for them. This time off spurred her thoughts about the possibility of a career change.
Selby's mother called her and said, "Christina, you were meant to make a difference. Your voice, your drive, and your passion were meant for something much bigger. Your father and I are supportive of whatever you choose to do." So, when the City of Duncan contacted Selby in 2015 to ask if she wanted to become a full-time plumbing inspector, she took the job, one she still holds today. Selby is also a building inspector, code enforcement officer, permit technician and administrative assistant for the fire department.

Building Safety Codes for Consumable Operations
Working closely with the city clerk, Selby reviews all commercial applications under Certificate of Occupancy and New Construction, and Remodel permitting. She works with businesses that offer consumables like food, alcohol and medical marijuana, to schedule final and annual inspections, and maintain activity lists for the local land development application review committee.
"New construction was never my passion," Selby said. "I love repair and maintenance, and yes, even found joy in cleaning sewers." She liked fixing problems because repair work is never the same twice, and she finds that each different issue offers a rewarding fix. "Over time, you can pull a crawl space cover and know the different smells," she adds. "Methane gas from an open sewer line, or maybe a natural gas leak, septic graywater, or a stagnant sewer. My daddy would say that 'smells like money.'"
DIY Repairs Undermine Building Safety Code Protections
Selby is concerned about a decrease in the number of plumbing professionals. In December 2021, Oklahoma had about 4,000 licensed plumbing contractors, which is an increase from previous years, but still not as many as the 9,000 electrical and mechanical license holders.
Selby is also worried about homeowners' lack of knowledge of Oklahoma's plumbing, mechanical, electrical and roofing licensure and insurance coverage requirements. Most are unaware of 1955's Plumbing Licensing Law, and she's seen unsafe repairs from well-meaning but untrained and unlicensed friends, family and neighbors. She stresses that relying on information from amateurs or online videos won't provide crucial professional knowledge or tools to address the dangers of cross-connections, backflow, sewage disposal, or potential carbon monoxide issues from natural gas appliances.
From Building Code Student to Building Code Teacher
Since 2006, Selby has earned 10 certifications, including the Code Council's Commercial and Residential Building Inspector and Permit Technician certifications. Yet she understands that "you don't have to know every code off the top of your head." Just having familiarity with the code books to prepare for the tests will aid in assisting builders and contractors too. She advises newbies about the uniqueness of every construction professional; no two contractors, inspectors or plumbers will work in the same way.
During the COVID pandemic, Selby moved from taking continuing education units (CEU) to teaching them. She prepared a slideshow about health department versus plumbing code requirements and shared it with a class that she was asked to substitute for at the last minute. The course was a success, although "I have never spoken so fast in my life," she said. Following that first session, she has now taught licensing requirements to local plumbers, and a six-hour CEU for the Oklahoma Plumbing Inspectors' Association.
Community Code Professional
Selby finds giving back to her community immensely gratifying. "Though my career started in the plumbing industry, which is my comfort zone, the safety of others and knowing that I make a difference drives me forward to support Duncan," the 20th largest city in Oklahoma with a population of about 22,000. She's proud to have been "the plumber showing up on Thanksgiving to clear a sewer line, or the inspector finalizing a gas pressure test at 3 a.m. so a commercial business could cater Christmas dinners the next day." She's happy to be part of a workforce – new construction or repair, commercial or residential, union or non-union – that creates those rewarding stories.
When asked why she picked a building safety career, Selby echoed that "it chose me before I chose it." She's thrilled to have rodded sewer lines, restoring service to homes where children are playing in the yard, or repaired gas lines so that families would have hot water or heat during a snowstorm.
Decorated in Duncan, Honored by the Code Council
The Duncan City Council recognized Selby in February 2022 for five years of service, complete with a City Hall plaque, and was nominated for Employee of the Year too. In September, she attended the Code Council's Public Comment Hearings in Louisville with an ICC Code of Honor Scholarship.
In her office, Selby has hung an American Standard poster that says, "The Plumber Protects the Health of the Nation." She agrees, and adds, "I don't think my love of the trade will ever fade."