Young code professional testing the waters of a code-based career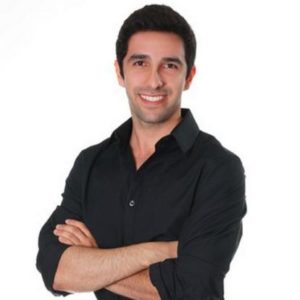 As a government relations manager for the International Code Council, Susan Dowty speaks regularly at schools in Orange County and Southern California about the importance of codes and safe construction. When she's wrapping up, Dowty will offer anyone with more interest in building safety to contact her. "After I spoke to a construction technology class at Orange Coast Community College, one student sent me an email thanking me for speaking to the class," Dowty said. "He wanted to talk more about the industry and career opportunities."
Knowing there is a great need for the next generation to fill gaps left by retiring code and building officials, Dowty called Eric Firooz right away. She learned he not only is very personable but does indeed have a deep interest in the construction industry and codes.
After learning one of his passions is videography and photography, she invited him to an Orange Empire Chapter meeting, and, in her words, "put him to work," shooting a professional three-minute video for their Building Safety Month event. "I got to talk to a lot of the people there, finding out what they do," said Firooz. "I met ICC President Jay Elbettar and videotaped him and others talking about the importance of codes."
Firooz developed a respect for construction and the codes from his father, a contractor. Helping his father with renovations to a house he just bought, Firooz said it's been great to see how and why codes are necessary for building or renovating safely. "I see how important codes and inspections are to make sure work is done properly," he said.
Firooz already has a bachelor's degree in business with a concentration in finance from Cal State—Fullerton. But he couldn't see himself in an office, crunching numbers. A friend of his father's suggested he take a job at a paint store to learn about various coatings for construction. He worked his way up to becoming the manager of the store, which he says will help him toward a possible career in construction management. "I'm learning skills such as how to organize and manage, as well as how to work with customers and employees," he said. "Communication is crucial; miscommunication causes a lot of problems."
He also has developed and put business models into practice and is very familiar with the financial aspects of running a business. His expertise also includes working with social media marketing, another focus of the Code Council to draw in the next generation of code officials. Firooz said he'll sometimes pick the brain of a friend who is a civil engineer. He sees the construction field as filling the need for that stability he's looking for.
But Dowty said his personality and energy is what really will make a difference for Firooz. "He loves working with people," Dowty said, "and he's very personable. He's not shy about asking questions."
Firooz said he's learned a lot already from his Code Council experiences and hopes to continue. But for now, he's got a lot on his plate. "I get up at 5 a.m., go to work, come home, work on the house with my Dad and go to school," he said. "There's not a lot of extra time."
Dowty said he's "doing it the right way, not biting off too much at once. But someday, I'd love to see him in ICC's Emerging Leaders Membership Council. I think he would be great."