Building officials benefit when contractors gain AC478 certification

When a building department official walks onto a site where construction is underway for a vehicle dealership, retail center, gym, brewery, fire station, warehouse, manufacturing facility or distribution center, they're most likely entering into a metal building. Why? Because, in the low-rise market sphere, metal buildings are the most prolific form of commercial construction. Quick to assemble, precisely manufactured, friendly to the environment and a highly competitive price point are all attributes that attract business owners and developers today.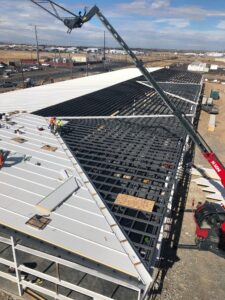 But are those characteristics relevant to a building inspector or code official? Many times, the answer is yes — particularly if those buildings have been erected by an AC478 accredited firm. The International Accreditation Service (IAS), in cooperation with Metal Building Contractors and Erectors Association (MBCEA), introduced AC478, an accreditation criterion that establishes requirements for a voluntary inspection program for assemblers of metal building systems.
"We see building owners and contractors using metal buildings for their affordability, efficiency in construction and precise engineering as they are manufactured," said Selso Mata, AIA, CBO, chief building official in Plano, Texas. "IAS adds reassurance for building officials and building departments who focus on code-compliant structures utilizing the IAS-accredited programs. Our approval process is much smoother when IAS is involved with approved metal buildings."
Halme Builders, Inc. of Davenport, Washington, is one of those firms that achieved AC478 accreditation and owner Dan Halme has plenty to say about the inspection program. "A building official can have no better or higher level of confidence in the integrity of an erected metal building than if the builder is accredited," said Halme. "Honestly, AC478 accreditation mostly benefits the building official and ultimately the end user."
Halme says that inspectors have historically questioned the integrity of metal buildings and, unfortunately, sometimes their concern has been acutely valid. For building officials, evaluating the integrity of the metal building systems has been a challenge. Metal building construction is largely unregulated and there is a glut of unprincipled contractors. Even metal building assemblers who've spent decades honing pristine reputations sometimes struggle to distinguish themselves from less contentious competitors.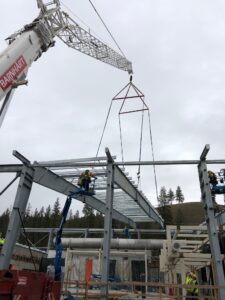 "It's been widely conceived in the past that the biggest issue with metal building systems is that they always leak," Halme said. "That's completely wrong. Leaks are the result of poor installation. One of the biggest issues with steel buildings is that unreputable contractors will simply just make things fit, even if their decisions do not jibe with the construction drawings. That affects quality, it affects the durability and it affects strength. The buildings need to be constructed the way they were engineered."
Halme says that building officials can trust the workmanship of firms that achieve AC478 accreditation. "It should provide peace of mind to building officials that the structure is constructed as the engineer designed. Even in those areas that can't be inspected because they are too high or behind walls, a building official can be confident that a facility constructed by an AC478 accredited contractor is erected implicitly to the engineer's specification."
Verifying the safety and quality of the erection and construction of these systems is not easy, but accreditation offers an avenue to demonstrate construction excellence. Halme believes that a building official can be assured that, even if he or she doesn't know every in and out of metal buildings, they can trust that an accredited firm has done its work correctly. "It should give them confidence and ease their concerns and I would advocate for them to only allow metal buildings to be constructed by accredited firms," he said.
Walter Mershon, deputy program director at IAS, further affirms that building officials gain a layer of protection for their jurisdictions when buildings are being assembled by companies accredited through AC478. "When a firm is evaluated for accreditation, attention is focused on assembly procedures, inspections, quality assurance and commitment to safety," Mershon said. "In fact, accredited companies must have a safety plan and a job safety analysis risk assessment tool to identify and control workplace hazards."
Beginning an accreditation journey
"I first heard about AC478 through MBCEA," Halme said. "It was motivating for me to get involved in order to create a better industry. It seemed like a dead ringer for things I'm concerned about in the industry; I could see how it could improve our standing in the industry and its emphasis on quality and integrity was something that I could really get behind."
"The MBCEA encourages all metal building contractors and erectors to pursue this important mark of quality," explained Jennifer Heimburger, president of Heimburger Construction, Inc. and 2022 president of MBCEA. Of note, Heimburger Construction received AC478 accreditation in 2021. "We recommend building owners, developers and architects require AC478 accreditation in their specifications and that building officials look for it before issuing permits," she added. "An increasing number of architects are specifying the use of accredited companies."
Why accreditation matters to a building official
Accreditation is a stringent effort, requiring patience and commitment. Mershon explained that the assessors who accredit builders "verify who inspects bolts and who welds joints; they verify that the people performing the work are properly trained to do it." Mershon also explained that to qualify for accreditation, firms that assemble metal buildings must demonstrate that they have the personnel, organization, experience, knowledge, management procedures and commitment to assemble metal building systems in a safe manner. When a firm is evaluated for accreditation, attention is focused on assembly procedures, inspections, quality assurance, training regiments and commitment to safety. In fact, accredited companies must have a safety plan and a job safety analysis risk assessment tool to identify and control workplace hazards.
Halme said that going through the accreditation effort helped his firm fine-tune its processes and systems. Many of the AC478 requirements were already part of the Halme culture, but drawing attention to them, through the accreditation process, helped solidify them as core values. "We won't make any modifications other than what has been accepted by engineers," said Halme, citing an example. "If we have to change something, we won't do modifications without permission from a building engineer. That way we know that the building is constructed right. That mindset is part of our culture, and having its value reinforced through the accreditation process only made it more ingrained in the fabric of who we are."