FEMA P-2191: A step forward
Recommendations for improving seismic code development, content and education in FEMA P-2191, released in April 2022
The Federal Emergency Management Agency (FEMA) recently released P-2191 — A Step Forward: Recommendations for Improving Seismic Code Development, Content and Education — a report that includes recommendations for improving seismic code development, content and education. This report was developed in response to a recommendation made by the 2020 National Earthquake Hazards Reduction Program (NEHRP) Provisions Update Committee to study ways to improve the seismic code development process to better serve the engineering community.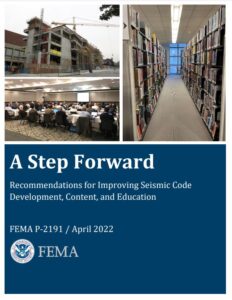 In 2021, FEMA engaged the National Institute of Buildings Sciences Building Seismic Safety Council to convene a task group made up of a diverse set of knowledgeable seismic code specialists and advisors to carry out the effort. International Code Council industry experts Susan Dowty, government relations manager, and Sandra Hyde, managing director of product development, served on the task group.
The recommendations in the report were a result of a multi-phased approach that included brainstorming by the task group, followed by administration of two surveys and numerous interviews. The surveys included questions about U.S. seismic codes and standards: what has worked, what has not and what needs to improve. One survey was designed for users of the codes and the other was designed for stakeholders — building departments, manufacturers and instructors. The survey results were tracked based on geographical location; divided up into western, central and eastern areas of the U.S. In addition to the surveys, a series of group interviews with the previous NEHRP Provisions Update Committee members and selected individuals were conducted to request in-depth recommendations for providing improvements to the code development process and education.
The report compiles the results of the surveys and interviews and includes recommendations that are divided into four categories and classified as "high" or "medium" as shown below:
Improve code development
Priority: High
Recommendations:
Increase seismic code developer diversity
Conduct pre-cycle regional workshops
Require paid worked examples for proposed code changes
Improve code content and ease of use
Priority: High
Recommendations:
Address functional recovery and enhanced resilience in model code framework
Make low and moderate seismic provisions more usable
Develop more usable performance-based procedures for design
Priority: Medium
Recommendations:
Develop construction quality assurance NEHRP Provisions Part 3 resource paper
Improve seismic code provisions for foundation design
Improve dissemination and education on code and code changes
Priority: High
Recommendations:
Develop coordinated strategy for improving understanding of seismic codes
Develop interactive online platform for seismic code provisions
Priority: Medium
Recommendations:
Expand commentaries
Develop more design guides
Outreach to geotechnical engineers
Publicize upcoming code changes and input opportunities
Develop more webinars, archived and available on demand
Monitoring and encouraging progress
Priority: High
Recommendation: Track the progress of recommendations
The recommendations related to the NEHRP Provisions will be considered by the 2026 NEHRP Provisions Update Committee for improving the development of the 2026 NEHRP Provisions and communication with engineering practitioners. This report will also serve as a resource to strategize future improvement with ways to improve the U.S. seismic code and standard development process making content better, documents easier to use, and improving communication methods to broadcast what's changing and how to use the code more effectively.