ICC 500 and ICC 802 to be updated
The International Code Council is initiating the process to update the ICC 500 Standard for the Design and Construction of Storm Shelters and the ICC 802 Standard for Irrigation Emission Devices.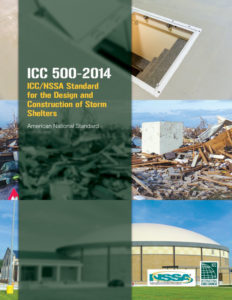 Storm shelters present a means of protecting occupants in buildings that are subjected to tornado or hurricane force winds and impacts. The ICC 500-2014: ICC/NSSA Standard for the Design and Construction of Storm Shelters is published jointly by the International Code Council and the National Storm Shelter Association (NSSA) and is referenced in the newest building safety codes. The standard provides minimum design and construction requirements for storm shelters that provide a safe refuge from storms that produce high winds, hurricanes and tornadoes.
The magnitude of wind speeds associated with these events require building occupants and residents to evacuate the area or seek protection in a shelter designed for resistance to extraordinary loads and flying debris. The newest International Codes now require storm shelters in educational occupancies and critical emergency operation centers located in areas prone to extreme tornados. This standard provides design requirements for the main wind resisting structural system and components and cladding of these shelters, and provides basic occupant life safety and health requirements for these shelters, including means of egress, lighting, sanitation, ventilation, fire safety and minimum required floor space for occupants.
Click here to learn more about the ICC Consensus Committee on Storm Shelters (IS-STM).
Irrigation devices have uniform testing procedures for key components of water-smart landscape irrigation systems. The ASABE/ICC 802 Landscape Irrigation Sprinkler and Emitter Standard establishes design and testing requirements for landscape irrigation sprinklers, bubblers, drip emitters and micro sprays. It provides minimum design and performance requirements and specifies uniform test methods for product performance, and sets definitions and product classifications for commonly used sprinklers and emitters. This consensus standard is developed through ICC's ANSI-accredited standard development process in collaboration with the American Society of Agricultural and Biological Engineers (ASABE).
Click here to learn more about the Consensus Committee on Landscape Irrigation Emission Devices (IS-IEDC) or the ICC 802 standard.
The Code Council develops a number of codes and standards, including mechanical, plumbing, structural, resilience, accessibility and green standards, and is accredited by the American National Standards Institute. The Code Council is committed to making sure that ICC standards reflect the changing needs of the construction industry as well as the public. As part of the standards revision cycle, proposals for changes will be considered by the respective committees. As a standards developer, ICC adheres to openness and transparency in our standards update process.
Click here for more information on the standard development process, or contact Standards Development Director Karl Aittaniemi, P.E., at kaittaniemi@iccsafe.org.