Keeping pace with advances in 3D automated construction technology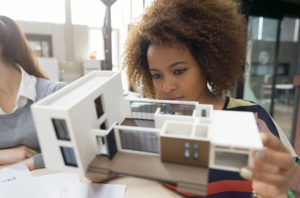 Advances in construction technology open doors for building construction using new and innovative methods, which are fast, efficient, reliable and cost effective. One of these methods is three-dimensional (3D) automated construction technology (also known as additive manufacturing) for the job site construction of 3D concrete walls. Although 3D technology is not new and has been utilized for small-scale part production since the 1980s, especially for the aviation industry, most recently it found its way into the construction industry and is pushing the boundaries of how engineers view and approach building construction.
Construction with 3D technology offers many advantages, including reduced costs as it's a single-step construction procedure with reduced labor and without the need for concrete forms, expedited construction time as low as 24 hours, affordable dwellings for people in urgent need of adequate shelter, greener construction utilizing materials more efficiently and creating less waste, an improved and quick project planning stage, reduction in accidents during the construction process as a result of the controlled automated process reducing the need for labor, new design possibilities and freedom of creating complex designs without the need to rely on concrete forms, and many more.
As the leading evaluation service in the industry whose reports are widely accepted by building officials and jurisdictions in the United States, ICC Evaluation Service (ICC-ES) technical staff have been closely monitoring developments in the 3D construction industry. For the past many months, ICC-ES has been working with a leading 3D construction company to develop building code compliance for one-story, single-unit, residential dwelling walls constructed using 3D technology.
Because 3D construction technology is not within the provisions of the 2018 edition (or earlier versions) of the International Building Code (IBC) or International Residential Code (IRC), acceptance criteria for 3D automated construction technology for 3D concrete walls (AC509) has been developed by ICC-ES technical staff under IBC Section 104.11, which states that supporting data, where necessary to assist in the approval of materials or assemblies not specifically provided for in the code, can consist of valid research reports from approved sources.
The new AC — Proposed New Acceptance Criteria for 3D Automated Construction Technology for 3D Concrete Walls was developed to provide requirements to qualify the use of wall construction using 3D technology under the 2018 IBC and IRC, including structural strength and compatibility, fire safety, and material durability. The acceptance criteria also outlines specific product sampling and quality requirements that must be fulfilled in order to obtain code compliance verification. The results of evaluation and testing in accordance with the acceptance criteria will be summarized in an ICC-ES research report (ESR) made available to code officials and the public, as set forth in Section 104.11.1 of the IBC.
The ICC-ES acceptance criteria applies to 3D automated construction technology and 3D concrete used to construct interior and exterior 3D concrete walls, with or without structural steel reinforcing, used as bearing walls, non-load bearing walls, and shear walls, in one-story, single-unit, residential dwellings. The walls are to be constructed by printing 3D concrete in layers to create two outer face shells, then placing a proprietary concrete core between the shells to form a solid wall. The acceptance criteria contains multiple sections such as material performance tests (i.e., compressive strength, freeze-thaw, shrinkage and volume change, and effect of printing time interval on performance), wall structural performance tests (in-plane, out-of-plane and axial compression), as well as special inspection recommendations, fire-resistance requirements, and conditions for use as interior or exterior walls. The acceptance criteria requires each 3D concrete mixture design and reinforcing details to be tested, as well as evaluation of variations in geometry of the 3D concrete outer shells (such as thickness and width of the extrusion layers) and the proprietary concrete core. The criteria also requires a design analysis report to be submitted, which is required to include a complete analysis and interpretation of the qualification test results to demonstrate that 3D concrete walls can be designed in accordance with the applicable sections of the IBC or IRC.
The proposed new acceptance criteria for 3D automated construction technology is currently posted on the ICC-ES website.