Rainwater systems: Learning from the past
On a recent trip to Austin, Texas, I had an opportunity to enjoy the beautiful architecture and rich American history that was abundant throughout the state capitol and its surrounding grounds. Each component, from the marble pillars down to the door hinges, is an example of the fine craftsmanship of a special era.
There were two old cisterns located next to the Texas State Capitol building that provided fresh water in the 1880–90s before the city of Austin had a reliable public water system. These underground brick reservoirs were built to store rainwater for use in the capital. The site plan below will give you a good visual of the system's design.
As shown on the site plan, rainwater was collected from the capitol's roof through a series of concealed gutters, downspouts and pipes. A coal-fired steam pump in the basement sent water throughout the building for drinking, restrooms and fire protection. Another interesting use of the cistern water was that it filled a large iron storage tank in the attic to provide power for the original hydraulic elevator. The top hatch of the cistern provided access for checking the water level and for maintenance.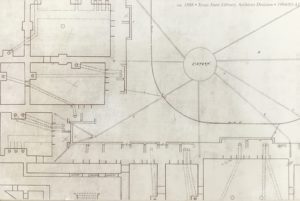 By 1889, an artesian well was supplying plenty of water, but it was heavily mineralized, so the rainwater stored in the capitol's cisterns continued to be used for fresh water until a municipal water system was built. These cisterns were covered with dirt and forgotten in the 1910–20s. They were rediscovered when the capitol was undergoing extensive renovations in the late 1990s. This is just one of many examples that prove we can learn a lot from the past as we search for answers in the future.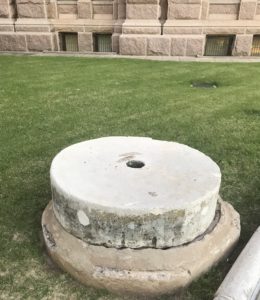 Modern rainwater systems can supply water for many uses in and around a building. The new CSA B805/ICC 805 standard is closely coordinated with the existing building, plumbing and health codes and links rainwater harvesting systems with building elements like roofing, plumbing, fire suppression, cooling towers, storm water management and irrigation. The standard also provides tools to establish appropriate water quality based on the cleanliness of the source water and categories of end use.