Special report on recommendations for post-earthquake re-occupancy and functional recovery time is now available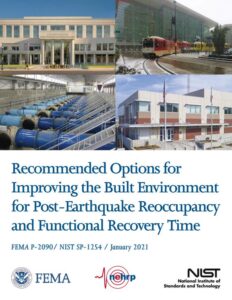 The joint FEMA P-2090/ NIST SP-1254 Special Report — Recommended Options for Improving the Built Environment for Post-Earthquake Reoccupancy and Functional Recovery Time — is available for immediate download.
This report was requested by the U.S. Congress as part of the 2018 National Earthquake Hazards Reduction Program (NEHRP) reauthorization and includes seven recommendations, each presented as a set of tasks and/or alternatives. The International Code Council has been a leader in the national conversation on seismic functional recovery, a movement to design and construct buildings not only for safety but also for the timely recovery of functions and services. Susan Dowty, S.E., Government Relations Manager for the Code Council, served on the National Institute of Standards and Technology (NIST)–Federal Emergency Management Agency (FEMA) Functional Recovery Committee of Experts in 2019–2020 and contributed to the content and review of the report.
The report's first recommendation is to develop a framework that clarifies what services need to be in place to achieve functional recovery. The framework would also propose design objectives linking functional recovery to certain earthquake hazard levels and acceptable recovery times.
Recommendations 2 through 7 support the recommendation 1 framework:
2. Design New Buildings to Meet Recovery-Based Objectives
3. Retrofit Existing Buildings to Meet Recovery-Based Objectives
4. Design, Upgrade and Maintain Lifeline Infrastructure Systems to Meet Recovery-Based Objectives
5. Develop and Implement Pre-Disaster Recovery Planning Focused on Recovery-Based Objectives
6. Provide Education and Outreach to Enhance Awareness and Understanding of Earthquake Risk and Recovery-Based Objectives
7. Facilitate Access to Financial Resources Needed to Achieve Recovery-Based Objectives
For recommendations 2 and 3, the report discusses how this new recovery-based design approach could be accomplished through building code provisions.
The FEMA P-2090/NIST SP-1254 Special Report has been posted under Resources on the Code Council's Seismic Functional Recovery Portal, which serves as a one-stop for information regarding seismic functional recovery for new construction and features past events, upcoming events and resources.
Read the feature — New Report Charts Path Toward Superior Earthquake Recovery — on the NIST website for more details.