The ongoing relevancy of door hardware standards and certification in building today
Schools, hospitals and government offices are examples of buildings that all share a set of essential characteristics of purpose: these facilities contain sensitive information, are designed to be in use for long periods of time and have responsibilities for life safety. The Builders Hardware Manufacturers Association (BHMA) standards can help specifiers and building managers create safe and secure facilities. BHMA is accredited by the American National Standards Institute (ANSI) to develop and maintain performance standards for locks, closers, exit devices and other builders' hardware.
Door hardware standards play an integral role in life safety by ensuring products are suitable for its intended use. In the world of building and construction, standards help to identify best practices, methods and technical requirements to create safe environments for the occupants of commercial and multifamily buildings as well as single-family homes. As such, door hardware standards serve as tools for manufacturers and building professionals, providing them with a mutual understanding so that door hardware products, door locking systems, and building safety and security are compatible across North America and beyond.
Building, fire and life-safety regulation officials often incorporate hardware standards into their laws to provide a baseline level of safety requirements for commercial and residential buildings. The International Building Code, International Fire Code, and the National Fire Protection Association 101 (the Life Safety Code), are all examples of regulations that provide performance requirements for builders' hardware to ensure public safety, welfare and accessibility.
BHMA certification program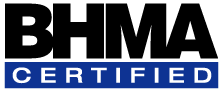 Participants in the industry-wide BHMA certification program voluntarily submit a hardware product to independent laboratory testing to confirm the product meets the relevant standard. In-factory audits are coordinated to assure products comply with the standard. Products that unable to pass the auditing process face loss of certification.
BHMA standards provide specific information about the way in which the tests for certification were conducted to the material. All of the BHMA standards have the following common elements:
the designated criteria of the performance for the product;
to what level of criteria the product performs;
what to expect in use of the product; and
what tests the product passed.
Security tests
Security tests measure how well a lockset or other product can withstand a deliberate attempt to gain entry without the proper credentials. Examples of applied forces are impact, excessive torque and other methods that anticipate and simulate intrusions.
Durability tests
Durability tests are performed to evaluate how architectural hardware holds up over time. These products are expected to do their jobs reliably over many years. Test equipment, methods and duration are defined in the respective A156 Series Standards.
Finish tests
These tests evaluate the appearance and finish of a product to measure its ability to resist softening, bubbling, peeling, discoloring or corroding over time.
The three steps of the certification process are independent testing, statement of compliance, third-party follow-up testing and auditing. Grades and ratings are obtained from the testing and can be used by specifiers to guide their selection and application.
How to read BHMA certifications
A numbering system is applied to all certified products to describe its type and performance. For example, the number applied to hinges is A2412, where:
the first letter denotes section (Section A);
the first numeral indicates the general type of material used (wrought brass or bronze);
the second numeral identifies type of product (half surface hinge);
the third numeral identifies the function or the description of the item or both (anti-friction bearing); and
the fourth numeral designates the grade classification of the item (Grade 2).
This numbering system will help a specifier or engineer determine if the product will perform the required task. Further, facility managers could also refer to this system to assess if a product is operating correctly and to confirm it was installed and made for the purposes it is intended.
New standards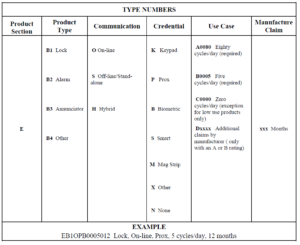 Electrical features are increasingly prevalent in builders' hardware. ANSI/BHMA A156.33-2019, Standard for Internally Powered Architectural Hardware Devices, was published in April 2019 to address the need to consistently predict battery life based on a real-world application of a device. Providing for various "use cases" as shown in the table allows comparisons analogous to car mileage ratings for city versus highway driving. This would allow end users and integrators to compare product performance across manufacturers, while also balancing system requirements. The result is a standardized benchmarking tool.
A156.33-certified products have a verified manufacturer claim, and the claim is the principle battery life in months. The claim uses a type number, which is based on properties influencing battery life. These properties include device communication (e.g. online or offline), credential (e.g. keypad, prox), and use case (cycles/day) in addition to the product section and type and manufacturer claim.
For example, in type number EB1OPB0005012:
"E" represents the product section;
"B1" indicates the product is a lock;
"O" means it was tested in an online mode;
"P" means a prox credential was used;
"B0005" denotes five cycles per day; and
"012" is the manufacturer's claim of 12 months of battery life.
The standardized type number structure drives consistency and transparency in the market while allowing for flexibility. Product types, credentials and use cases have allowances for custom or future needs. Additionally, a manufacturer can certify an unlimited amount of type numbers to cover the desired configurations.
Finally, the verification procedure was designed with efficiency in mind. The accelerated battery life test combines 48 hours of automated measurements with standardized calculations to produce the expected battery life. The standard gives guidance on off-the-shelf style and alkaline battery capacity but permits other chemistries when OEM battery manufacturer's performance data is provided.
Conclusion
Door hardware standards play a crucial role in the building industry by setting benchmarks for the quality and performance of products critical for security and life safety. In an effort to continuously minimize risk and protect the welfare of the general public, as well as improve product quality as technology evolves, these standards must constantly be reviewed and updated. Most importantly, however, they must be implemented.