The "why" behind the International Energy Conservation Code
The intent of the International Energy Conservation Code (IECC) is the effective use and conservation of energy over the useful life of the building (IECC Sections C101.3 and R101.3). In doing so, it also has health and safety benefits impacting buildings and their occupants. Provisions related to air sealing, ventilation, moisture control and indoor air quality work in tandem to conserve energy and protect the building and its occupants. However, the interplay between these provisions isn't always clear, and during a recent call, a building official commented that enforcement of the IECC was much easier when his staff, builders and sub-contractors understood the "why" behind the code and certain provisions. In this article we will review a few of those whys:
Moisture management
Indoor air quality
Extreme temperatures and storms
Carbon savings
Energy cost and savings
Moisture management
Implementing the IECC contributes to reduced rot, mold and mildew through moisture management techniques. Provisions of the IECC, International Residential Code (IRC) and International Building Code prevent warm air from coming into contact with a cooler surface, which can cause moisture to condense onto that surface.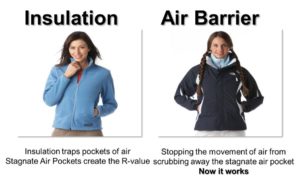 Air barriers are required for all compliance paths — the provisions are included in IECC Sections C402.5.1 and R402.4.1. Intuitively, we know that tightly sealed buildings keep conditioned air in and unconditioned air out of the building. The figure below demonstrates the value of an air barrier coupled with insulation.
But air barriers provide further benefits. They prevent moisture-laden air from carrying and depositing the moisture into the wall cavities, ultimately leading to rot, mold and/or mildew. Details are important. Consider rim joists, which are addressed in IECC Table R402.4.1.1. Air sealing the rim joists according to code protects against air and moisture passing through the insulation and condensing on the rim joists. Mold in the rim joists can lead to rot and structural instability.
Slab-on-grade insulation is a prescriptive requirement, included in IECC Tables C402.1.3, C402.1.4, R402.1.2 and R402.1.4. Warm conditioned air over cold slabs can result in condensation. Not only does the insulation improve comfort and reduce heating costs in the winter, it decreases opportunity for condensation.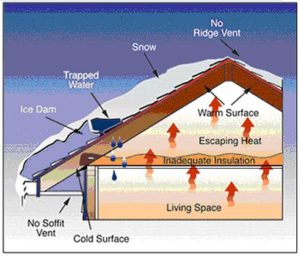 Condensation on windows resulting warm interior conditioned air coming in contact with a cold window surface can lead to water pooling in the sills, damaging sills, walls and floors. Windows with the proper U-factor for the climate zone — as specified in IECC Tables C402.4, R402.1.2 and R402.1.4 — will help alleviate condensation.
Ice damming is a problem in northern climates, resulting from snow and ice on the roof melting and refreezing into dams of ice along the eaves. After several days of melting-freezing cycles, it's common for the melted water and ice to work up under the shingles until water enters the attic and eventually does damage to the ceilings, wall and contents. In cases where the ice dam goes unnoticed for an extended period of time, it can do significant damage to the building and its contents. Properly insulating and sealing the ceiling assembly, as specified in the energy code, is a critical part of the solution.
Indoor air quality
Coupled with the IECC air barrier requirements — commissioning IECC Section C408, IRC Section R303.4 and International Mechanical Code Section 401.2 (Ventilation) provisions — the IECC supports improved air quality and protects the safety of the air that occupants breathe such as keeping out pollutants and radon from the ground. The IECC correlates with the International Fuel Gas Code and IRC to ventilate out harmful indoor pollutants and helps protect occupants from carbon monoxide coming from gas-fueled appliances.  A study that evaluated the impacts of indoor air quality and work performance — "sick building syndrome" symptoms, employee absence, thermal comfort of office workers — showed the combined potential annual economic benefit of a set of non-overlapping scenarios is approximately $20 billion.
Extreme temperatures and storms
During extreme heat waves or extreme cold freezes, the energy code elevates from a life-safety code to a life-survival code. Every extreme heat wave that triggers a blackout is accompanied by news stories of lives lost from heat stress, especially among the elderly or people with health conditions. For instance, 700 lives were lost in Chicago's 1995 heat wave, and more than 100 in New York City's 2006 heat wave. Extended winter outages spur similar news stories. When a cold freeze or blizzard knocks out power, occupants may resort to fires or portable gas heaters just to keep warm, leading to a risk of home fires or carbon monoxide poisoning. Leaky houses with little insulation and terrible windows make the fatality numbers rise.
Carbon savings
The impact of implemented energy codes between 2010 and 2016 is equal to 319 million metric tons of avoided carbon dioxide emissions. Comprehensive application of the current IECC will help communities such as the 350 U.S. city mayors that joined the Climate Mayors Agreement, including the 10 largest cities in America — New York, Los Angeles, Chicago, Houston, Philadelphia, Phoenix, San Antonio, San Diego, Dallas and San Jose — along with hundreds of additional cities large and small in both red and blue states. This group of mayors, who represent more than 65.8 million Americans in 44 states, outlined a plan to align with the 194 nations that adopted the Paris Climate Agreement.
Energy cost and savings
Consistent code adoption from 2010 through 2016 represents a national annual energy savings of $1.98 billion. *States that don't fully implement up-to-date codes have significant unrealized energy and financial savings, and don't realize other non-energy benefits of code adoption. The United States Department of Energy's residential field studies have demonstrated that adequate training can increase energy code savings by about 39 percent. In fact, the study shows that before training occurred, there was unrealized energy savings averaging nearly 2.7 million per state. After training, compliance improved and the unrealized savings dropped to an average of 1.2 million per state.
Knowledge is power
Training and education are available from a wide variety of sources. The International Code Council offers online and locally delivered training and offers free technical support to its members. The Code Council's online store offers a wide range of IECC-related publications. The Department of Energy has an extensive library of free educational resources and you can download RESCheck and COMCheck, plug and play, and menu-driven compliance tools. Additionally, major industry groups ranging from the American Institute of Architects to heating, ventilation and air conditioning providers offer industry-specific support.
* Fisk, W., Black, D., & Brunner, G. (2011). Benefits and costs of improved IEQ in U.S. offices.